3 min read
Four Best Practices for Creating Effective Presentations
The marketing priority for small- to medium-sized B2B companies should always be to ensure they are utilizing the web and its global reach before all else. Yet the ultimate goal is to generate leads, create opportunities to engage the customer, and ultimately close the sale. Often this requires face-to-face meetings, product demonstrations, and targeted presentations. In order for your company to really shine at these prospect meetings, you need to be armed with a polished presentation that builds credibility, shows your experience, and conveys a memorable message that doesn't put people to sleep.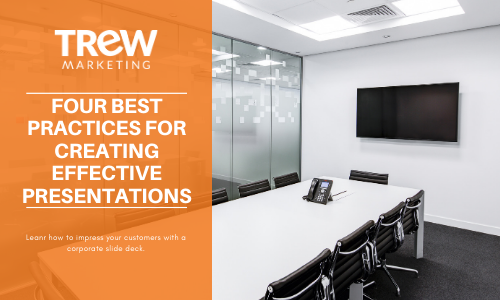 Most often, presentations like this are done in PowerPoint slides. Here are four best practices to create a powerful and reusable slide deck, using examples from TREW clients.
1. Design
Hopefully you already have a company slide template, but if not, apply a clean and simple design based on the color palette and font of your brand for visual consistency. Use a minimal header and footer to give yourself plenty of space to maneuver the content as needed.
Testek's corporate slide deck uses a colorful design that matches their website and corporate brand.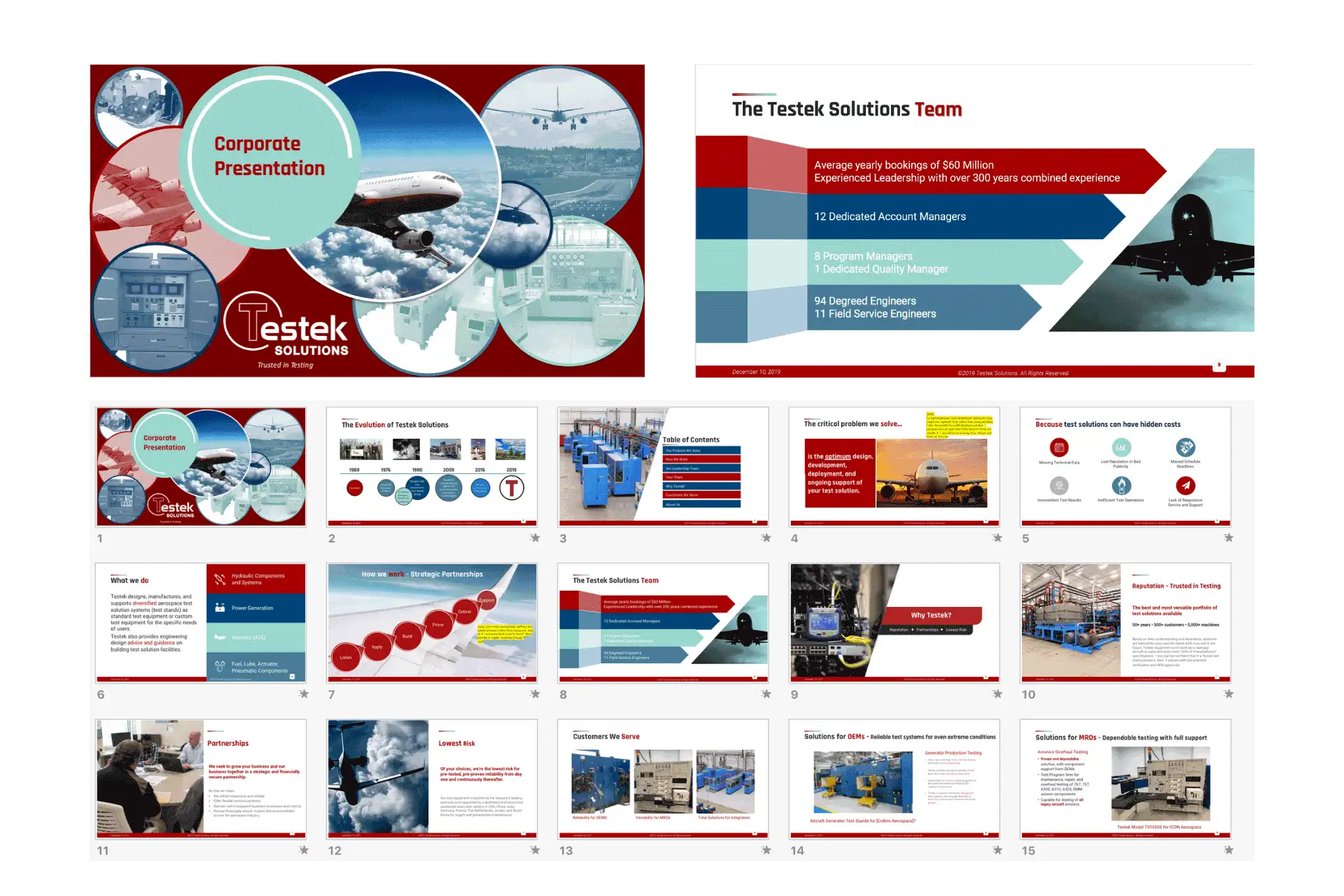 2. Content
Two words: reuse & shorten. If your website is current, effectively designed and includes targeted content throughout, use this as your source material, and then convert it into slides for optimal reuse. You already created it on the web - why recreate it again? Create a cohesive story about who are you as a company, what your offering is and the benefits you can provide, and why your audience should care. Instead of providing lengthy bulleted paragraphs to be read verbatim, use large images and short bullets as visual prompts for the presenter. And build your more complex material with multiple slides instead of animations in case your customer wants to print out the presentation.
Silex used dynamic graphics in its corporate slide deck to showcase complex, technical content.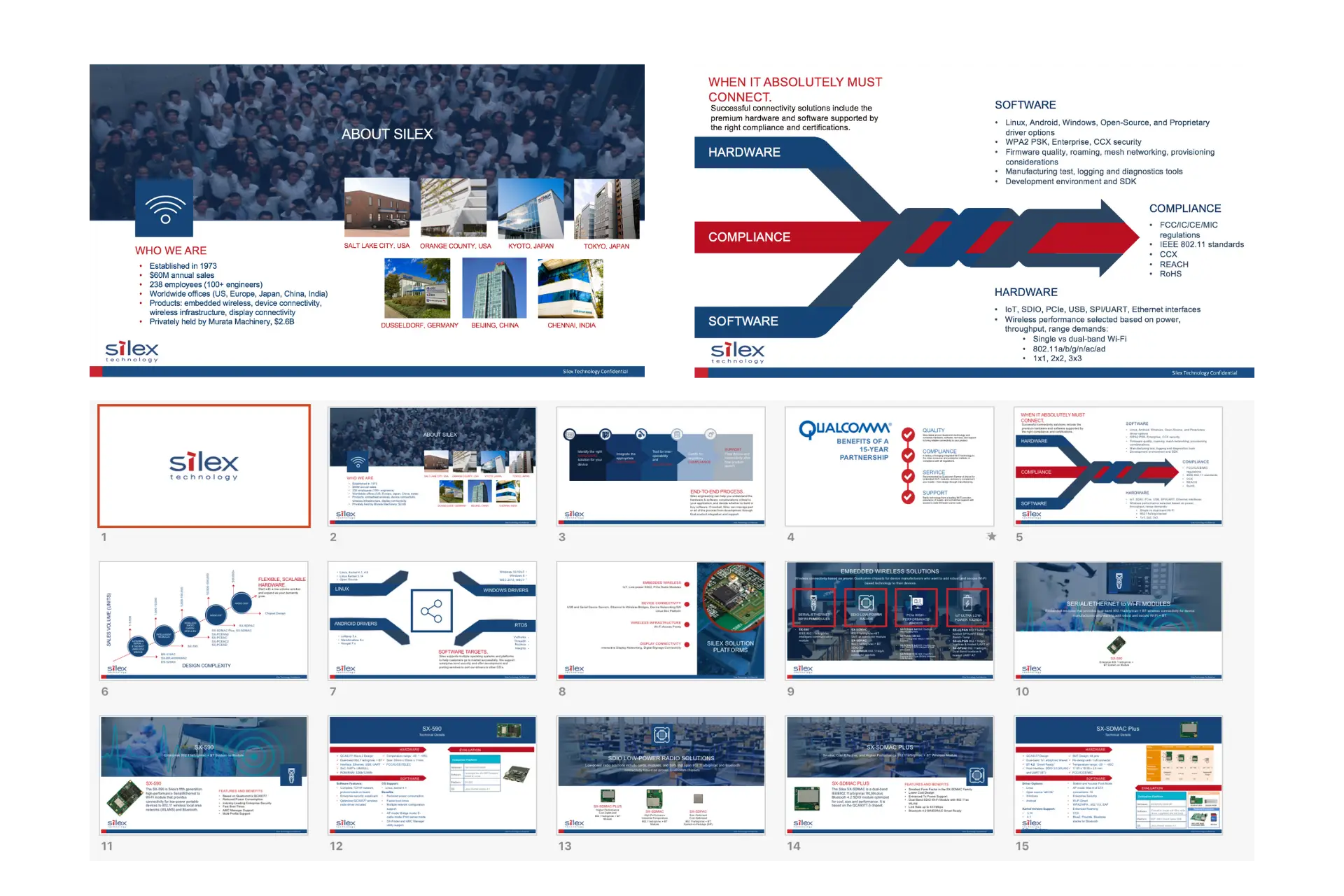 3. Script
Everyone in your company has a different way of describing the same diagram or mission statement, so a script is key to making sure all the presenters deliver the same message consistently and coherently. This also allows you to insert pre-planned pauses to engage the customer, ask about their challenges, and bridge back to how your company has the perfect solution.
4. Customization
After all the work to polish and standardize your message, make sure the presentation is customizable for each audience. A simple tweak you can always do is add your customer's logo to the title page. To make further customization quick and easy, create an appendix with additional case studies, in-depth technical details, and extra images to personalize the slides for a specific industry or application.
Mechanical Solutions, Inc uses custom images and graphics in its slide deck to appeal to their ideal customers.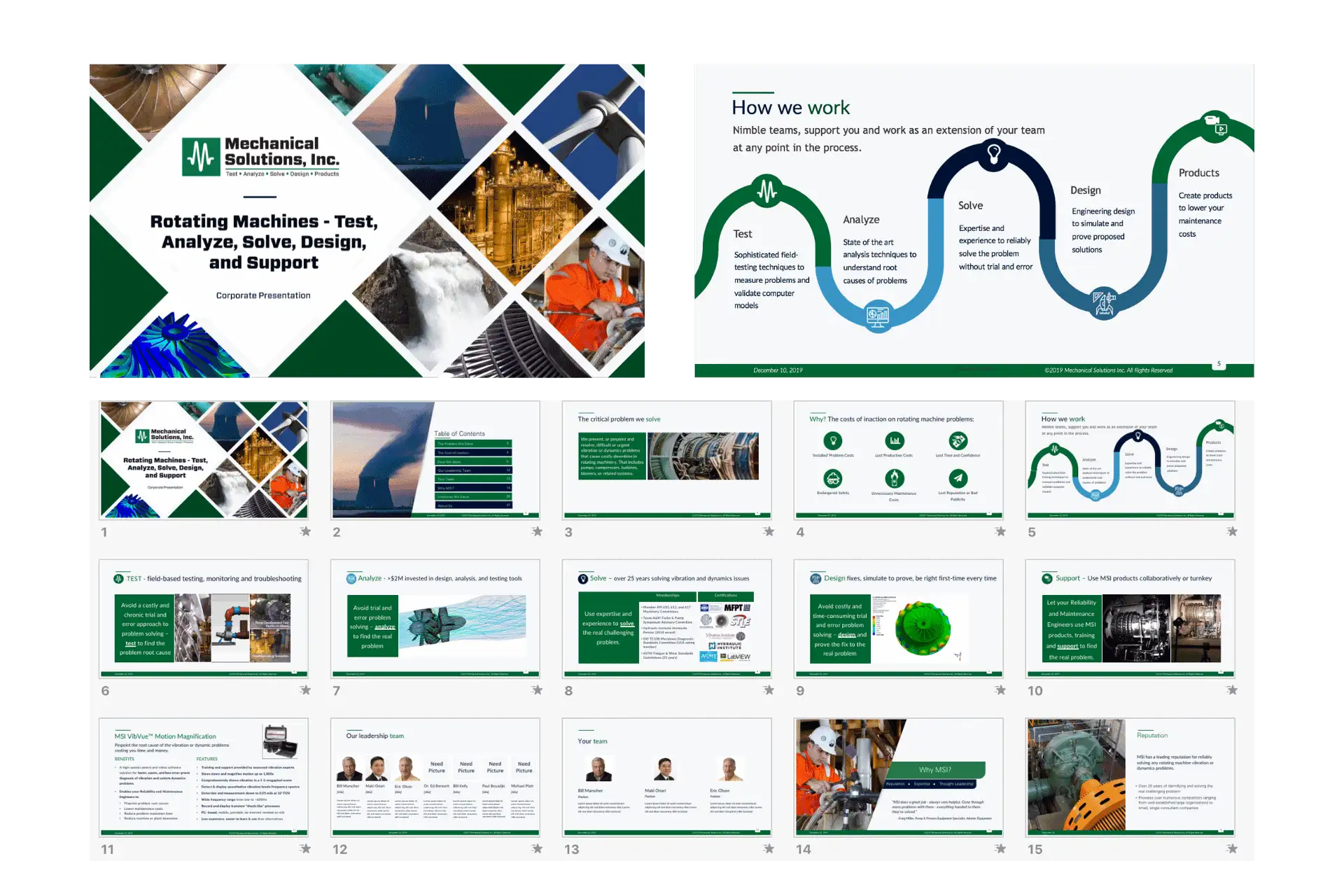 ---
For more helpful tips on how to create compelling content targeted towards engineers, scientists and technologists, download our content marketing ebook, Getting Started with Content Marketing.

Marketing Manager
TREW Marketing is a strategy-first content marketing agency serving B2B companies that target highly technical buyers. With deep experience in the design, embedded, measurement and automation, and software industries, TREW Marketing provides branding, marketing strategy, content development, and digital marketing services to help customers efficiently and effectively achieve business goals.