In short, no. News Releases are still very much alive and well.
While anyone can make a "news" section on their website and include blog post-style announcements, today we will talk about official, wired news releases, paid to be published online via a newswire at a certain time.

Here are 4 ways news releases benefit your business:
1. News releases make your news official.
Recently, CEOs like Elon Musk have shared material news via twitter that impacts investors and the response from the SEC has been adamant – that's not an official way to disclose information.
Publically wired news releases are still positioned as an official way to disclose material news for public companies. What this means for smaller or private companies, is that they can use the inherent credibility of a news release to help the public perceive their news as official, too.
At TREW Marketing, we wire news releases a few times a year – particularly around new research. Here's an example:

A Google News search for our company immediately offers up an official announcement of recent research and data. This news is presented as factual, official news that highlights a key area of our business – research.
2. News releases allow you to control your message.
Because you write your news release, you control the message. Unlike other articles that may show up in Google News about your company, news release postings feature your news, in your message.
For a company that's spent time developing a brand and crafting messages, it's of great value to have that message spread across the web.
Cision's 2019 State of the Media Report found that accurate information was of utmost value to journalists, and wired news releases are an official way to offer up that information.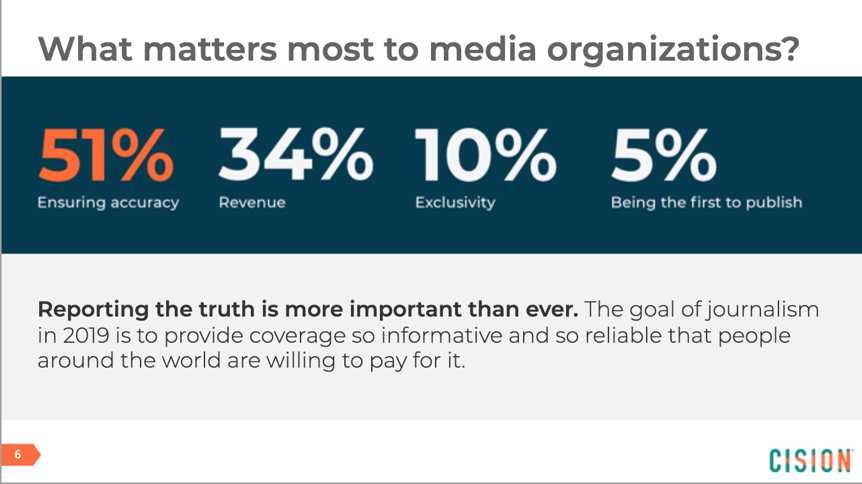 3. News releases help generate third-party content.
Because news releases are valued as accurate and official forms of communication, journalists see them as a starting point for new articles. Without having to schedule interviews with hundreds of journalists, you're able to provide the facts and details in a streamlined way.
4. News releases support search.
With your news release posted on a third-party wiring site and other media sites that pick up and feature releases, you're creating a series of backlinks to your site as well as associating your company name and any keywords included in the release together.
In addition, many wiring sites have such a high search ranking that your news release will remain on the first page of search results for your company name for months or even years.
When preparing a news release, here are a few additional tips to ensure your investment is well received:
Create a cadence of news – One news release is great, but a steady stream is better. Consistently support your brand with a news release once per quarter. For the first year, you'll likely see each subsequent release get greater pickup than the first.
Choose a strong wiring partner – Do your research. Companies like Cision cost more than some new wiring services, but the releases wired on their platform rank much higher and last longer in search.
Write clearly and briefly – 400-500 words is appropriate for a news release, and bullets or lists are helpful for readability. Journalists are busy and readers are used to scanning information.
Link to related content and CTAs – This news release will be posted across the web, be sure to link back to your site, related content, and even any gated content that would be relevant.
Wire at the right time– News releases wired in the mornings at the beginning of the work week are more likely to be noticed than releases wired on Fridays.
Overall, news releases are still valuable. When a prospect searches for your company and sees your official news on third-party sites, it allows you to communicate your message through other platforms and show there's interest across audiences in what you announce.
Are you interested in learning more about messaging? Download our free ebook, Smart Messaging for Engineers.

Morgan believes that the process of brand positioning and messaging powers companies by aligning corporate leadership, building a story that fuels staff and engages customers, and creating a foundation for consistent content – and she's seen these results come true for TREW clients time and again over the last decade. She holds degrees in Public Relations and Spanish, with a minor in Business from The University of Texas at Austin. Morgan, her husband, and three kids recently moved from Austin to downtown DC, where they enjoy walking the city, visiting the local museums, and playing a guess-who-is-in-that-motorcade game.
TREW Marketing is a strategy-first content marketing agency serving B2B companies that target highly technical buyers. With deep experience in the design, embedded, measurement and automation, and software industries, TREW Marketing provides branding, marketing strategy, content development, and digital marketing services to help customers efficiently and effectively achieve business goals.