5 min read
10 Questions to Ask When Creating a B2B Sales Enablement Strategy
Talented salespeople are highly valuable resources for your company, and you want to ensure that every hour they spend is applied in the most impactful way possible. A strong sales enablement strategy sets your sales people up to consistently sell more effectively.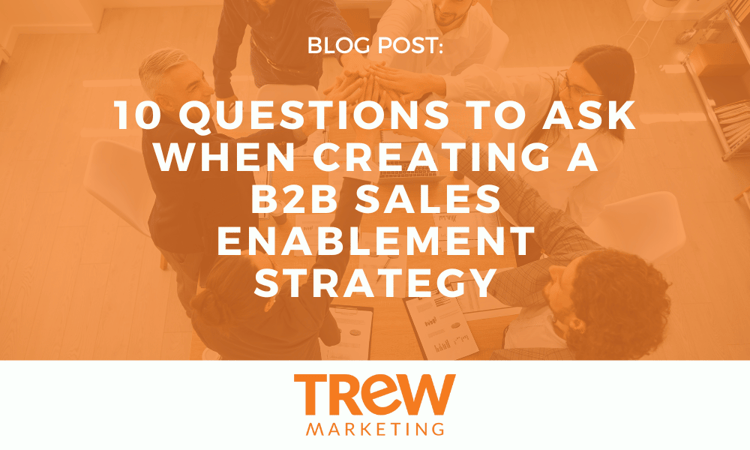 In our State of Marketing to Engineers research, we've found that 77% of technical prospects begin their buyers journey by conducting research before they engage with sales, so it is highly critical that marketing and sales work as a team.
Together they can craft messaging and a methodology for communication that meets the prospect where they are in their process in a helpful manner- all while avoiding overlaps and gaps.
Sounds easy, right?
I
n our Sales Enablement Workshop, TREW Marketing takes a multi-faceted approach with our clients to build their sales enablement strategy, including information, processes, content, tools, and teamwork. Key participants typically include company leadership, sales leadership, and marketing leadership. Depending upon the company size, inside and field sales may also be included.
What is Sales Enablement?
Sales enablement is a strategy across process, resources and technology that improves the productivity and performance of sales' ability to advance leads through the sales pipeline.
WHO IS RESPONSIBLE FOR SALES ENABLEMENT?
Sometimes sales enablement is a formal function owned by a dedicated team or individual that can live within sales, marketing or product management. More often than not, it's something that is done rather ad hoc per request instead of being handled strategically.
TREW recommends that ownership of the sales enablement function be a joint effort between marketing and sales with at least one individual responsible for executing the strategy. Companies who have aligned with an inbound marketing or sales methodology tend to have a more formal approach to sales enablement, as they are also well aligned and operate more as one team than two siloed organizations.
We always like to use the analogy that sales is the engine but marketing is the gas. Marketing's job is to fuel the sales team with leads and content and then sales must pick up the contact to deliver them to their final destination – as a new customer.
10 Questions When Creating a B2B Sales Enablement Strategy
Whether you are tackling a sales enablement plan for the first time or revising an existing plan, we recommend addressing the key questions below in the process.
Do we have clear definitions for lead and opportunity stages across sales and marketing? Are these useful and easy to report on?

Have we mapped out our lead flow, from origination through closure?

Who owns leads at which stage, how are leads handed off from one stage to the next?

Do we have service level agreements (SLAs) in place for each lead handoff?

Have we defined audience personas, and mapped content topics along their buyers' journey?

Does sales have the right content assets to make an impact when engaging with prospects? (e.g. presentation deck, ROI calculator, email templates, etc.)

Do we have a CRM system in place, and if so, is it adding value or creating "busy work" for sales?

Do we have the ability for sales to easily see what actions a prospect has taken with our company, and have a contextual conversation? (e.g. web pages visits, emails opened, past opportunities, etc.)

Do we have a formal process for sales and marketing to share progress and feedback?

Does marketing and sales have shared KPIs related to pipeline health?



---
TREW is a marketing agency dedicated to reaching engineering and technical audiences through a range of marketing initiatives. Contact us today to learn more about the services we offer.
SUBSCRIBE TO OUR BLOG FOR THE LATEST UPDATES

Wendy Covey is a CEO, a technical marketing leader, author of Content Marketing, Engineered, one of The Wall Street Journal's 10 Most Innovative Entrepreneurs in America, and she holds a Texas fishing record. She resides in a small Hill Country town southwest of Austin, Texas, where she enjoys outdoor adventures with her family.
TREW Marketing is a strategy-first content marketing agency serving B2B companies that target highly technical buyers. With deep experience in the design, embedded, measurement and automation, and software industries, TREW Marketing provides branding, marketing strategy, content development, and digital marketing services to help customers efficiently and effectively achieve business goals.