4 min read
10 Questions When Creating a B2B Sales Enablement Strategy
Talented salespeople are highly valuable resources for your company, and you want to ensure that every hour they spend is applied in the most impactful way possible. A strong sales enablement strategy sets your sales people up to consistently sell more effectively. Companies that use sales enablement best practices are 50 percent more likely to achieve or exceed sales quota*.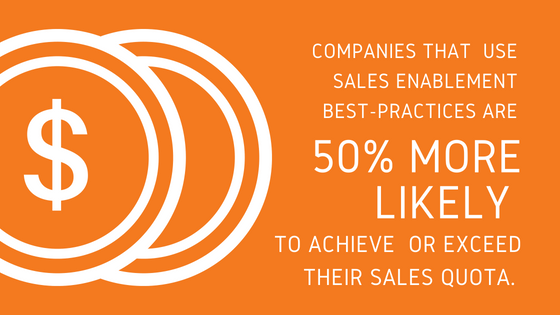 In our
on engineers' buying behavior, we've found that 77% of technical prospects begin their buyers journey by conducting research before they engage with sales, so it is highly critical that marketing and sales work as a team. Together they can craft messaging and a methodology for communication that meets the prospect where they are in their process in a helpful manner- all while avoiding overlaps and gaps.
Sounds easy, right?
In our Sales Enablement Workshop, TREW Marketing takes a multi-faceted approach with our clients to build their sales enablement strategy, including information, processes, content, tools, and teamwork. Key participants typically include company leadership, sales leadership, and marketing leadership. Depending upon the company size, inside and field sales may also be included.
Whether you are tackling a sales enablement plan for the first time or re-vising an existing plan, we recommend addressing the key questions below in the process.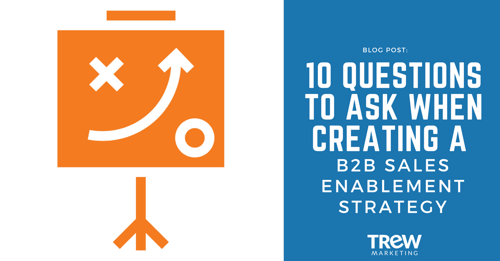 B2B Sales Enablement Strategy: 10 Questions to Answer

1. Do we have clear definitions for lead and opportunity stages across sales and marketing? Are these useful and easy to report on?

2. Have we mapped out our lead flow, from origination through closure?

3. Who owns leads at which stage, how are leads handed off from one stage to the next?

4. Do we have service level agreements (SLAs) in place for each lead handoff?

5. Have we defined audience personas, and mapped content topics along their buyers' journey?

6. Does sales have the right content assets to make an impact when engaging with prospects? (e.g. presentation deck, ROI calculator, email templates, etc.)

7. Do we have a CRM system in place, and if so, is it adding value or creating "busy work" for sales?

8. Do we have the ability for sales to easily see what actions a prospect has taken with our company, and have a contextual conversation? (e.g. web pages visits, emails opened, past opportunities, etc.)

9. Do we have a formal process for sales and marketing to share progress and feedback?

10. Do marketing and sales have shared KPIs related to pipeline health?
Ready to get started with your sales enablement strategy? Learn more about TREW Marketing's sales enablement services, including our Sales Enablement Workshop on this page or schedule time with our Sales Enablement Strategist to discuss your goals and needs.
*Data sources: Research Report --
; Research Report -- The State of Sales Enablement, Aberdeen Group
This post has been updated since its original publication in 2018.