4 min read
Technical Marketing Writers: Why You Need One When You Already Have an SME
They are questions that arise often at the beginning of marketing planning. You're in the middle of content calendar creation and ready to start marketing to engineers and assigning subject matter experts (SMEs) and writers to each task. You wonder aloud, "Why should we have a writer handle these content projects? Can't our engineers write the content?"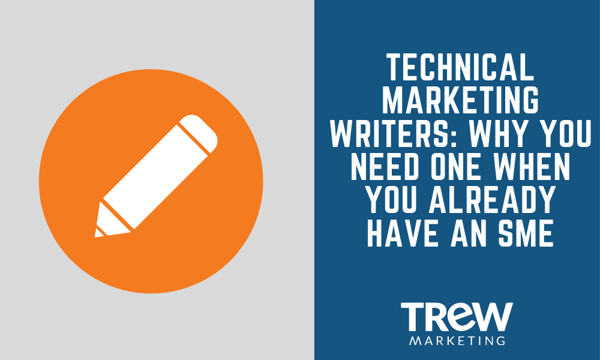 Yes. They could. They very well could. They could also probably engineer the addition you need to your manufacturing facility or write a custom program to analyze your company's financial data.
But those things aren't their job. It's not the context where they've honed their skills to grow. Marketing to engineers is not something they're allotted time to do on their growing list of new product development initiatives or client services that demand their time, energy, and efforts.
Technical marketing and writing is a skill, just like engineering and its related specialties. Technical marketing writers aren't just ascribing words to an assignment, they're researching their audience, assessing the outlet where the content will reside, evaluating ways the content could be replicated, and then, strategically, choosing the outline, flow, and words that will communicate a topic effectively.
A writer isn't burdened by a writing project – it's their job. It's within the context that they've honed their skills and it comes as naturally as a product design team assessing potential designs and evaluating tradeoffs.
Here are four ways to fully use your technical marketing writer resources
4 Ways to Maximize your Writing Team
1. Let Them in on the Larger Story
Your writers may be writing about a specific topic or technology, but they need to understand your brand story and brand attributes*. A compelling piece of content will be tailored to fit your specific audience, their pains, and their deepest needs. It will include elements of how you work, and exude the culture of your company.
Figure 1. Bring your writers in to understand your company's brand story.
If you've already completed positioning and messaging, share this with your writing team. It will help to inform their writing and ultimately create a better, more cohesive piece of content.
*An aside - If you don't have a brand story, it's going to be difficult to meet content goals of any measure. Consider taking the time for a positioning and messaging project. It will take some time up front, but save a ton of time and effort for years to come.
2. Play The Expert Role
Your writers will want to interview you. You can just send them a data sheet and something you've created before, but to write something compelling, they need to get details from you. In this phase, let them ask questions and explore different angles. Seek to give them your unique experience with the product or application or idea they're writing about – they'll be able to translate your thoughts and subjectivity in the context of products and technology facts.
3. Use Their Outlet Expertise
Your writing team should begin the writing project with an idea of their outlet. A news release prepared for mass distribution will need different information conveyed in a different tone than a casual blog post or a technical white paper on coming industry trends.
Figure 2. Different pieces of content have different audiences, tones, and needed details.
These different content forms may require they ask for different questions or resources. They may need to speak with a customer, provide supporting images, or have you review a quote they've written for you. All of these suggestions should be welcomed as they will make your final content piece stronger and more applicable to the audience.
4. Trust Their Writing and Reviews
To begin, your writer will create a draft or an outline for you. This first pass serves to organize the content, convey main ideas, and make sure the right details are in the right places. They will likely have another round of questions for you – possibly asking for details you wouldn't have thought to include. You get a lot of freedom in this process. You don't have to worry about grammar, or when to spell out an acronym, or if it would be more beneficial for you to use the term "turnkey embedded systems" rather than "complete embedded solutions" in the title of your work – they'll put your information into the context of their technical writing skills and make the right decisions for you.
Learn more about developing your content by downloading our free Content Marketing Kit.