Updated October 2017
Are you preparing to create your annual B2B marketing plan? Before you dive in and begin creating it, take a look at our e-book. We've compiled the key preparations you should take to get ready to build your marketing plan, including:
Before a Marketing Plan Comes a Business Plan
Define Your Ideal Customer: Your Personas
Analyzing Your Previous Marketing and Sales Metrics
Develop Meaningful KPIs (Key Performance Indicators)
Turn Strategy into Action – the 12-Month Activity Plan
Marketing Planning Check List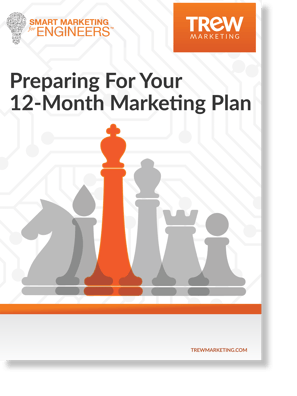 Your 12-month marketing plan is an agile document and should be designed with flexibility in mind, customized to your business goals and needs. Plan for the future and measure progress along the way, and keep in mind that new opportunities, market changes and developments, and the results of your marketing activities are all data points that you should use to constantly refine and update your plan. Understanding how and where potential customers find information, you'll be in a better position to strategically plan ways for them to find your content and drive results to meet your business goals.
Preparing For Your 12-Month Marketing Plan is tailored to B2B business and marketing leaders and will guide you through TREW's proven marketing planning preparation.