5 min read
Landing Pages: Best-Practices and Benchmark Metrics
Content may be the foundation of your inbound marketing strategy, but landing pages are the vehicle that converts visitors into contacts and leads. You could have the greatest content offers on your site, but if your landing pages are mediocre, you won't get visitors to complete your forms.
Your website and web pages are living documents that should be updated based on web metrics. This is why web reporting is important to digital marketers. Our job is keep track of how pages are performing and tweak these pages until we find success.
Landing pages should hold priority on your website because landing pages bring new contacts and leads. To make data-driven web enhancements, you first need to understand what metrics to gather and how to analyze your web metrics.
Landing Page Metrics to Gather:
Total Web Sessions: Number of web visits across all users
Average Views-To-Submission Rate: How many people view a page and complete the form
New Contacts Generated: New users who complete forms
Exit Rate: Percentage of users who leave a website on that landing page
Bounce Rate: Percentage of users who start on the landing page and leave without completing the form or navigating to another page
Average Time on Page: Average time spent on the landing page
The above metrics are important to track and gather because they allow you to determine whether your landing pages are performing well or need to be further optimized.
Here are some landing page benchmarks for small-to-medium sized B2B technical companies to strive for:
B2B Landing Page Annual Benchmarks:
Average Views-To-Submission Rate: 20%
Exit Rate: Under 50%
Bounce Rate: Under 60%
Average Time on Page: 2 minutes
Pay attention to views and new contacts as well. These metrics will vary from website to website, but you'll want to track both of these and compare all new landing pages to your average numbers to evaluate effectiveness.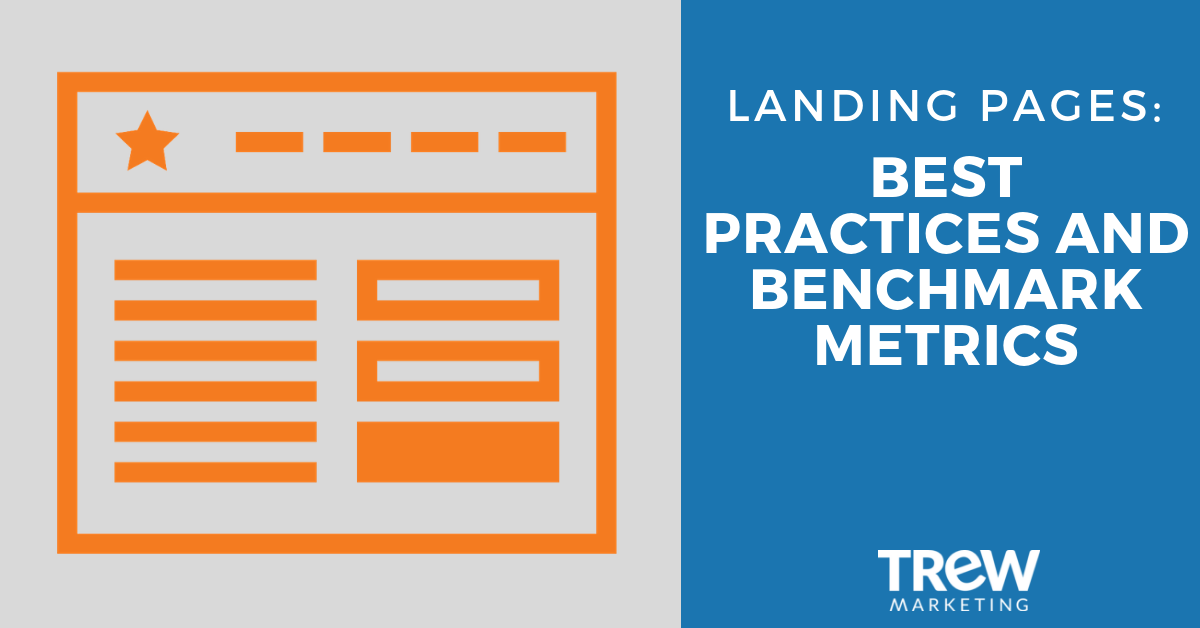 If you notice you have landing pages that are performing poorly, you may want to optimize them so they meet industry standards. There are many best practices for creating high-performing landing page. From visual web design to engaging content, your landing page must appeal to visitors and lead them to completing a form. To help, we've detailed five best practices for optimizing your landing pages.
1. Remove main navigation and other links on page
Keep the design of your landing pages simple. Remove things like main navigation and other links on the page that will distract users and take them off of your page before submitting your form.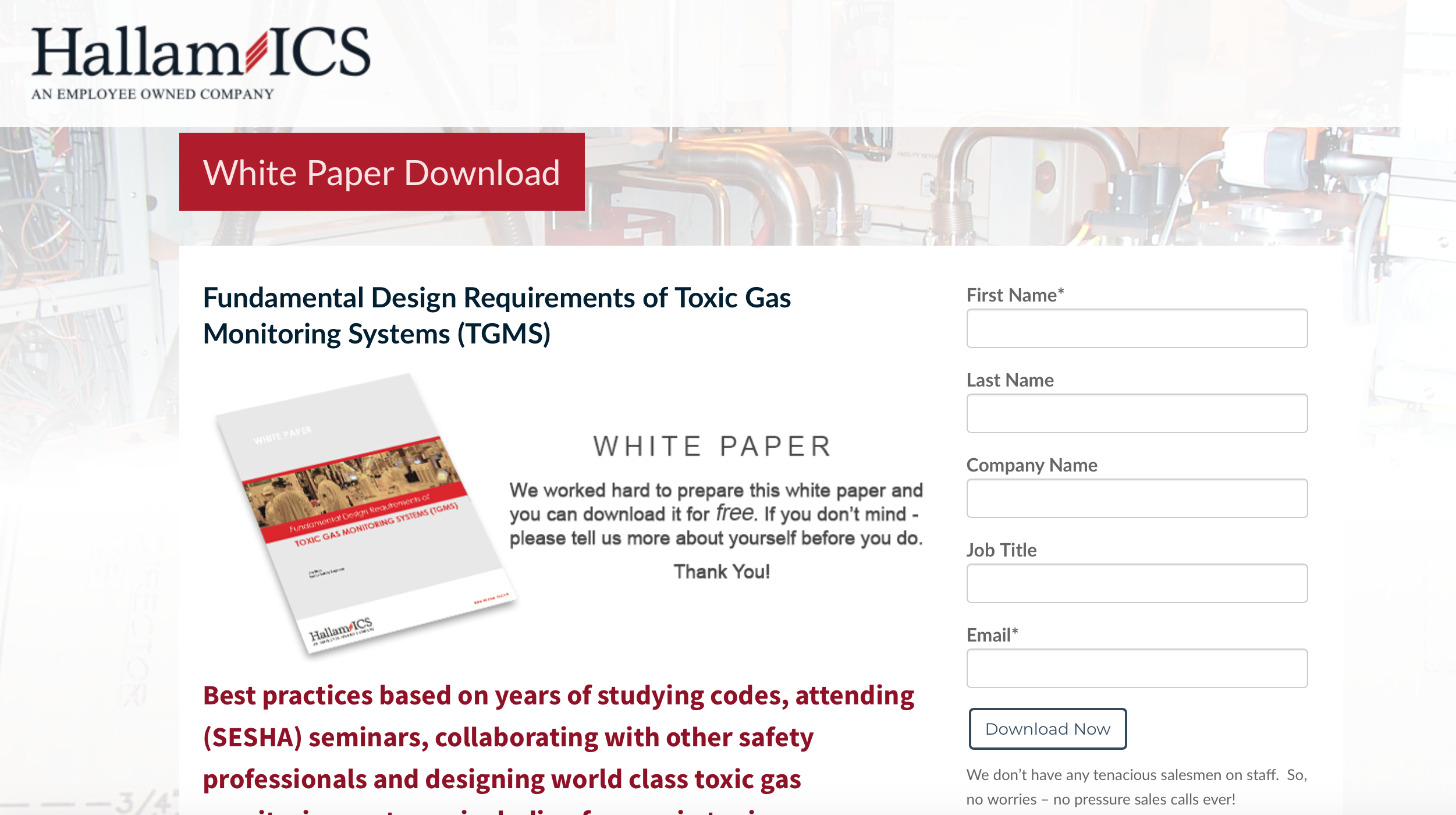 Hallam ICS, a TREW client, removes top navigation from landing pages so users can't easily bounce from the page. This is a marketing best-practice.
2. Add pictures/videos that promote your content offer
Adding videos and engaging graphics or images to your landing page leads to higher conversion rates. If you have a great video that helps explain the problem your content solves, then add this to your landing page so users better understand the benefits they receive by submitting their information for your content.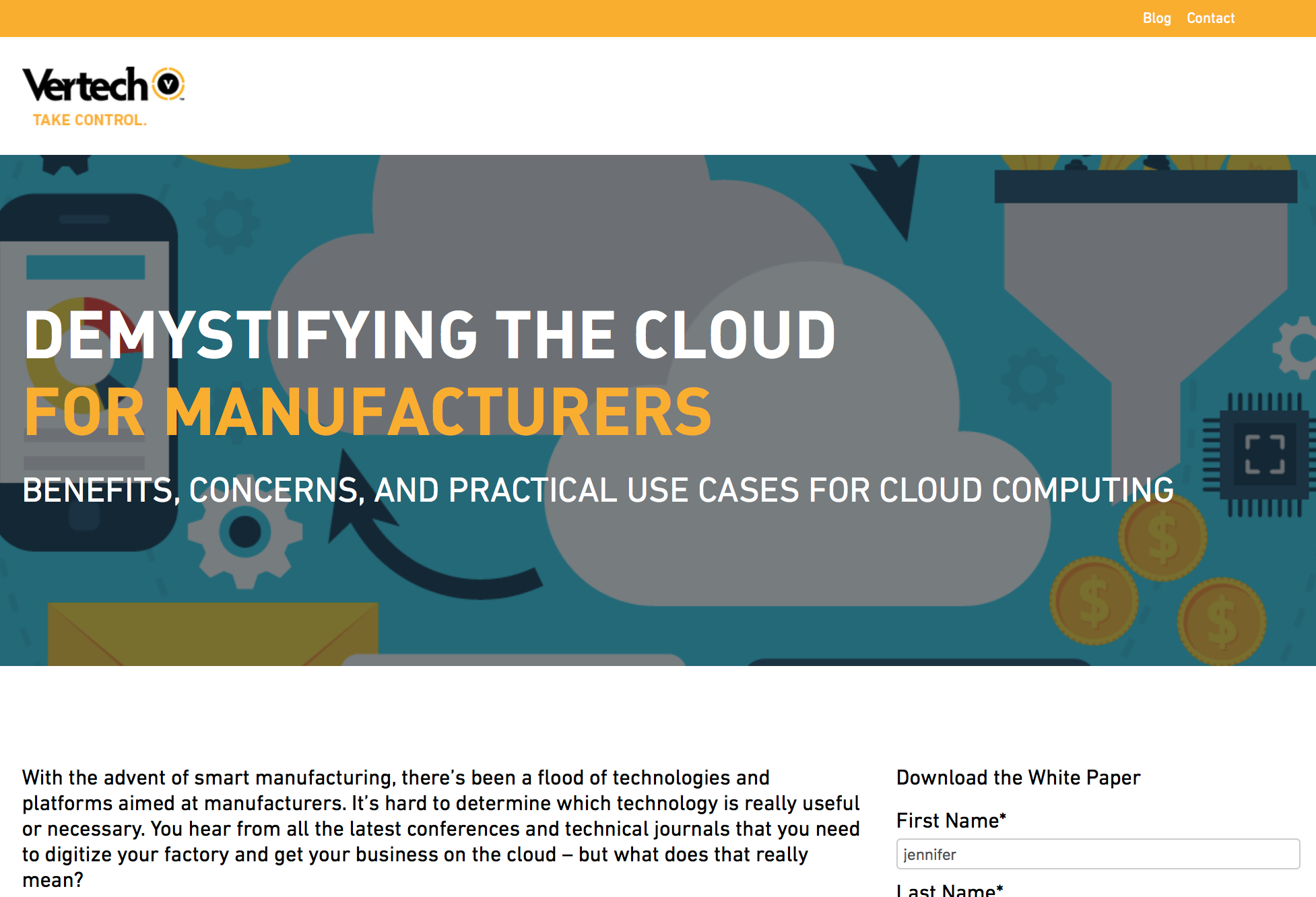 Vertech, a TREW client, uses fun graphics on their landing pages and white papers to grab users attention.
3. Detail your content offer and what problem it solves
You want to have a solid description of what your white paper or webinar is about so users understand the value you're providing. It's always a good idea to talk to your customer about common problems they might be experiencing. Next, follow up with how your piece of content solves their problem. Users want problem solvers. Your job as a marketer is to speak to your customer in their language and show how you solve their problem.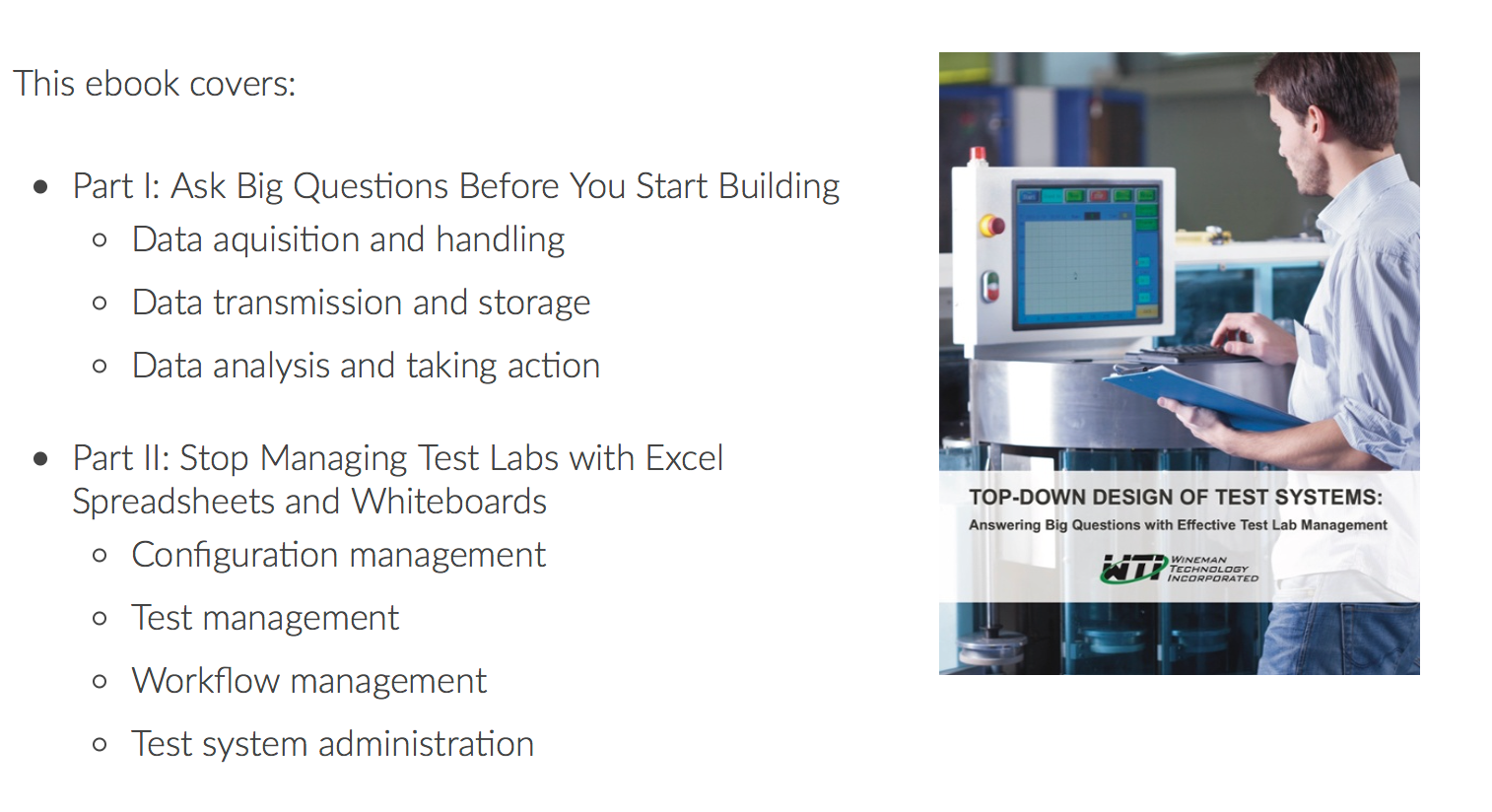 Wineman Technology, a TREW client, details the contents of their ebooks and white papers and includes a picture of the ebook for users on their landing pages.
4. Limit forms to 3-5 fields
It's tempting to add in tons of form fields for visitors to complete before they can access your content, but this can actually keep users from completing a form. From our 2019 research on engineers and technical buyers, we know that the four fields engineers are most likely to fill out are work email address (74%), company (63%), first name (57%) and last name (51%).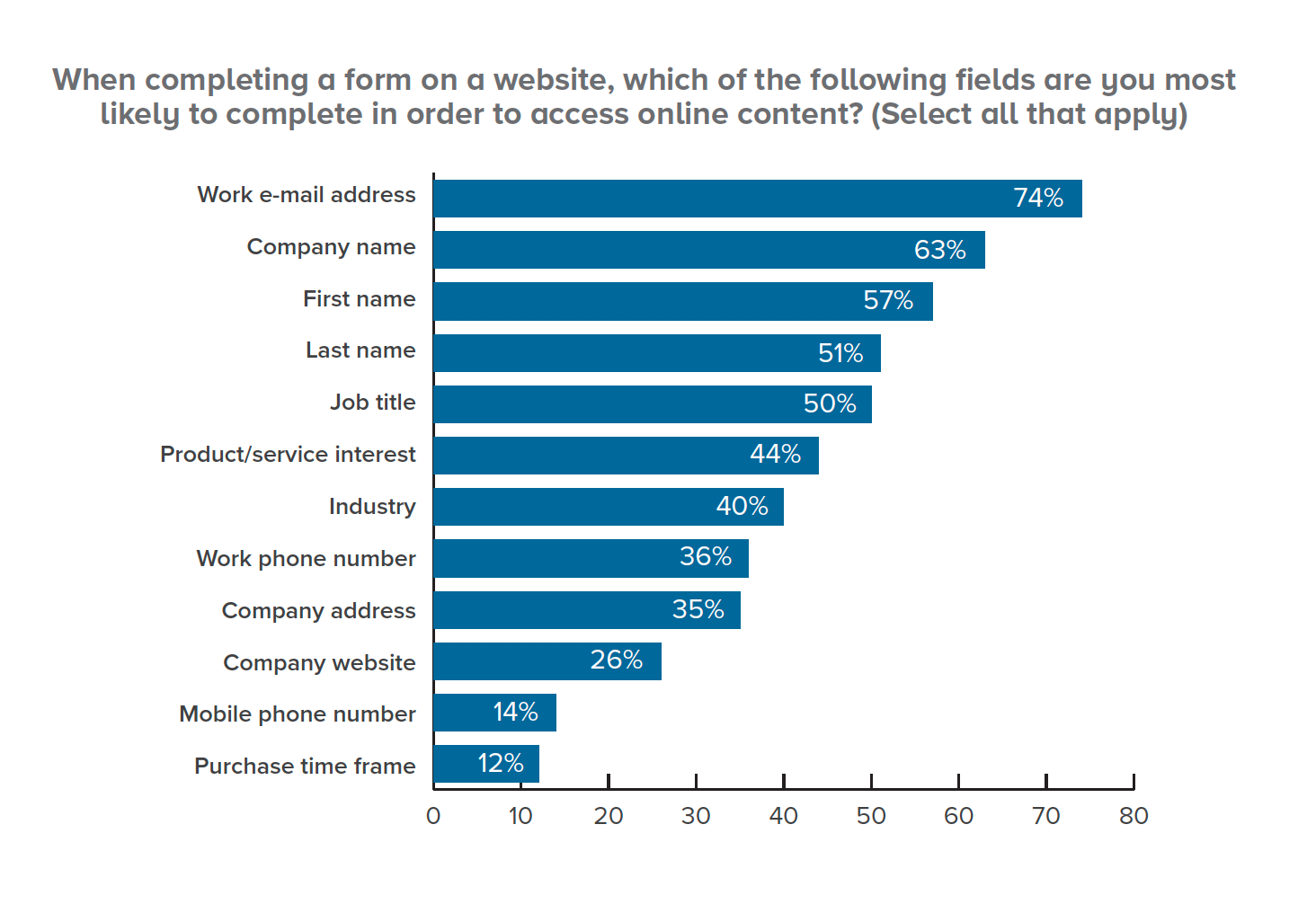 A chart from 2019 research by TREW Marketing and IEEE Global Spec.
5. Follow up with an email and thank-you page
Following through with contacts and prospects shows that you are a credible business committed to solving a problem. After a contact fills out a landing page offer on a landing page, they expect to receive a follow up within 24-48 hours. Many web platforms and content management systems allow you to set up a workflow that automatically sends a thank you email after someone fills out your form.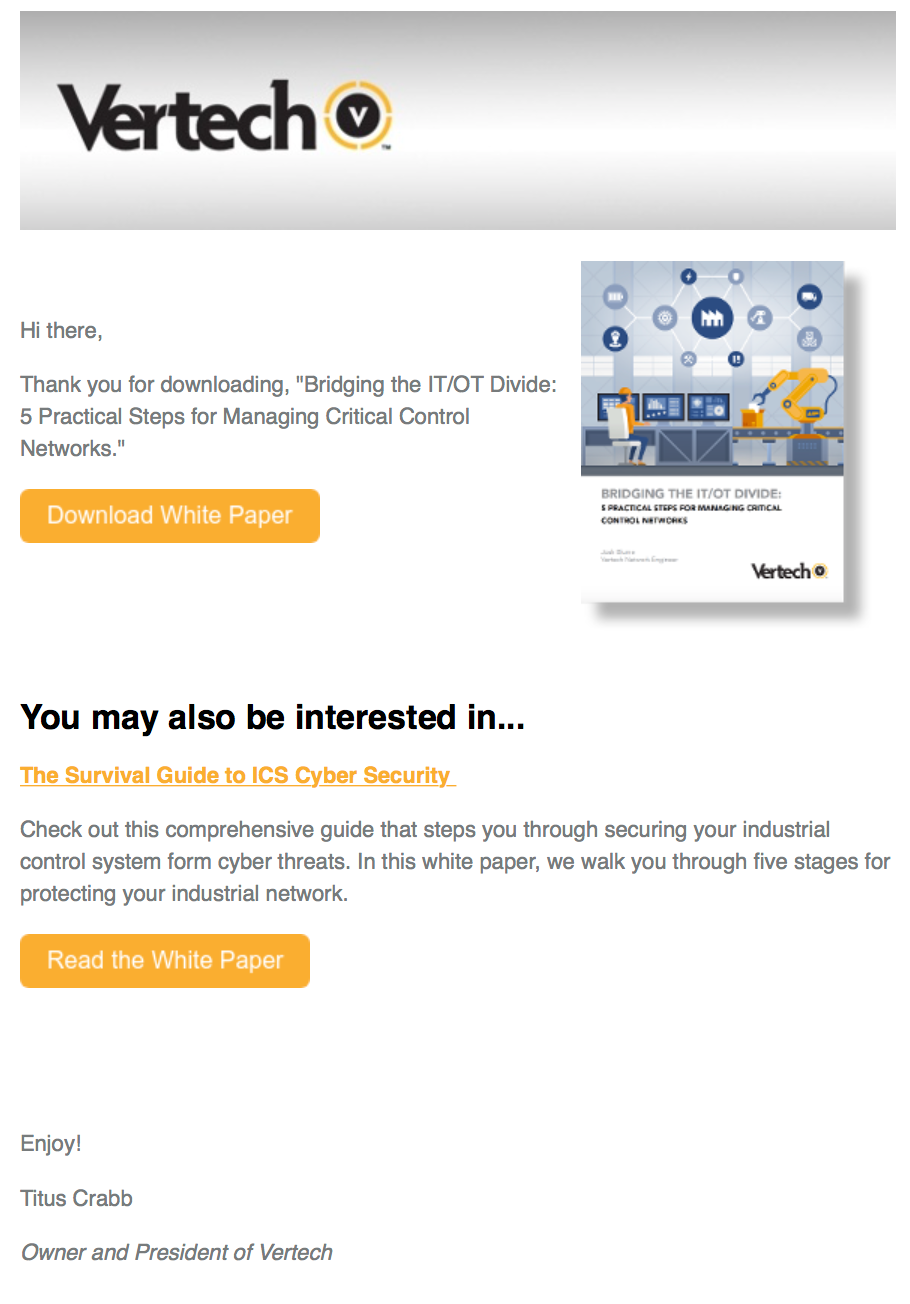 Here's an example of a thank you follow-up email that Vertech sends after a user completes a form to download a white paper.
At TREW, we suggest setting up both a thank you page and email where contacts can download their content offer in a PDF format. Include links to relevant blog posts and white papers in your thank-you email and on the page. This further nurtures your leads and allows them to learn more about your products and services.
---
Learn more about generating more leads by downloading our free ebook "Smart Marketing for Engineers: B2B Lead Generation." This in-depth ebook will help you understand the entire lead generation process and how your B2B technical business can start generating qualified leads from your website.