Creating excellent content is the core of any inbound marketing strategy, but it's much easier said than done. If you aren't already overwhelmed by the amount of content you imagine you're up against online, the actual data shows that the competition is probably worse than you expected. Sorry. In 2014, business analytics company Domo created this infographic to show just how much data is generated every minute: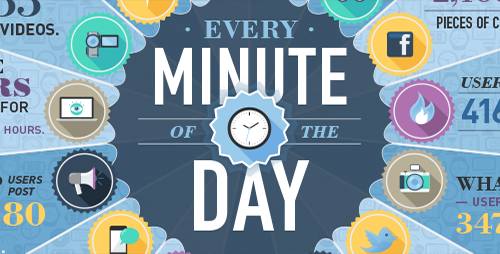 Content Generation Statistics
To highlight a few key points that news curator, ACI, calls out, every minute:
Facebook users share nearly 2.5 million pieces of content.
Twitter users tweet nearly 300,000 times.
Instagram users post nearly 220,000 new photos.
YouTube users upload 72 hours of new video content.
Apple users download nearly 50,000 apps.
Email users send over 200 million messages.
Amazon generates over $80,000 in online sales.
So, yeah. The sheer amount of content that already exists, and that is being created every minute of every day, is enough to make any content marketer throw up their hands, crawl back into bed, and start dreaming about ways they can move to an island in the Caribbean and live out the rest of their days leading fishing tours and scuba diving. Or maybe that's just my daydream, but still.
Sadly, most of us don't have the option to retire to the Caribbean. You and I, fellow content marketers, cannot give up. We must soldier on and continue to find ways to create content that, to paraphrase my favorite statistician, is the signal in the noise. How to do that is a matter that every marketer has an opinion on, but here I'll share some tried-and-true methods that you can add to your content generation toolbox.
Take a deep breath, friends, and let's dive in.
3 Tips For Successful Content Generation
Pick a lane.
We at TREW spend a lot of time creating marketing plans with clients. Often, we have conversations that go something like this:
TREW: What markets do you want to target this year?
Client: Well, we have products that can work for automated test, embedded control, embedded monitoring, data acquisition and control design. So let's focus on those areas. Oh, and students can use our stuff too, so let's also go after the academic market.
That is, by my count, six target areas, and six target areas do not constitute a "focus." That constitutes a "let's go after everything we can possibly go after and hope something sticks" strategy. This example is a slight exaggeration, but similar conversations do happen as we're planning out the next six months to a year's worth of marketing content.
Most small- to medium-sized companies need to pick a lane, or maybe two. Just as in our company philosophy of "say no to grow" when positioning yourself as a brand, at the more in-the-weeds level of content generation, it's highly beneficial, even necessary, to prune out target areas that you can't completely focus on.
Unless you have endless resources available, you don't have enough time or subject-matter experts (SMEs) to create content for all possible markets. Decide where you can best focus your efforts, and discourage attempts to derail your focus. Once you align everyone on a focus area or two, you're ready to actually start creating content.
Identify gaps.
Do you have a lot of website visitors that show up and then leave, without taking any action? Or maybe you have trouble even getting people to your website, and need to make people aware of your products and services. Whatever the gap is, figure it out before you start creating content, but after you've decided on a target area as in step 1 above. to get an idea of which types of content you need to fill in gaps in each stage of the funnel, and audit your existing content to see what you already have.
Start generating.
Now that you know your target audience and what types of content you need, you can start creating content. This is often when people get stumped and writer's block hits.
Along these lines, Rand Fishkin at SEO thought-leader Moz recently did a Whiteboard Friday segment called "Why Good Unique Content Needs to Die."
The video is about nine minutes long and worth watching in its entirety, but here are some slides I created that summarize what he has to say about generating awesome content that appeals to search engines:
While Rand specifically addresses content creation in SEO terms, one thing I think any content creator should aim for is the idea that content should be difficult to scale. When it's that good, it stands out – not just in search engines, but wherever you promote it.
Here are ideas for creating a few specific types of content:
White papers – Go back to step 1 and find your target market. Then, look at your product and/or service offering and find something that will appeal to that market. Now you can start writing if you're the SME, or start by interviewing the SME if it's not you. Some questions to ask and answer as you work on the paper:
Who is your ideal reader?
What are their pain points that your product/service can address?
How does your product/service address those pain points?
How do their pain points affect them?
What happens if they don't address their pain points?
What action do you want them to take upon reading the paper?
The Online Marketing Institute has a longer, detailed list of questions that's worth checking out.
Case studies – Again, go back to step 1 and find that target market. Identify a few customers you've worked with successfully in that market. At a basic level, a case study should showcase the following:
The problem the customer faced
What criteria they needed for their ideal solution
How your company met the criteria and identified a solution that met their needs
Details about your solution, including products used to create it
Results the customer saw by implementing your solution
This blog post on WordScience, while a few years old, has some good questions to ask when writing a case study as well as some ideas for how to build a "question file" to make your case study creation more efficient.
Blog posts – I could write a lot about this (and I have), but HubSpot has a fantastic post on brainstorming blog topics here. As always, begin with your target market and go from there. And those white papers and case studies we talked about earlier? Those make great blog posts, and the landing pages where they live are your CTAs. Boom.
Social media – Turn your white papers, case studies, and blog posts into shared content on LinkedIn, Twitter, and Facebook. Social media is a great place to repurpose content that already exists and get people coming back to your website. It's also a perfect channel to increase loyalty with current customers, and awareness of your products/services with prospects. The nice thing about social content is that it often doesn't need to be original. Retweet content from others in your industry on Twitter, share interesting articles from peers and companies in the industries you target on LinkedIn, and so on. Social media is a channel that marketers tend to jump into without a ton of planning, so to set yourself apart: do some research and pick platforms that your customers and prospects use, and focus on those.
In addition to the ideas above, this e-book has 100 inbound marketing content ideas and is worth a read to get your brainstorming juices flowing.
Whatever types of content you decide to create and whichever channels you decide to use to promote that content, keep yourself organized by using an editorial calendar. This way, you keep documentation on the types of content you've run and plan to run, who's writing the content, when it's due, the topic, and even how the content performed. This post from Curata has several different editorial calendar templates to choose from if you don't already have one (most are gated, but don't cost money).
The other benefit of an editorial calendar is that it can help your content generation efforts by showing you what you've already done and what's worked well in the past. Then, you can riff off of those efforts to come up with new content.
Do you need help with your content marketing efforts? Learn more about our content marketing services and client work, and contact us to discuss your customized needs.