3 min read
What Visual Branding Does for Your Company
Your visual branding says a lot about your company. It can tell people your name. It can help to convey your company's values. It can even illustrate the tone of your company – is your company classic and traditional? Is your company modern? Does your company have a playful sense of humor? Good visual branding helps audiences recognize you. Great visual branding makes your company memorable and trustworthy, enhancing content and making it easy for your audience to consume.
Visual Branding Makes You Memorable
It's a common belief that you have only seven seconds to make a first impression, so that impression must be memorable. The easiest way to make a quick impact for your business is through your visual branding. A visual brand that will be memorable for your audience should include:
Logo
Color palette with primary and secondary colors
Font scheme
Icon set
Graphic style
Imagery
These visual elements should convey who you are and what you do.
This sample of TREW Marketing's style guide includes logo use, colors, and fonts.
Visual Branding Makes You Trustworthy
An important part of marketing is building trust with your audience. People are more likely to trust a company with a well-designed, consistent brand than one that is poorly designed or inconsistent. One way to build trust is by creating consistency through visual branding.
To create consistency, establish your visual brand beyond your logo to include specific colors, fonts, shapes, icons, and imagery, and use these elements throughout all of your marketing content, so that each piece looks like it's part of the same family. You should use them so consistently throughout your content that audiences are able to predict with near certainty what a new piece of content will look like before they even open it. When prospects see your content on other outlets, visual branding helps them immediately associate the content with your company.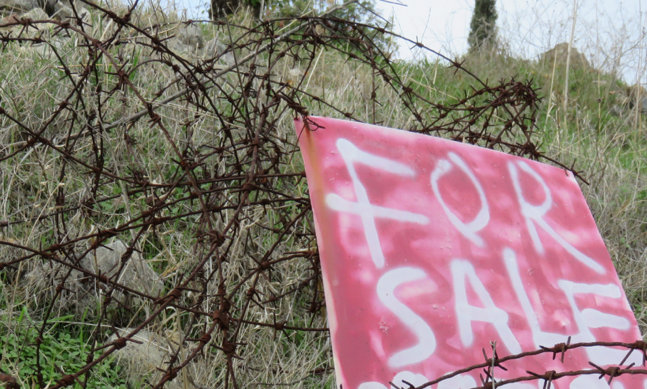 Would you be inclined to purchase from a company with this sign?
A great tool that you can use to help establish visual brand consistency is a style guide. A style guide is a formal document that identifies all fonts, colors, and other visual elements to be used in your visual branding. You can give this to your team members and contractors who need to know this information, such as designers or web developers. (Bonus: you can also use a style guide to establish consistency in your writing style.) Creating templates that have your visual branding built in will make it easier for less design savvy team members to stay on brand.
Visual Branding Makes Your Content Easy to Consume
Through visual branding, you can create content that is both visually appealing and easy to consume. As we mentioned above, templates are a great tool for reinforcing your visual brand consistently. They can also be useful for making your content easier for your audience to consume. Create different styles of headings in your templates with visual variations like font color, font weight and size, or an altogether different font. Use these heading styles across content pieces to create a hierarchy within each piece.
Another design principle that helps make your content easy to consume is appropriate use of white space. White space is the empty space and gaps between written content and graphics or images. You can use white space to help guide your audience's focus to the most important item on a page.
Vertech's white paper uses a large margin of white space to highlight callout quotes or details.
Through appropriate visual branding, design, and formatting, you can generate a user-friendly experience that is intuitive. An intuitive visual experience shows that you understand your audience, their priorities, and their pain points, which helps to reinforce trust in your company.