5 min read
7 Elements of a Cohesive Brand Messaging & Identity Strategy
Your brand is what people say, think, and feel about your company, products, and services. Brand positioning defines who you are, who your customers are, and how you solve their problems. Once you have developed your brand positioning and messaging, you need to be consistent with your brand identity. Staying consistent with your brand builds recognition, trust and credibility for your company.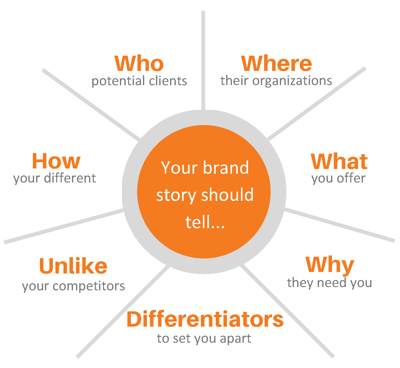 Make sure your brand defines who, what, where, why, how, unlike and unique differentiators.


Whether it's your web pages, blog posts, social media, white papers, infographics, or enewsletter, your marketing efforts must be aligned to your brand foundation. It's easy to lose sight of your brand foundation and start making inconsistent decisions when it comes to marketing. But having a disjointed brand eventually hurts your company as prospects get confused with who you are and what you do.
Why a Cohesive Brand Strategy Matters
As marketers and business leaders, our job is to distinctly position and message our company, products and services in a way that builds credibility and trust, differentiates us from competitors, and effectively resonates with our buyer personas. To do this, we create and build a brand. Your brand should describe the problems your customers face, guide them to the solutions you provide, and show quantifiable results your solutions bring.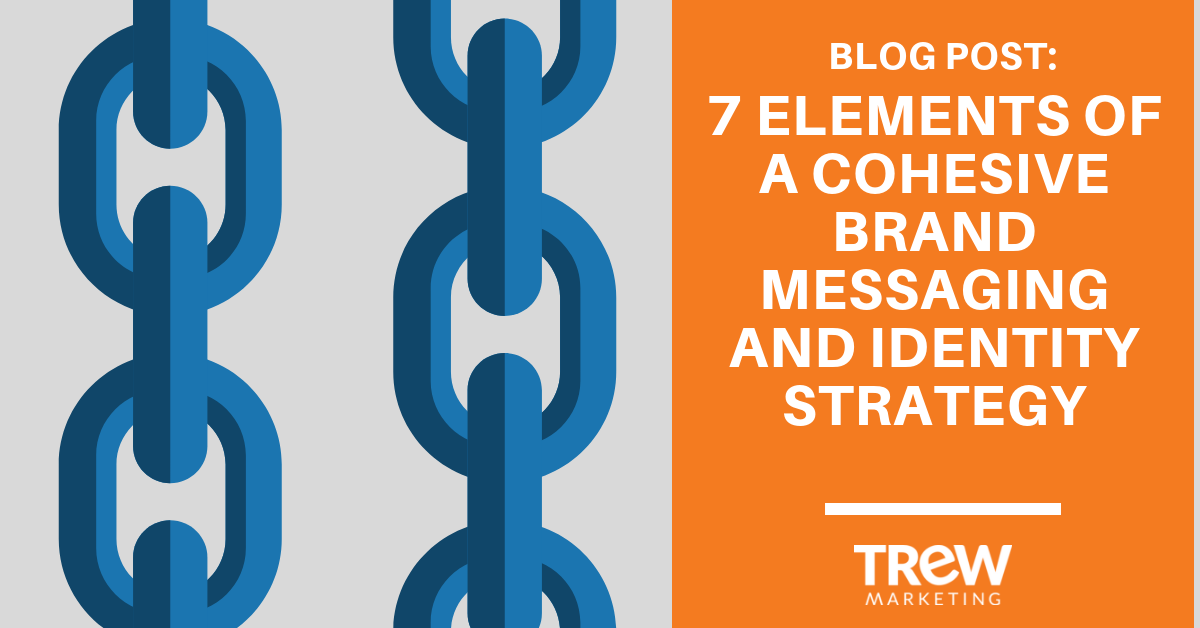 3 Key Pieces of Your Brand, Messaging and Positioning
1. Differentiation Pillars
Corporate differentiation pillars articulate what makes your company different, and how those differences positively affect your customers. These pillars each have a core message – or headline – and supporting details that prove how the differentiators are carried out in your business.
Differentiation Pillars should be valuable to your customers and articulate aspects of your company that cost you something to uphold
Headlines should convey the value of your differentiators to your customer
Supporting Details should be specific facts.
2. Tagline
With your differentiators identified, your headlines drafted, and your supporting details listed, you now have the basis for creating your overall company headline, also known as a "tagline".
Ideally, you should try to create a tagline that is:
5 words or less
Intriguing
Memorable
Unique to your company
Tied to emotion
Inclusive of a benefit
Here are a few examples of strong taglines:
Nike: Just Do It
Apple: Think Different
TREW: Smart Marketing for Engineers
3. Elevator Pitch
Take some time to draft your elevator pitch. It's called an elevator pitch because your message has to:
Make sense to strangers – those who don't know your company
Be short, ~30-60 words – enough time to go up 10 floors in an elevator
Convey your brand – explain what your company does with a tone that gives the person an idea of what it's like to work with you
Be memorable – inspire the person to visit your website when they get to their desk to find out more
As you begin, specifically write down key elements from your differentiation pillars. Then begin drafting your elevator pitch to convey your "What" with your brand tone. Here are some examples:
We use a multidisciplinary engineering approach and proven expertise to design and build exact, on-time, and on-budget test systems for aerospace, defense, or energy applications.
We transition products from traditional to touch. As a complete touch solution provider, we design, develop, and deploy plug-in ready, touch-based devices with an embedded UI, tested and proven to fit the exact needs of your product.
We are in business to engineer better infrastructure solutions. As a company working with stakeholders in every setting – from the cable to the connected enterprise network – we are charting the course toward a stronger, more informed future for businesses in our connected world.
Now that you have an overview of what makes a strong brand in terms of messaging and positioning, let's look at key elements of a cohesive brand identity.
4 Elements of a Cohesive Brand Identity
1. Logos: Your corporate logo is the face of your company and should have a primary role in your marketing, sales and company content. Your logo should reflect your brand and resonate with your buyers. If you have product logos, those should also be included on product collateral and web content.


Here is an example of Wineman Technology's company logo and one of their product logos.
2. Brand Colors: A brand color pallet not only looks good, it also ties your brand together. Start by picking a main brand color and then select complementary colors to accent it. Here's an example of strong color palette: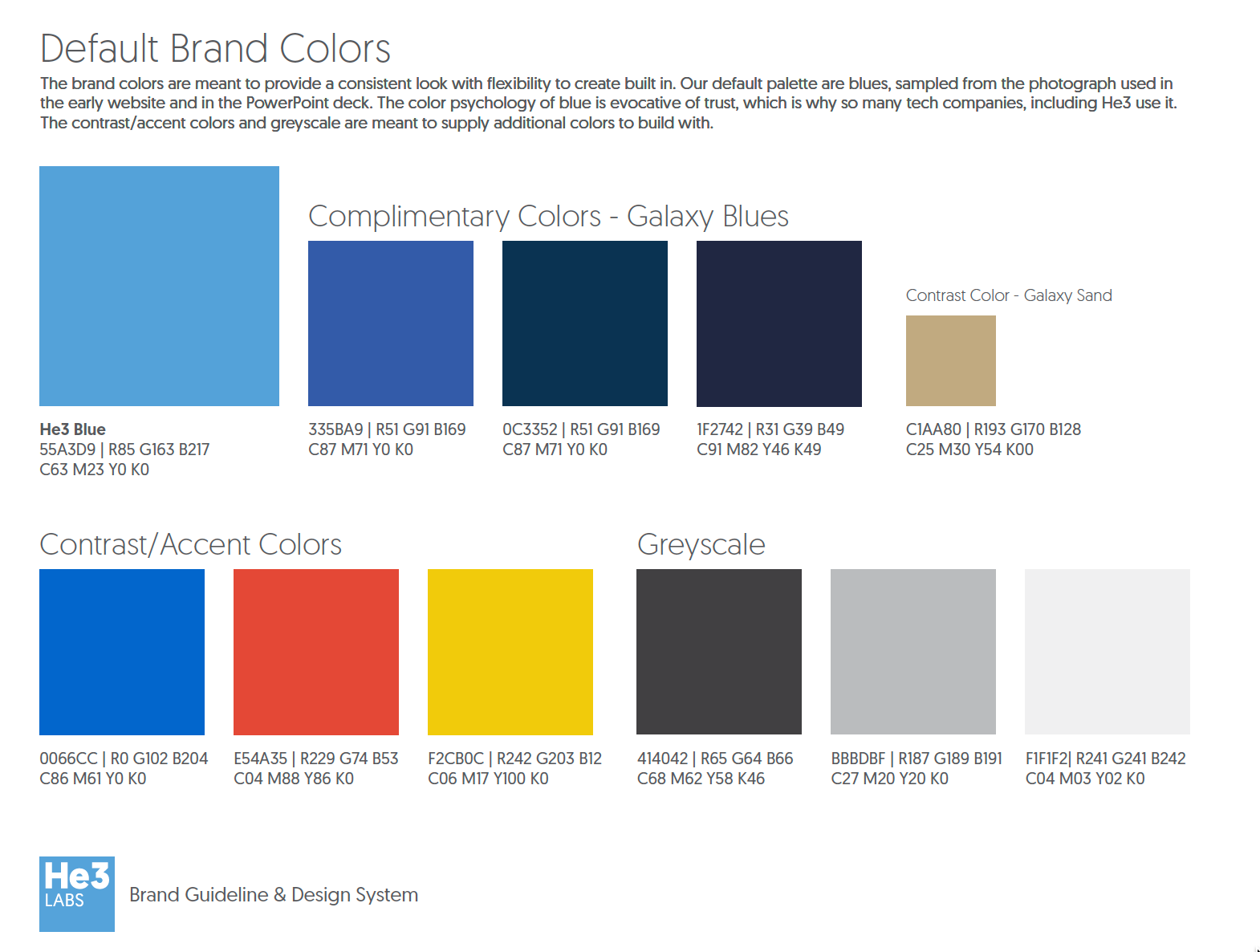 Here's an example of a brand color palette.
3. Imagery and Icons: From the images and icons on your website to social media posts, your brand should be reflected and consistent in all your marketing imagery. If you decide to go with icons to showcase your company's services, then use your brand colors in these icons and consistently use the selected icons across web pages and product data sheets. Some brands stick to stock photos, others take their own photos. More recently, brands have started using graphics and illustrations in place of images. It doesn't matter which route you pick, just stick to a cohesive imagery.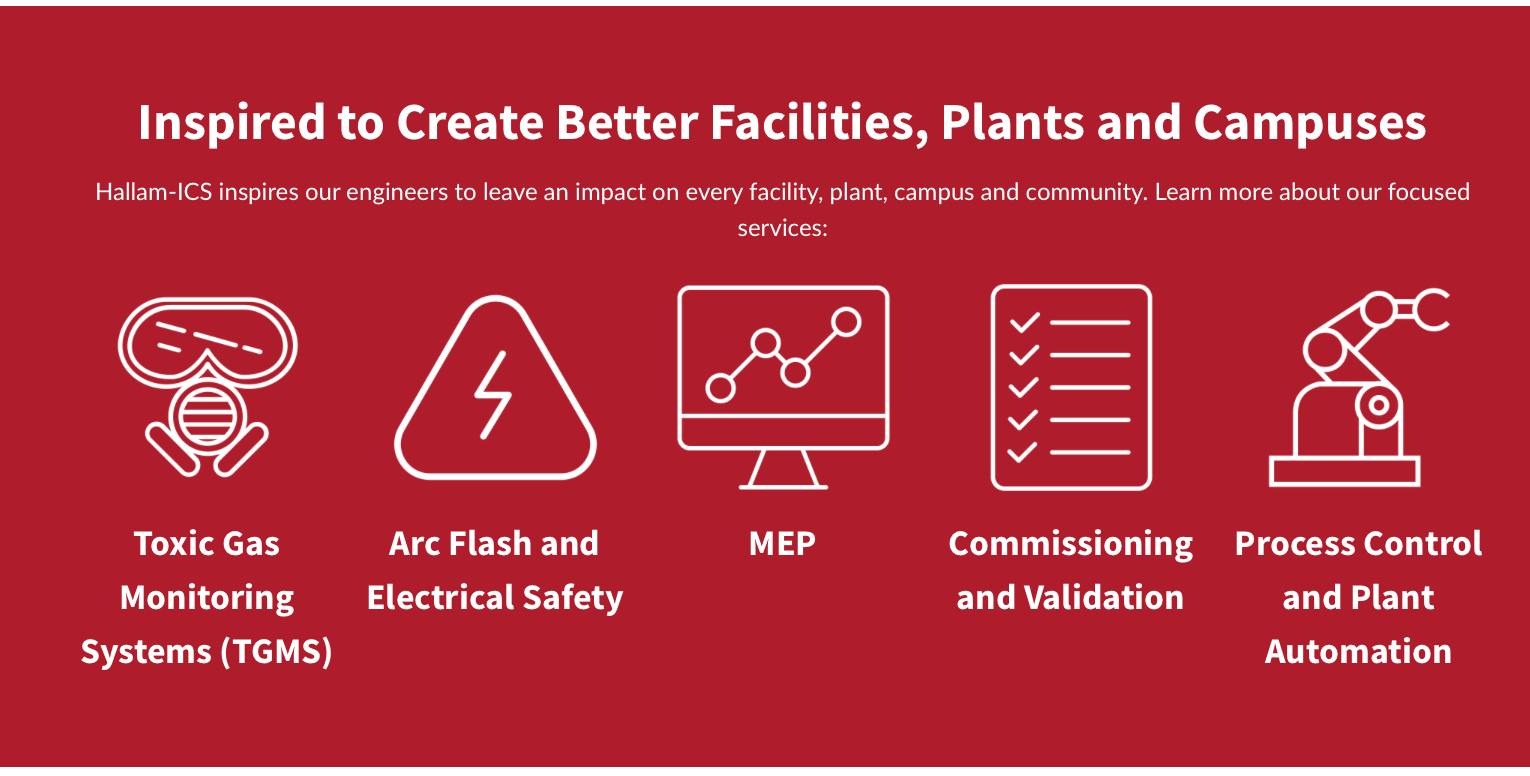 Hallam ICS uses these icons throughout it's website to depict its five service offerings.
4. Shapes: It can be very effective to include a brand shape from a graphic identity to create program elements. Shapes that echo the logo (squares for a squareish logo, circles for a circular logo, etc.) can be used to create pattern or texture. These elements not only are useful in making the look of your design more cohesive, but they also can help make the graphic identity more meaningful and memorable to your audience.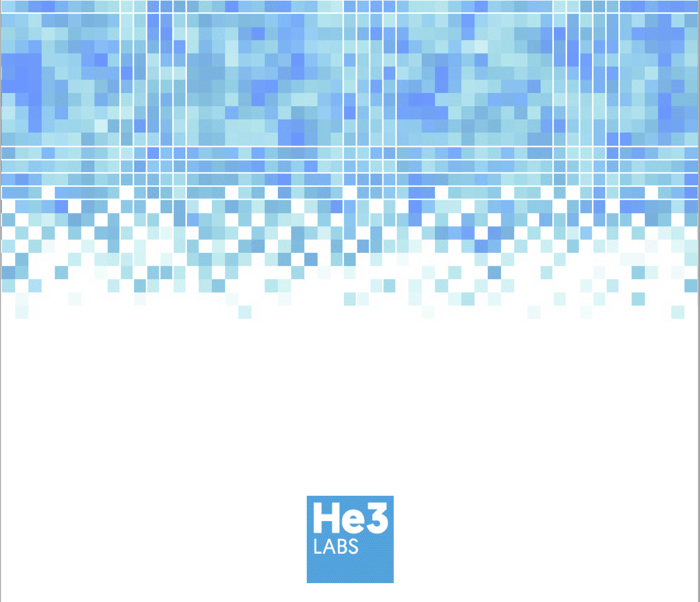 He3Labs uses squares in their branding efforts to go along with their square shaped logo.
Want to learn how you can build a foundation for your brand identity? Download our free ebook, "Smart Messaging for Engineers", to learn how develop brand position and messaging that resonates with buyers and establishes your brand.

Marketing Manager
TREW Marketing is a strategy-first content marketing agency serving B2B companies that target highly technical buyers. With deep experience in the design, embedded, measurement and automation, and software industries, TREW Marketing provides branding, marketing strategy, content development, and digital marketing services to help customers efficiently and effectively achieve business goals.