Sales enablement is a strategy across process, resources and technology that improves the productivity and performance of sales' ability to advance leads through the sales pipeline.

Who is responsible for sales enablement?
Sometimes sales enablement is a formal function owned by a dedicated team or individual that can live within sales, marketing or product management. More often than not, it's something that is done rather ad hoc per request instead of being handled strategically.
TREW recommends that ownership of the sales enablement function be a joint effort between marketing and sales with at least one individual responsible for executing the strategy. Companies who have aligned with an inbound marketing or sales methodology tend to have a more formal approach to sales enablement, as they are also well aligned and operate more as one team than two siloed organizations.
I always like to use the analogy that sales is the engine but marketing is the gas. Marketing's job is to fuel the sales team with leads and content and then sales must pick up the contact to deliver them to their final destination – as a new customer.
Regardless of who owns the function, sales enablement must be fully staffed and funded in order to be successful.
How to Get Started?
Get sales and marketing in the same room. This is best done in conjunction with annual planning while strategy is top of mind. Collaboratively look at your revenue goals and your lead conversion funnel while discussing what campaigns the marketing team has planned to drive leads into the funnel. Then ask sales, "What do you need?"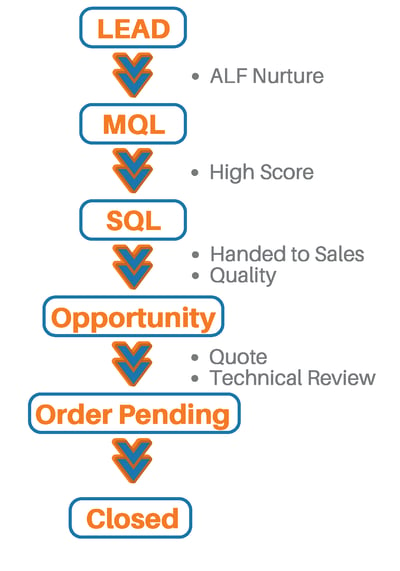 When asked, sales will almost always have a response. Opening up this line of communication between the teams is something that should be done often in order to come up with proactive solutions. This prevents finger pointing at the end of the year if revenue goals aren't met.
You are likely to hear "we need more leads!" With this type of response, you can dissect it and find out what the team really needs. In this case, I would recommend putting in a process, such as lead scoring, to help sales prioritize the warmer leads.
Once everything is documented, you can prioritize the needs and develop the plan for the year.
What types of sales enablement activities are there?
There are three areas in which sales enablement activities fall into: Process, Resources and Technology. See TREW's Sales Enablement Services.
Sales Enablement Process
These sales enablement activities are designed to improve and support sales' process of prospecting, qualifying and closing opportunities. Examples of these are:
Lead Scoring
Lead handoff process from marketing to sales
Coaching & Training

Resources
Developing resources that sales can use with prospects to highlight your companies value proposition and differentiators is the difference between low-performing sales teams and the top sales organizations. When left to their own devices, sales will create their own content, which often is not aligned to your brand or corporate message and can then create a disconnected experience for the customer.
Value proposition development
Customer Case Studies and Quotes
Email Templates
Call scripts
Proposal templates
ROI calculators
Presentation Decks
Collateral
Technology
When we do Lead and Opportunity Management with our clients, we discover that the technologies most used by sales team are Microsoft Excel and Outlook (or another email provider). Having the technology in place to help sales prospect contacts, manage the database, and the progress to quotas will be extremely helpful in driving productivity. This way they will not have to spend time digging through emails or updating a spreadsheet. It will also help leadership see what is in the pipeline across the entire sales team.
There is a lot of technology out there for sales but a good Customer Relationship Management (CRM) should cover all your technology needs. Things to look out for in a CRM:
Contact profiles with data about how they have interacted with your company online such as web visits, emails opened, forms completed etc.
Custom views and dashboards
Task assignment and management
Integration with your email provider
Opportunity management to help with forecasting
Ability to send emails using templates to contacts from the tool
TREW recommends HubSpot CRM and marketing automation platform for inbound sales and marketing teams that we work with.
Ready to get started with your sales enablement strategy? Download our free white paper, How to Engineer a High-Performing Pipeline, to discover how to align your sales and marketing teams to fill and manage your growing pipeline.