5 min read
6 Steps to Strategic LinkedIn Advertising
If you've visited LinkedIn in the last month, you're far from alone. More than 310 million people around the world visit the social platform at least monthly, and engineers in particular find LinkedIn to be a valuable source of information. TREW's
shows 66 percent of engineers globally believe LinkedIn is somewhat to extremely valuable when seeking information on the latest engineering technologies, industry trends, and products or services.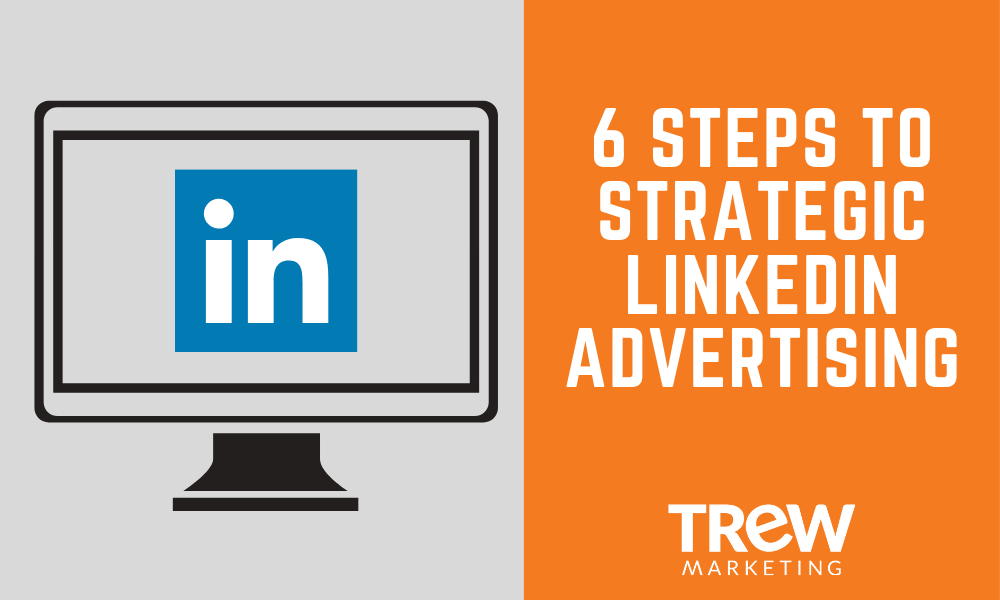 If you work within a B2B company targeting engineers, it's likely your audience is on LinkedIn and using it to build their networks, connect with colleagues, and discover relevant information. If you're not there to connect with them, you're missing an opportunity.
There are several different functions of LinkedIn that you may want to use, ranging from hiring to social posting to advertising. Today, we're going to focus on LinkedIn advertising and the main steps to create, launch, and review your first ad.
Step 1: Set the goal and audience
What is the overall goal of your LinkedIn ad? Do you want viewers to register for your upcoming webinar or read a new case study? Are you trying to reach a high-value persona and convert them to a lead? Or, maybe you just want to raise awareness and send new visitors to your website. Whatever the goal is, the first step of any LinkedIn ad should be defining that goal and the action an ad viewer should take.
Finalizing the goal will inform the landing page you use and the audience you target. For instance, if your goal is registrations for a webinar targeted to your decision maker persona, your landing page will be the webinar registration page and your audience will match that persona.
You can run a LinkedIn ad to garner video views or post engagement, but it's more common to use ads to drum up leads or website visits. You'll likely be spending $4-14+ per click, so keep that in mind when deciding on a goal and select something worth the high spend. At TREW, we focus ads on high-value, gated content. After all, if we (or a client) are spending money, we want to get a lead out of it.
Step 2: Build or refine the landing page and post-submission actions
Now that you have defined your goal and audience, it's time to either create or polish the landing page. You're paying to get people to this page, so put care into the wording, imagery, form fields, form length, and every other aspect of this page to ensure it supports your goal and fits the target persona.
Also consider what happens after someone gets to this page. If it's a gated page (with a form), is there a post-submission email or workflow? If the visitor is signing up for a free trial, does a member of your team get assigned to set that up? If there is no form, is there a deeper in the funnel call-to-action at the bottom of the page? Always think about the next step, and ensure it supports your overall ad and marketing goals.
Knowles Precision Devices optimized this landing page to show a mockup of the white paper and a form at the bottom of the page.
Step 3: Select your audience
You identified an audience in step one, but you have yet to define the qualities that create that audience. I highly recommend opening LinkedIn's Ad Manager at this point to run through all attribute options with a subject matter expert. There are many variations in qualities, and the difference between a great fit and non-fit person can be slim.
We almost always use the following attributes:
Location: Required, but also a common sense choice. Where do you conduct business? Limit the ad to that geographic region.
Fields of study: Your audience is likely made up of well-educated people in a very specific niche. Field of study can be a good way to hit this niche or a broader segment if there's a specific degree or program for it (i.e. aerospace engineering).
Company industry: Field of study might not be good enough when defining your audience if your target audience holds a generic engineering degree. Company industry can then help you narrow down to the specific vertical or function you focus on.
Degree and job function: These two factors fine-tune your audience. Consider the job level, job function and purchasing power of your intended audience. Are they current engineers, or are they directors? Do they have advanced degrees? Add these factors to target the specific group you need, and to avoid paying to reach the wrong people.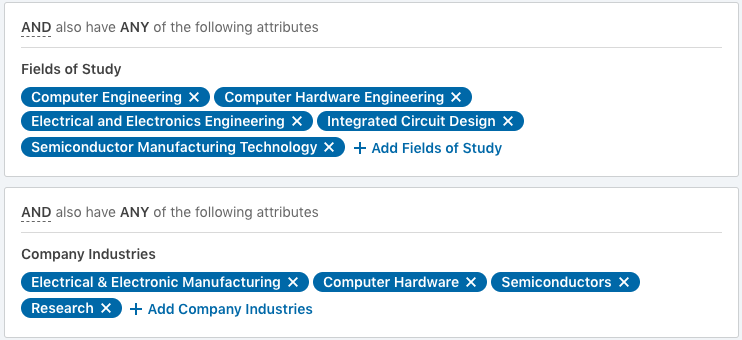 Example attributes for industry and field of study.
Step 4: Create the ad elements
You know your goal and target audience, and you have a specific landing page to promote. Now, you can write the post copy, select an image and ready the landing page link.
We recommend the following character counts for a single image ad:
Introductory text: About 150 characters or less. You want to avoid this text truncating, as a click to "read more" counts as an ad click (and will be charged as such).
Headline: Under 70 characters. After a lot of ad testing, I can promise headlines look better at one line long.
Ad description: This rarely shows but should be completed anyway. You have up to 300 characters.
If possible, develop several versions of copy and get team input on the ad(s) that run. This also ensures that you have backup copy if you need to change out an underperforming ad.
As for the image, a single image ad image is 1200 x 627 pixels. We've seen best success with stock photo-type images as opposed to designed graphics. LinkedIn does not have ad rules regarding text in images (unlike Facebook), so you can infographics if desired.
Don't forget to get your landing page link ready at this point as well. To accurately attribute website traffic and conversions to a specific ad and campaign, add UTM codes using your marketing automation tool or Google's URL builder.
Step 5: Set up and launch your ads!
We typically run two versions of an ad with either a different image or text to A/B test an element. Another option is to run one ad with a link, and one ad with a LinkedIn form. Make sure your budget is appropriate if running more than one ad and that you're prepared to closely monitor and act on performance.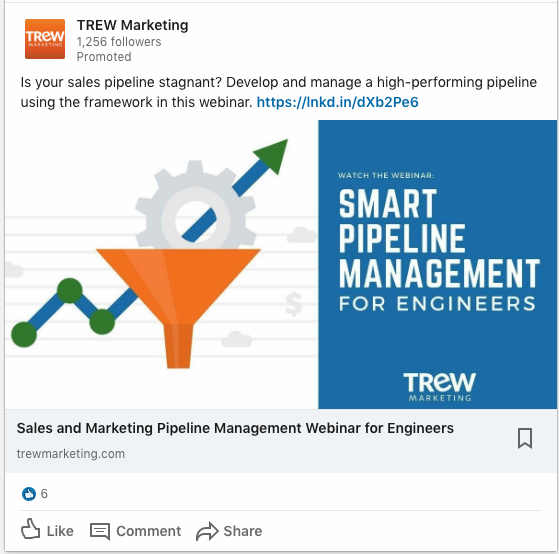 Example ad preview.
Step 6: Evaluate and make changes
Your ad(s) may be live, but you're far from done. Check the ad performance at least weekly, monitoring the cost per click, overall clicks, click-through-rate and conversions/leads. LinkedIn should give you forecasted results when you set up the ad, and you can also compare to your results to past performance or ad benchmarks.
Other metrics to keep an eye on are form conversions, conversion rate, number of new leads, new visitors from the ads, and engagement of the ad visitors vs. the average engagement. Reviewing all these metrics will ensure you stay on track for your goal and can course correct if it looks like something isn't working.
---
Ready to learn more about connecting and advertising on the world's largest B2B social network? Click the image below to explore our LinkedIn podcast miniseries.
This post has been updated since its original publication in 2019.

Erin has worked with more than 40 technical companies across website strategy, content development, sales enablement, and marketing tool stack development. She's a strategy-first marketer with a passion for persona development and a deep understanding of how marketing metrics tie into the bottom line. Erin holds a B.S. in public relations with a minor in anthropology from the University of Florida. She lives in Austin, TX, with her husband John and their dog and cat.
TREW Marketing is a strategy-first content marketing agency serving B2B companies that target highly technical buyers. With deep experience in the design, embedded, measurement and automation, and software industries, TREW Marketing provides branding, marketing strategy, content development, and digital marketing services to help customers efficiently and effectively achieve business goals.