5 min read
Adding CAD to a B2B Content Marketing Program
Having diverse content types to attract and engage your personas through their buyer's journey is key to the success of any B2B content marketing program. In this blog, we provide an overview of CAD content marketing and key considerations for determining if it can fit into your content marketing plan.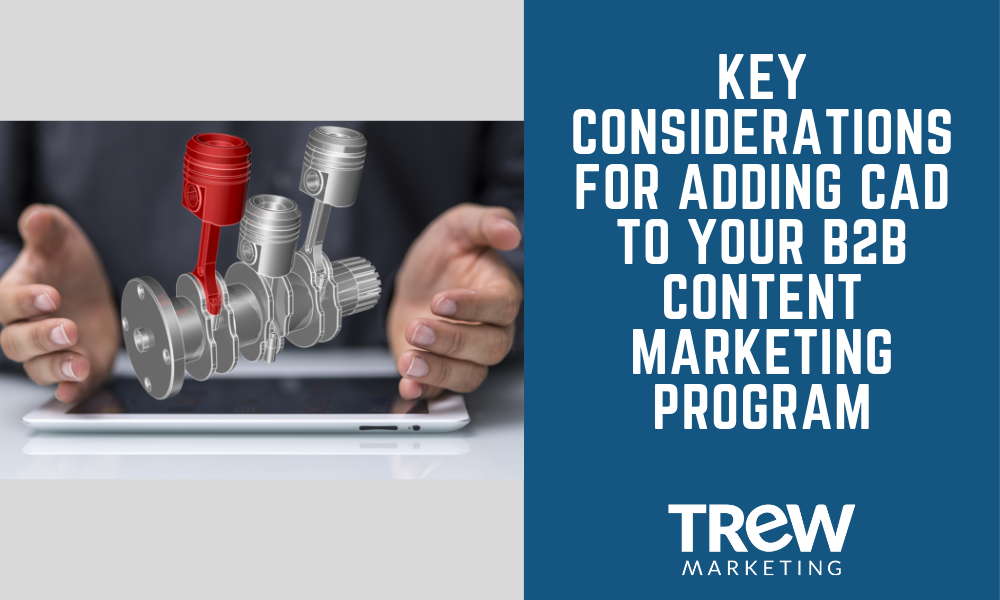 What is CAD Content Marketing?
CAD content is a type of content specific to engineers and engineering companies. It is produced by Computer Aided Design (CAD) software tools commonly used by engineers to design products.
CAD content marketing uses 3D CAD models and 2D CAD drawings to help prospects who use CAD and need models or drawings of your products. Content marketing with CAD is most commonly used by B2B suppliers to help engineers, designers, and buyers in the manufacturing industry.
How does CAD Content Marketing work?
Suppliers' parts, components or sub-systems are often included in new CAD designs, bills of material (BOMs) and specification documents. By providing CAD content you help save time for the engineers that design-in, and buyers that spec-in and buy your products. Downloading CAD content saves them from having to create it as they can download it instead of drawing it from scratch. At the same time, it ensures your products are 'designed-in' graphically and include part numbers.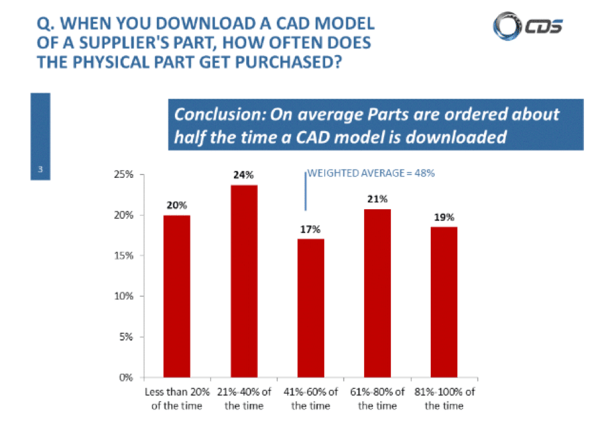 In a research study Catalog Data Solutions, data shows that, on average 50% of downloaded parts are ultimately purchased and on average 157 units are purchased.
What types of CAD content do I need?
The terms 'CAD models' and 'CAD drawings' are often used synonymously. CAD drawings refers to 2D drawings (plans, elevations and sections) and CAD models refers to 3D solid or surface models. Engineers mostly use the 3D CAD models in their 3D CAD designs, whereas buyers primarily use 2D CAD drawings for inclusion in their specifications, so it's best to offer both as content on your individual product detail pages. The CAD should be viewable online without downloading any software apps, for example, to zoom, rotate and pan 3D models or see dimensions on 2D drawings – seeing the product of course helps prevent selecting the wrong product or version.
How can I incorporate CAD into inbound content?
Wineman Technology used a CAD drawing in a white paper to illustrate how they helped an aerospace hydraulics component vendor build a full-scale test stand using physical components and steel tubing. Using 3D CAD geometry files of the aircraft hydraulics design, readers could better visualize how the tubing was precisely bent and assembled to replicate the exact aircraft geometry and volume. CAD content can quickly convey a wealth of information that would take much longer to explain in text. It's a way of removing friction in the buyer's journey and providing visual content to improve a user's experience.
How many 3rd party CAD models on average, do users download?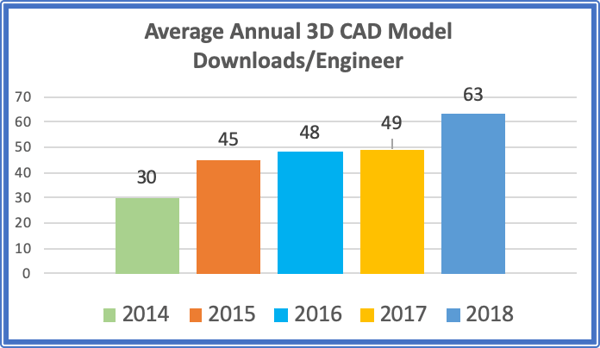 The latest research shows that 83% of CAD users across all industries download at least one ready-made 3D CAD model a year, 59% do so at least monthly and 28% do so more than 5 times/month. For those that download CAD models, the weighted average downloads per person across all the industries surveyed was up to 63 CAD model downloads per year in 2018.
Where in the marketing funnel does CAD content fit? And where do users expect to find it?
It falls at the top and bottom of the funnel:
It's top of the funnel when an engineer is initially working on a new design in a CAD system, needs a particular part, and searches online for it, views and selects a CAD model, then downloads it into their CAD design. This can even be a trigger event for your sales team, as it alerts them to a new design starting which could include one of your products.Astute and timely follow-up by the sales team can ensure and even expand that opportunity.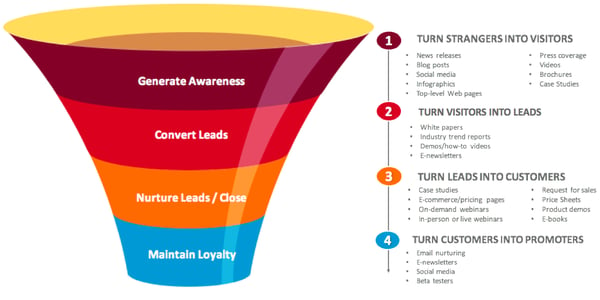 A CAD model is often downloaded as part of the ordering process and at that point, it is considered bottom-of-the-funnel. For example, many companies with custom products offer online configurators that let the user design to their needs then download the 3D CAD model or 2D CAD drawing which they may insert in their factory layout model or drawing.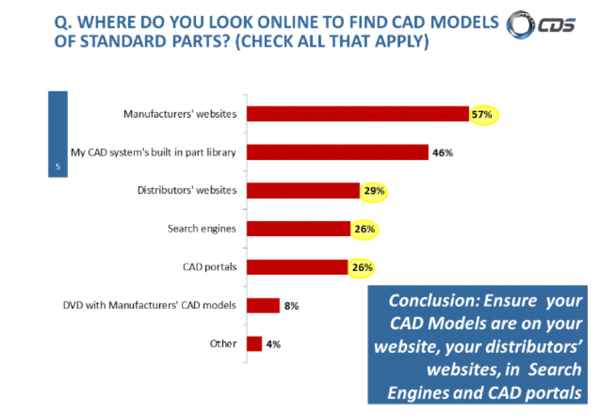 How do I know if CAD Content Marketing will work for my company?
Here's a quick list of considerations:
Are your products components of other products?
Do other companies buy your products to use in creating their own products? If so are they specified within the CAD designs for those products?
Have your customers asked for CAD models or drawings of your products or configured sub-systems? If so how do you meet that need today and what does it cost?
Do any of your competitors offer online CAD downloads of their products or configured subsystems?
If the answers to these questions are 'yes' then you should consider incorporating CAD into your content marketing efforts.
If I already have 3D CAD models can I use them?
Yes, it's very likely that you can use CAD models from any 3D CAD system can as a starting point, but you'll likely need a CAD download service to automatically generate whatever format of 3D CAD file your user requires and, if you don't already have 2D drawings, select one that can automatically generate them from the 3D CAD model. Your engineering team's 3D CAD models may need IP or other protection so it may be wise to make your downloadable CAD models 'outer envelope only' by excluding the inner details. This outer shell of your design is all that most customers need so you may end up with two sets of CAD Models, one complete set for your engineering teams use and one hollowed-out set for content marketing.
To learn more about developing your content plan, download our free Content Marketing Kit.

Jennifer has been successfully marketing to engineers and scientists for nearly 20 years. Her marketing experience spans from defining company narratives and developing integrated marketing campaigns to building mutually beneficial partner relationships and maximizing performance in cross-functional teams. Jennifer holds a Bachelor of Journalism degree from the University of Texas at Austin. She is a native Austinite and when not at work, enjoys being on the lake or cheering on her sons' soccer teams.
TREW Marketing is a strategy-first content marketing agency serving B2B companies that target highly technical buyers. With deep experience in the design, embedded, measurement and automation, and software industries, TREW Marketing provides branding, marketing strategy, content development, and digital marketing services to help customers efficiently and effectively achieve business goals.