5 min read
INBOUND 2021: HubSpot Updates and Highlights
HubSpot just completed its second fully virtual conference and delivered a flood of product announcements, advice from industry influencers, and celebrity appearances. Several members of the TREW Crew attended the sessions, and as a Platinum Partner, we were able to obtain deep insights into the future of the platform. Keep reading for an overview of INBOUND 2021 and the most exciting updates and trends!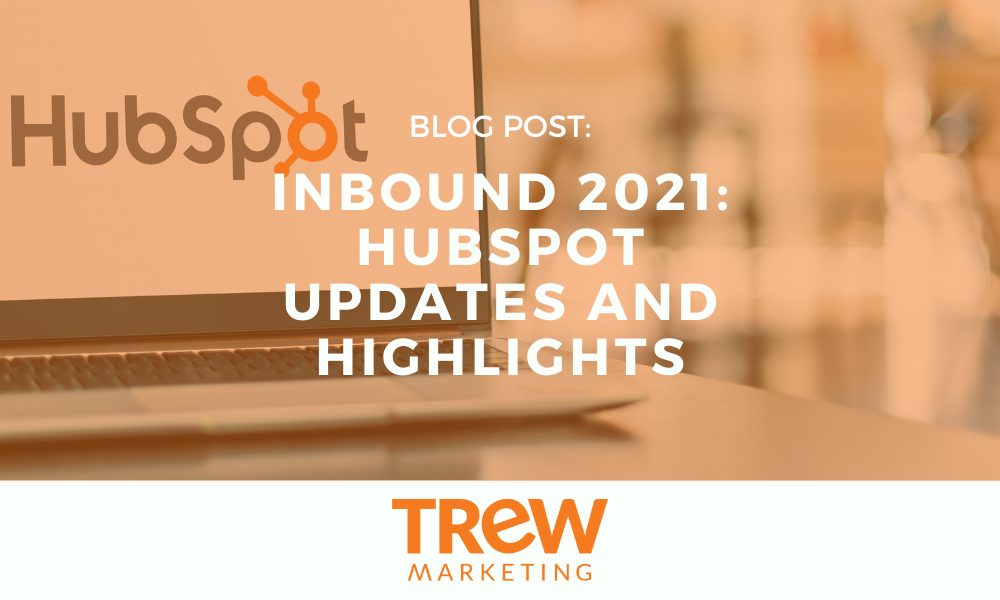 In 2020, HubSpot was abruptly forced to digitize their annual conference in Boston. This year, the online conference felt intentional and much more immersive. To attract attendees, HubSpot pulled out all the stops with a free ticket option and presentations from Oprah, Hasan Minaj, Spike Lee, and other famous faces.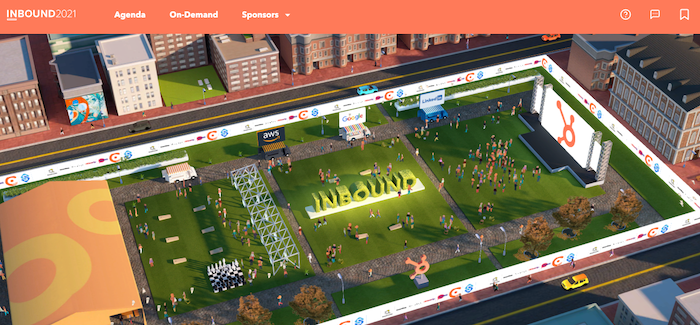 HubSpot tried to bring a physical dimension to the virtual conference.
Key Themes
HubSpot as a CRM Platform
HubSpot's primary theme for INBOUND this year was "A More Customizable CRM Platform." This focus on CRM (Contact Relationship Management) demonstrates the evolution of their messaging. Over a decade ago, HubSpot earned a reputation as a solution for marketers seeking email automation, landing pages, and other advanced marketing tools. Over time, HubSpot developed toolsets or "Hubs" for sales, service, and operations teams as well as a robust website builder. With so many features within one platform, it makes sense that HubSpot would seek to clarify its identity.
HubSpot now defines itself as the leading CRM platform for scaling businesses. With this positioning, HubSpot is clearly targeting Salesforce and other legacy CRMs. In the first presentation, executives highlighted new enterprise-level features and contrasted HubSpot with "Frankensystems" that consist of disparate, clunky software combinations. Meanwhile, each HubSpot "Hub" was carefully built by the same development team which leads to a more user friendly experience.
Remember the Flywheel
Throughout the presentations, HubSpot leaned into its flywheel model of sales, marketing, and service. CTO and Co-founder Dharmesh Shah pointed out that too many companies have "Funnel Vision" which represents an outdated, transactional method of doing business. HubSpot's inbound methodology claims that businesses benefit from embracing their flywheel model of reducing friction and building momentum throughout the customer lifecycles.
HubSpot introduced the flywheel at INBOUND 2018.
RevOps
Multiple presentations and discussions centered around Revenue Operations (RevOps), a business function that seeks to maximize revenue potential. In recent years, numerous large companies have created RevOps teams to optimize internal processes and encourage collaboration across marketing, sales, and service teams.
To serve these needs, HubSpot recently launched the Operations Hub which helps businesses sync customer data and automate vital processes. At INBOUND, attendees learned about the Enterprise Level of Operations Hub and attended sessions on RevOps strategies.
Account-Based Marketing (ABM)
Another popular theme at INBOUND was ABM, the strategy of aligning marketing and sales to target a narrow group of high-value accounts. For B2B companies selling high-cost products to enterprise clients, ABM has long been a popular growth strategy. HubSpot has enhanced their own ABM tools in recent years, and at INBOUND, they taught attendees about their built-in tools and invited ABM experts to provide best practices.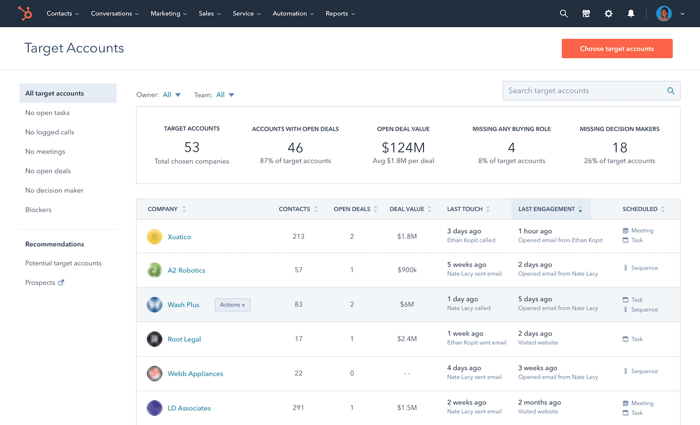 Target Accounts is a key aspect of HubSpot's ABM toolset.
B2B Buyers are Mirroring B2C Buyers
Another theme presented first by former CEO Brian Halligan was that B2B buyers are becoming more like B2C buyers in their purchasing preferences. The most successful direct-to-consumer companies have been those that enable digital autonomy and focus on buyer empowerment. Consumers want to be able to easily order online, consult with a sales rep in multiple ways, and engage on their own terms. Halligan pointed out that B2B buyers are demonstrating the same preferences. B2B companies who want to successfully scale in the coming years should aim to enable frictionless, friendly, online buying experiences for their customers.
Product Updates
As always, HubSpot announced numerous product updates at INBOUND. We will highlight a few that will be most relevant to our technical audiences, but you can learn about each update on HubSpot's website.
HubSpot faced a great deal of pressure to deliver a superior digital conference, and they delivered. With these product updates, enterprise-level enhancements, and a CRM-focus, HubSpot is poised to continue its aggressive growth. As a Platinum Partner supporting several HubSpot clients, we will follow each development. Stay tuned!
---
To learn more about HubSpot and determine if it could be a good fit for your business, watch our on-demand HubSpot demo for technical companies.

TREW Marketing is a strategy-first content marketing agency serving B2B companies that target highly technical buyers. With deep experience in the design, embedded, measurement and automation, and software industries, TREW Marketing provides branding, marketing strategy, content development, and digital marketing services to help customers efficiently and effectively achieve business goals.