Whether you've been a content marketer for years or are just getting started, sometimes you need a little inspiration to uncover new, fresh content topics. Gather your colleagues and clear off the white board. It's time get to brainstorming!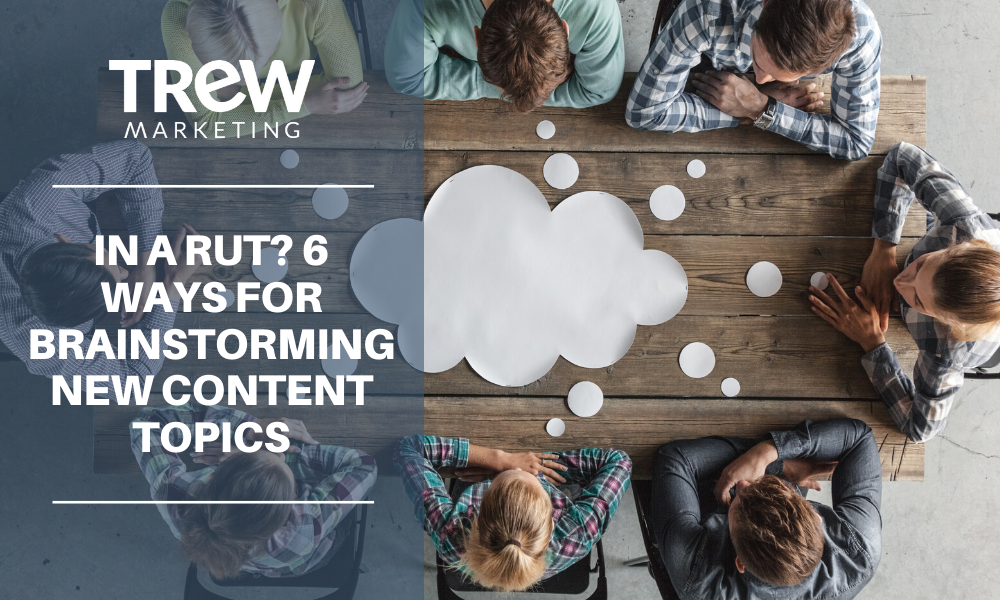 Kickoff with a Persona Review.
No matter which brainstorming technique you use, make sure that your content topics address your target buyer's pain points and needs, and that your focus is at least 80% educational. If you haven't created personas yet, complete this step first before jumping into content planning. For more on persona development, check out this blog post and also order your copy of Content Marketing, Engineered and read chapter one.
Create a Topic Cluster.
Similar in structure to a mind map, the topic cluster framework is an excellent tool for brainstorming about content themes, topics, and subtopics because you can visually map their relationships. You can then carry this topic connectivity through to your website using pillar pages, serving up content to your web visitors along the buyer's journey, provides context, and establishing your expertise in a particular area. This type of page layout also helps Google crawlers to understand that there is a semantic relationship between your content pieces, demonstrating you are a trusted authority on a topic. For more on how to build a topic cluster, read this blog post and chapter three of Content Marketing, Engineered.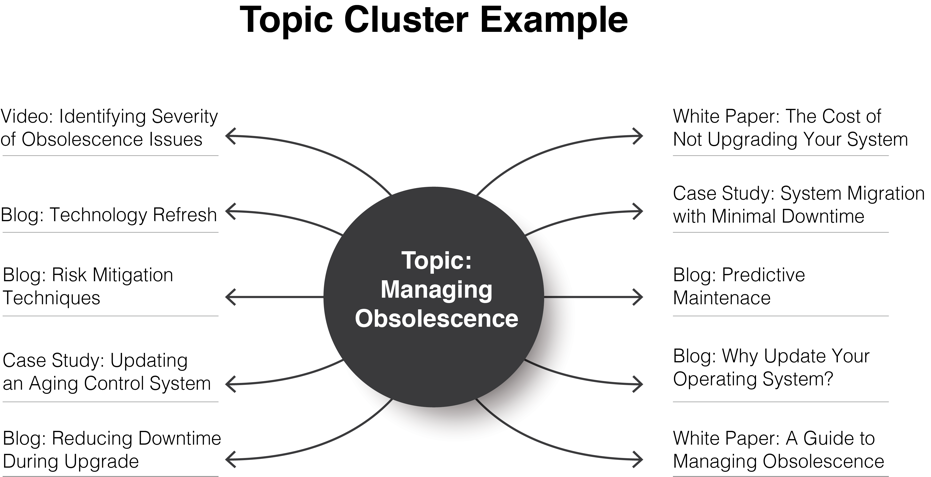 Use topic clusters to brainstorm content themes, topics, and subtopics and visually map their relationships
Newsjack.
If you need a topic for new content that's relevant and fresh, consider piggybacking your topic on current news, a tactic called newsjacking.
Newsjacking presents an interesting way for B2B companies to take advantage of general consumer news. For example, if a prominent golfer just won the US Open and your products have been used as sensors to monitor golf swings, talk about how you think golfers from the US Open could better their scores using technology.
Not only did rugged mobile phone company Sonim put out a news release about their support to First Responders and Emergency Management Teams during the COVID-19 pandemic, they posted a series of examples of their support on social media.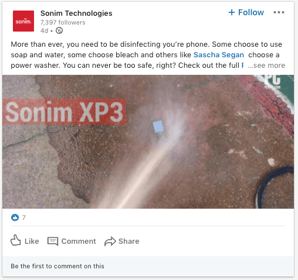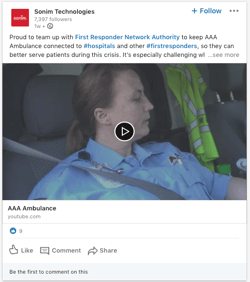 By borrowing a relevant topic and encouraging conversations around that topic, once-unknown brands become part of the conversation. This tactic capitalizes on the popularity of a topic – so be sure to use the news topic in your headline for the best search results.
Break a Few Rules
You may have a lot of internal rules about your content marketing strategy. It's important to have a content marketing plan, and it's important to adhere to style, brand, and positioning consistencies.
But sometimes, you can shock the market and capture attention by breaking some of your own rules. So, brainstorm a list of adjectives that describe the culture and tone of your company. Think of the way your customers perceive you and write down those words. Then, write words that are the opposite. What would a content marketing campaign look like if it contrasted your typical style or the overall tone of the industry?
For example, if your company is disciplined and regimented, and you're in an industry that adheres to acute standards and regulations, what would it look like to create content with a laid-back message?
Agilent Technologies creates test and measurement equipment for a variety of industries. Agilent created a content marketing campaign…with puppets. Their videos explain issues test engineers face in an engaging way. It's so different from the typical tone of B2B engineering that it stands out in the market.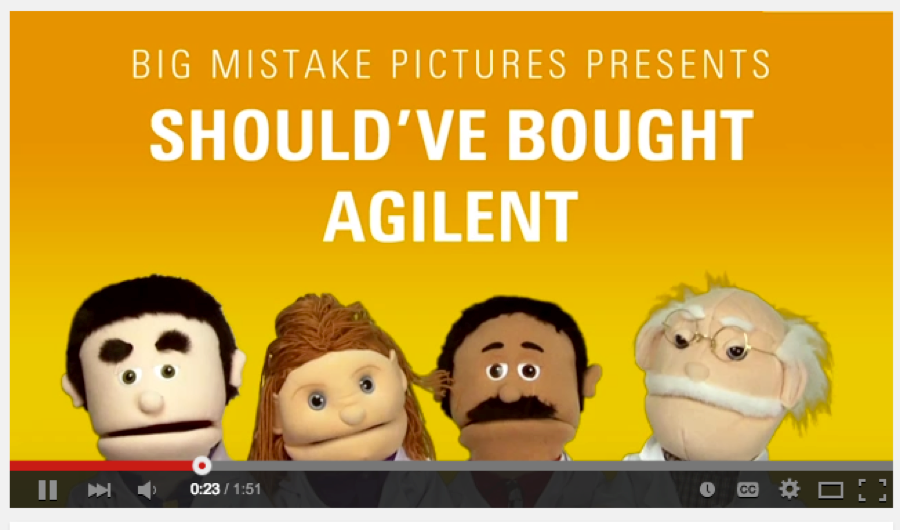 Agilent's campaign was highly successful, increasing traffic to its website and encouraging more prospects to click through in search of more information.
Change Your Channel or Distribution Method
Expand your content marketing efforts by changing your media channel or the way you distribute and share information.
How do you best express yourself? If you're comfortable in front of the camera, consider trading a typical blog post for a video blog. Consider infographics, webinars, podcasts, online directories, or eBooks to help your prospects do their jobs better.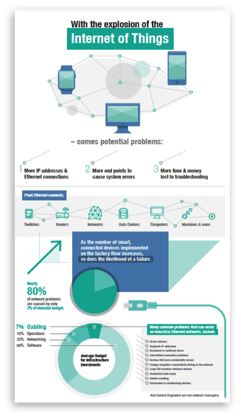 A great deal of information about Industrial IoT is packed into this interesting, engaging Panduit infographic
Partnerships
Partnerships provide an excellent opportunity to boost credibility and exposure to new audiences...often in half the time and half the cost.
For example, TREW Marketing partnered with IEEE GlobalSpec to
how engineers seek and consume information to make purchase decisions. The research was then packaged in several different ways, including a report, webinar and infographic. The research partnership enabled each company to create quality content with fewer resources than working individually, and provided both partners exposure to new audiences and positive brand association.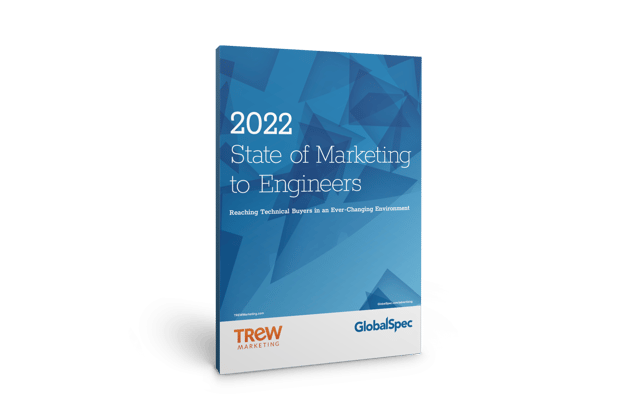 Partnerships such as this example with IEEE GlobalSpec and TREW Marketing allows both companies exposure to new audiences and positive brand association
Do you need more help with content marketing? Download our Content Marketing: Year One eBook or schedule time with a TREW Consultant.