8 min read
How to Build a B2B PR Plan and Engage with Media
Once you're consistently creating and publishing content, and promoting it to your audiences via your blog, email, e-newsletters, and social networks, it's time to expand your audience. A B2B PR strategy can be a key element of pursuing growth by reaching more prospects with your story.
When researching a product or service for a business purchase, 46% of engineers seek out trade publications – second only to vendor websites. Pursuing B2B media relations by seeking out journalists and publications is a natural next step in your content marketing endeavors.
If you haven't explored public relations, this article will help you understand where to start and how to move forward with PR.
1. Define Your Message

Your first task for B2B PR (spoiler alert: this is almost always my first task in any new endeavor!) is to define your message.
Let's ask a few questions to get you started:
● What products or services do you want to gain awareness of?
● What industry topics are you well-positioned to comment on?
● What elements of the market are your products or services helping to move forward?
● What regulations or standards are important for your customers?
The answers to these questions should reveal a few key topics that are relevant to your customers and important for your products and services to succeed.
Next, take those topics that came to the surface and think about them through the mind of your customer. Outline the topics based on your customer's pain points, questions they frequently ask, and what your products or services can do to ultimately meet their needs.
Here's an example:
Topic: RF test for communication devices
Customer's pain points:

Enduring new 5G releases and updates each year, managing test equipment in both R&D and production, getting good support from instrumentation vendors

Questions prospects frequently ask:

What equipment specs do I need for a specific application? How do I make sure this equipment will last the next five years? What's compatible with the equipment that I already have? What standards are coming up? How do we get ahead with a specific trend?

What your products or services can do to ultimately meet their needs:

Reduce total cost of ownership with a single solution. Future-proof your test setup with a scalable solution, offer superior support.
Now, you can develop targeted pitches for B2B media relations. Having streamlined pitches allows you to be consistent when you're talking to external media, keeps you focused on the topics you're truly qualified to talk about, and gives you a starting point for each response or outreach.

Here's an example:
Pitch:

Design and test engineers must measure RF device capabilities (particularly FR1 + FR2 specifications) in a reliable, repeatable manner with ease of automation and quick time from setup to first measurement. Today's engineers can step into the remaining 5G releases with a single-box tester that's straightforward to setup, easy to align with demanding requirements, and flexible to adapt as throughput and frequency increases demand testing for full-spectrum FR1 + FR2 specifications across all RF layers.



Talking Points:

The necessity of addressing full-spectrum 5G testing
Critical requirements of FR1 and FR2 testing
How to streamline the product development process for RF devices
Key elements of a turnkey solution
Now, you're set with a starting point. Keep these pitches handy so you remain on-message and on-track in your PR outreach.

2. Research

Now that your messaging is in place, it's time to start researching where to pitch your message.
First, look for viable outlets publishing content that your prospects are interested in reading.Start with mainstream B2B technical publications. Outlets like EE Times (and the EETimes DesignLines), Electronic Design, EDN, and Evaluation Engineering are great places to start. These publications have editorial calendars where they publicly share what topics they're covering each month or quarter.
Another option for research is to simply google details related to your topics (tip: look at the details you outlined in your "talking points" above), select the "news" tab, and look at what publications are publishing news about the topic. Go explore the editorial opportunities through the resource sections of their sites.
Even more resources to research:
Industry conferences: Industry conferences often offer opportunities to speak or participate on panels.
Trade shows: Trade shows also offer opportunities to speak or participate on panels. In addition, if you're paying to exhibit at a trade show, contact the trade show organizer and ask for a media list. Sometimes, show organizers will publish a list of journalists or outlets attending the show, but this information is typically only available to paying exhibitors – and if you're already exhibiting, definitely take advantage of it. With this list, you have journalists who you can assume are relevant to the trade show audience and you can start reaching out to set up in-person meetings at the show.




Webinars: Companies are often looking for partners to participate in webinars. Look both up (and down) your supply chain and inquire about any upcoming opportunities to come alongside tangential companies and expand your brand awareness. Webinars can feature a guest partner, or may have a panel of organizations, depending on the purpose.
Podcasts: Similar to webinars, podcasts provide opportunities to interview, be interviewed, or participate on panel discussions about topics that interest your prospects and show your expertise. Search your podcast app for hosts talking about trends you can speak to, ask your staff what they listen to, and look for publications who host podcasts that appeal to your prospects.

Twitter/LinkedIn: Twitter and LinkedIn are other great places to find journalists who are looking for experts like you when they write content.
HARO: HARO is a free resource where you can sign up for solicitations by journalists looking for sources and experts on specific topics. Based on what you select, you'll receive emails with a summary of "asks" like this example: "Query: Sometimes software developers who work on teams will run into the issue of the same code running perfectly on one person's laptop while throwing errors one another person's laptop -- the "it works on my machine" problem. I'd like to interview software developers who have run into this problem and ask about what causes it and how to fix it."

These queries come with contact information for the journalist and information about the outlet where the piece will run. Journalists who post to HARO are usually asking for a 5-10 minute conversation or a 100-150 word quote with an answer to their question (answering these queries is much easier when you have your message outlined like we did in step 1).
Once you have your message set (what you'll say) and your opportunities identified (where you'll say it), it's time to pitch yourself, your company, your products, or your services.
Learn More: Podcast – Engaging Technical Editors with Gary Lerude

3. Reach Out

It's now time to reach out. Engaging on Twitter, LinkedIn, or HARO can begin with simple comments or replies, but engaging with journalists, trade shows, or industry conferences will take more investment.
Take the publications you identified in the research phase and choose 2-3. Look at their editorial contacts and choose the editor who writes about topics where you have expertise and consider pitching an intro meeting. Over a 20-30-minute zoom call, you can share your company overview, your expertise, any relevant demos, and the key topics (the ones you defined in step 1!) that you're positioned well to discuss. If you want to really set yourself apart, give journalists a realistic picture of how you compare to other companies in your space that they've written about. These journalists *do not* want you to try and convince them that you're the best option out there – they don't want to be sold. Simply share your information and offer yourself or your team up as helpful experts when they need one. When those editors do reach back out, answer promptly with a clear answer.
If you can acquire media lists for trade shows, consider those shows an opportunity to meet new journalists and have the company overview meeting in-person in your exhibit booth, or to show existing media contacts what you're demonstrating in your booth. Simply contact those journalists 4-6 weeks before the event, propose a few available times, and then meet them in the booth for a 15-20 minute discussion.
*Tip: It's helpful to have a marketer at this meeting to schedule/follow up and an engineer to walk through the technology you're showcasing.*
Many publications also accept contributed content. Contributed content means you write an article (to be efficient as possible, marketers should write this content using an SME as a key source of the information, and then the SME's name becomes the byline of the article) and a publication publishes it with a note that it was contributed by you, an outside source. Contributed articles are a great way to share your message in your own words; however, just because you're writing the article doesn't mean you can just use the space to sell your products. Journalists will typically only accept contributed articles that come across largely unbiased, as if the journalist wrote the article themselves.
*Tip: Writing a blog post or white paper to publish on your own site? Consider writing the abstract and outline and then pitching this article to a target publication. If they accept it, they'll give you a word count and any feedback on article direction so that your drafted piece goes through reviews with the publication smoothly. Many publications allow you to then publish the content after either a certain timeframe (usually 6-12 weeks) or immediately with a note that the article was "first published in X outlet"*
Microwave Journal has a great contributed article process that's outlined here and will give you a good idea of what publications require.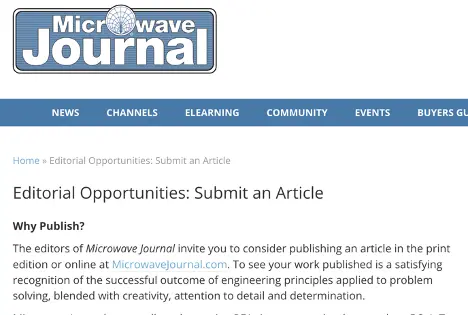 *Tip: If a publication does outline a process, you'll maintain better relationships with your target editors if you follow the process and format they request.*
Learn more: Podcast – Pitching Media with Lisa Peterson
Stick to the Process for Long-Term Results

Completing these steps in order is critical to the process. The reason we have you craft your messages first is because it's easy to see topics that editors are talking about or an opportunity to share your voice and lose focus as you engage in a conversation that doesn't relate to your core business. While these endeavors may get your name in print, they're not helping to draw customers into the nice where you have the most expertise, best solution, and profitable margins.
Consider scheduling a planning meeting each year to decide if you need to shift or refine the messages you're focusing on for the year – you may need to dive into an additional industry or new trend. The publications you target can be re-evaluated but should largely remain the same year after year, helping you build stronger relationships and become an increasing source of expertise for those journalists.
Looking for more specific information?
Check out the Media Miniseries, a set of six podcast episodes that will help you learn how to work with external news outlets and trade publications to attract new prospects, gain thought leadership, and build your brand.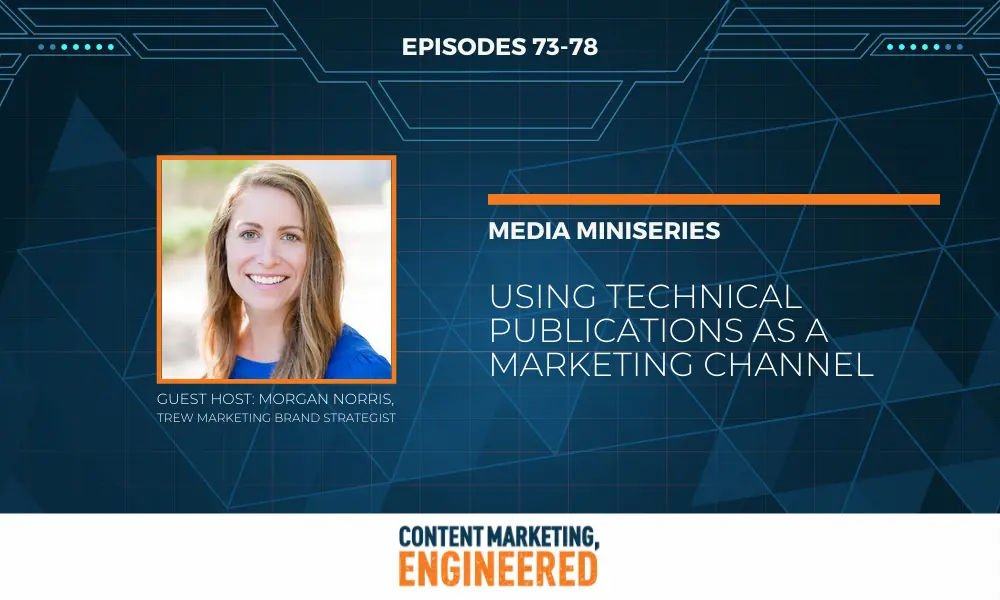 Morgan believes that the process of brand positioning and messaging powers companies by aligning corporate leadership, building a story that fuels staff and engages customers, and creating a foundation for consistent content – and she's seen these results come true for TREW clients time and again over the last decade. She holds degrees in Public Relations and Spanish, with a minor in Business from The University of Texas at Austin. Morgan, her husband, and three kids recently moved from Austin to downtown DC, where they enjoy walking the city, visiting the local museums, and playing a guess-who-is-in-that-motorcade game.
TREW Marketing is a strategy-first content marketing agency serving B2B companies that target highly technical buyers. With deep experience in the design, embedded, measurement and automation, and software industries, TREW Marketing provides branding, marketing strategy, content development, and digital marketing services to help customers efficiently and effectively achieve business goals.