10 min read
Cohesive Rebranding Strategy for a B2B Merger/Acquisition
Rebranding occurs when a company decides to change a significant element of its brand, and is typically necessary when a company is involved in a merger or acquisition. Rebranding could include a name change, new or refreshed logo, revised brand positioning and messaging -- or all of the above.
Any way you slice it, rebranding is extremely important to establish a new position in the market, but it is also risky. Not only can it be expensive to create and launch a rebrand, stakeholders may resist a rebrand because of the way a change will impact them. A poor attempt at rebranding can lead to brand confusion and ultimately devalue the brand. A rebrand needs careful planning, a clear message, and specific messages for stakeholders.
Mergers and acquisitions are generally considered one of the most effective ways to quickly achieve economies of scale, improve operational efficiency, and expand into new market segments. They are a fast-track to diversification through organic growth that helps mitigate that risk. But from a marketing and branding perspective there are several key considerations to evaluate before moving forward with the announcement to stakeholders and a full-scale rebranding launch.
Throughout every step of a merger or acquisition, your stakeholders are asking two questions:
Why is this happening?

What does it mean for me?
Your rebranding campaign should clearly and consistently answer those questions for every stakeholder group.
In this post, we will dive into six key considerations around a rebranding strategy due to a merger or acquisition (M&A).
1. Gain More Insight With Stakeholder Research
Before you settle on rebranding tactics, it's important to gain insight with research. This doesn't have to be costly or take a long time, but a set of five questions to a sampling of at least 20 stakeholders (employees, customers, partners, board members, etc.) across both companies can likely shed light on, or validate the direction you are leaning regarding a name. It will also give you insight into the perception of each brand and help you understand which aspects of each brand should be carried forward.
Gaining insight from stakeholders will help you create a rebranding initiative that tells your brand story in a manner that your customers will accept and the marketplace will bear.
Begin with qualitative research that helps you explore customers, prospects, and competitors. This is the stage in the rebranding process where you can gather valuable information related to consumer emotions and perceptions. Use this data to formulate your quantitative research surveys, so you can measure, compare, and assess opportunities. Quantitative research can help you define audience segmentation, messaging, brand positioning, and brand identity.
Simple questions like the following can help you gain insights about both brands:
What are the strengths of [brand 1]? Of [brand 2?]
What are the weaknesses of [brand 1]? Of [brand 2?]
Which brand are you more inclined to trust? Why?
Describe your most significant experience with [brand 1]. And with [brand 2]
How likely (1-10) would you be to recommend [brand 1] to a colleague? What about [brand 2]?
It's critical not to assume that you know what your stakeholders want. You need to talk to them to be certain, and once you have the facts, consider them and you'll be able to make more objective calls vs. emotional ones throughout the rest of the process that's laid out below. Many well-known brands have skipped this step and their brands have taken a negative hit as a result. It's much better to take the time now to proactively understand where your brands are coming from so that you can strategize a new name and brand story, vs. spending even more time and money later to repair and restore a damaged one.
2. Decide on a Company Name
When companies merge or acquire other companies a rebranding is often required. And the first question considered is what to do about a name? The name often begins to answer the question "Why is this merger or acquisition happening?" Let's look at a couple of key considerations about deciding a the name of a newly merged company*:
Option 1: Keep Both Names
Why would a company keep both names?
To ensure established customer acceptance.
Companies sometimes merge to combine different but compatible capabilities, and in doing so, make their sum greater than their parts. This was the case with leading chemical companies Lyondell and Basell. US-based Lyondell, with petrochemical and refining capabilities, significantly enhanced Europe-based Basell's polyolefin capabilities. However, each company catered to distinct markets. Since neither name was sufficient to represent the offerings of both portfolios, management opted to use the joint name LyondellBasell.
To leverage the strength of two equally powerful brands in an industry.
When two powerful companies merge to assert industry-dominance, companies often maintain the equity of both merging companies' names. For example, the merger of Raytheon and United Technologies to create Raytheon Technologies resulted in a powerful aerospace conglomerate.
Option 2: Choose One Name
Why would a company choose one name?
Using one name is generally effective at the outset of a merger or acquisition as long as it adequately reflects the combined capabilities of the two companies. A single name eliminates the need for a longer-term migration plan. In the case of most M&As, the name of the acquirer or the stronger player will typically prevail. Here are some other brand naming scenarios where a company might keep one brand name:
The name of the acquired company has greater awareness.
When AlliedSignal acquired Honeywell, the merged companies moved forward under the Honeywell name since it was the more widely known brand.
One name has a more positive reputation.
When one of the merging companies has valuable assets or capabilities, but a tarnished reputation, the new entity will often abandon the tainted name. This was Dow Chemical's strategy when it acquired Union Carbide, a merger resulting in $24 billion in sales revenue. Dow Chemical abandoned the Union Carbide name because of an internationally known scandal in which it was implicated. Union Carbide is now considered a subsidiary of Dow rather than an integral part of the parent name.
Option 3: Create a New Name
Why would a company create a new name?
When two merged companies are capable of transforming their field, a completely new brand name is preferable. Here are some reasons why.
To signal a new position in the market or business direction.
After the merger of Sandoz and Ciba Geigy, the company was renamed Novartis to stake out its place as a life brand rather than a pharmaceutical and chemical company.
To cover a broader geographic footprint.
When the Bell Telephone Company of Pennsylvania and New Jersey Bell merged, in order to shed a geographically limiting name, the two companies went forward under the name Bell Atlantic and eventually, with more acquisitions and expanded capabilities, became Verizon.
Learn how TREW helped Genuen decide on a new company name after multiple mergers and acquisitions.
3. Make Visual Identity Modifications
Along with your company name, you'll need to make similar changes to your visual identity including your logo, colors, fonts, and any existing templates you use for external content. Over time, you'll also need a plan for merging your websites.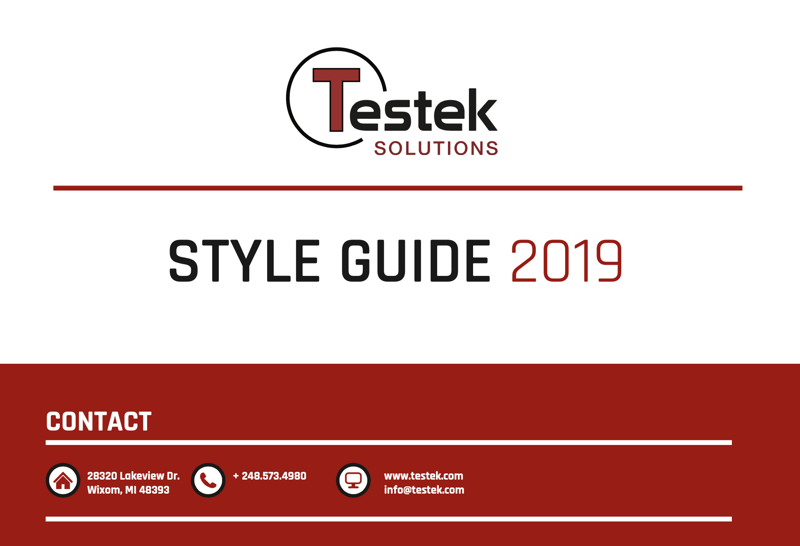 Make sure to put together a style guide to capture your brand's visual identity modifications.
4. Create your Brand Messaging
Once you've determined a naming strategy that fits your business objectives, you next need to work across both entities' teams to create a cohesive brand message. First, identify your brand position moving forward by defining:
Who your customers will be, after the rebrand (job titles)
Where those customers are (companies, industries)
Why they need a company like yours
What you do as a company
How you operate, including any changes compared to before the M&A rebrand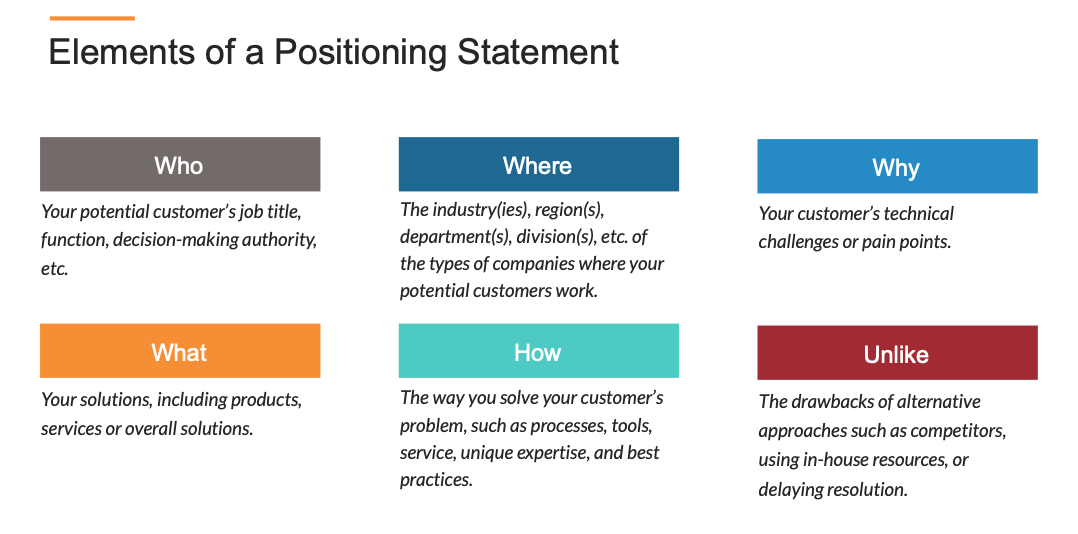 Consider addressing the questions below to help you define your new brand position.
Questions To Inform New Brand Messaging During an M&A Rebrand:
What are the critical dates surrounding the acquisition?
What prompted this acquisition?
How will you inform the staffs of both companies?
How will this change benefit your company?
What business goals does this acquisition help you achieve?
How does this acquisition change your position in the market?
Do you gain any certifications, IP, or partner relationships?
How will the companies operate moving forward? (keep same operations, move offices and combine, etc.)
What new expertise will this bring to your customers?
How are your customers and [other company]'s customers similar? How are they different?
What's the general tone of the acquisition (hostile, excitement, etc.)
How are you handling leadership transitions?
Would it be appropriate for their leadership to comment in this release?
What immediate changes should your customers expect to see?
What immediate changes should [other company]'s customers expect to see?
Is there anything customers on either side may be concerned about?
Are there any questions you anticipate from stakeholders?
The answers to these questions should help you define your company position for the rebrand and be prepared to answer why you're participating in this merger or acquisition, and how it will impact your stakeholders.
Consider also creating differentiation pillars: three new value propositions that uniquely differentiate the company moving forward, especially in light of this M&A Create a headline for each differentiator, and note some details that prove out or support each differentiator.
Finally, use all of this info to create a 30-word and 60-word pitch that clearly explain what is taking place, why it's happening, and what it means for customers.
60-Word Pitch Example:

Cybertrol Engineering, recently acquired ESE, a leading integrator in the food and beverage industry. The future of manufacturing lies in plant-wide automation and information integration, and from receiving and processing to packaging and beyond, Cybertrol provides seamless control and manufacturing intelligence solutions to streamline the way factories operate. With the addition of ESE, Cybertrol adds powerful control, industrial IT, and information systems engineering resources to serve clients worldwide.
5. Train Your Internal Teams Before You Launch Externally
The most important audience to launch your new brand to is your internal team, so ensure you start rebranding efforts with an internal launch. If your employees don't buy into your new brand, why should customers? You must educate your employees about your new brand first and ensure they can tell your brand story in their own authentic voice. They should understand why the M&A is taking place, how it will affect them and your customers, and what the brand position will be moving forward.
One of the best ways to do this is through an all-employee meeting. You can set one up at each office location, or via a video conference call to engage all teams at once.
Your training should include an overview of the new brand including:
Customer research results
New name and visual identity
Brand messaging
How to tell the brand story through 30-and-60-word pitches
It's important to convey that brands are more than logos and tag lines on t-shirts and swag. They are a one-of-a-kind promise about who you are, what you stand for, and what unique and meaningful benefits you deliver. Everyone on your team from the person at your front desk, to sales representatives, to engineers, and program managers impacts your brand. And they are each brand ambassadors who can help your brand win the hearts and minds of your customers.
6. Launch, Measure, Succeed!
With all of your research, planning, and preparation, you are now ready to externally launch your new brand. We recommend the following activities at a minimum, to fully communicate your target audiences on your brand:
Messaging: 30-and-60-word pitches with differentiation pillars
News Release
Official Internal Company Email
Email to customers of each company (likely two different emails, as each group will be affected differently)
Communication with any key partners or distributors who will need to understand the company position moving forward
Blog Post
Website Home Page Changes (header and footer)
Social Media Channels
Video and Webinar Bumpers
Trade Show Booth Graphics
Brochures and Collateral Updates
You'll also want to want to ensure that you have replaced the old brand identity with the new one in terms of building signage, business cards, PowerPoint presentations, letterhead, etc.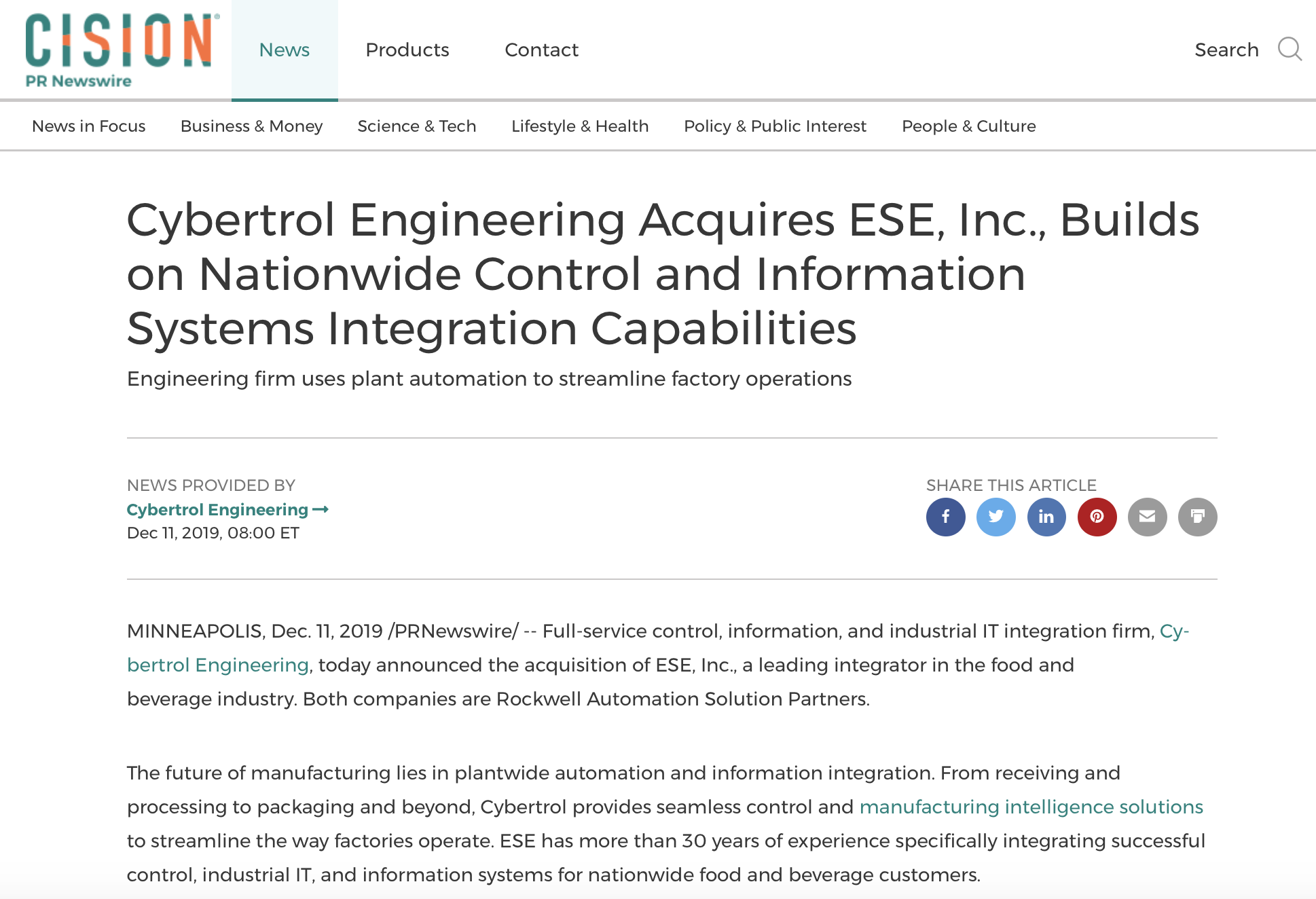 Here's Cybertrol Engineering's acquisition announcement press release.
Key performance indicators for a rebranding launch:
News release posts to relevant sites
Website home page traffic
Social media post interactions
Video views
Increased, positive brand awareness through anecdotal feedback from stakeholders
Getting Started with A Rebrand: Anticipating Time and Effort
Creating the plan, conducting the research, delivering the internal training, and implementing the launch doesn't happen overnight, but can be done over the course of 8-12 weeks and with the engagement of leadership across both M&A teams.
If you don't have an internal marketing team in place to support your rebranding efforts, contact TREW. We have more than a decade of experience creating and launching rebrands for mid-sized B2B technical and engineering companies.
Ready to learn more about branding?
*(source: Siegel + Gale)

Lee guides agency strategy and performance, and she champions the ongoing pursuit of building a great marketing team. She has extensive B2B technical marketing experience across a spectrum of industries and application areas including test and measurement, control and automation, and industrial manufacturing. Her focus has always been on building lasting partnerships that connect marketing strategy to bottom line-business results. Lee lives in Austin, Texas where she is passionate about supporting organizations working to end homelessness and provide affordable housing in Central Texas.
TREW Marketing is a strategy-first content marketing agency serving B2B companies that target highly technical buyers. With deep experience in the design, embedded, measurement and automation, and software industries, TREW Marketing provides branding, marketing strategy, content development, and digital marketing services to help customers efficiently and effectively achieve business goals.