3 min read
Five Tips for Developing Customer Case Studies
Customer case studies - aka, testimonials - are a great marketing and sales tool. By reading about how customers have benefitted from using your products and services, prospective customers know they are not the first to choose your company, and can hear from real customers vs. just reading your marketing brochure or website. This not only improves the sales process by reducing the perceived risk, but once completed, case studies can be used throughout the marketing and sales process to help tell your story and influence future customers to buy from you.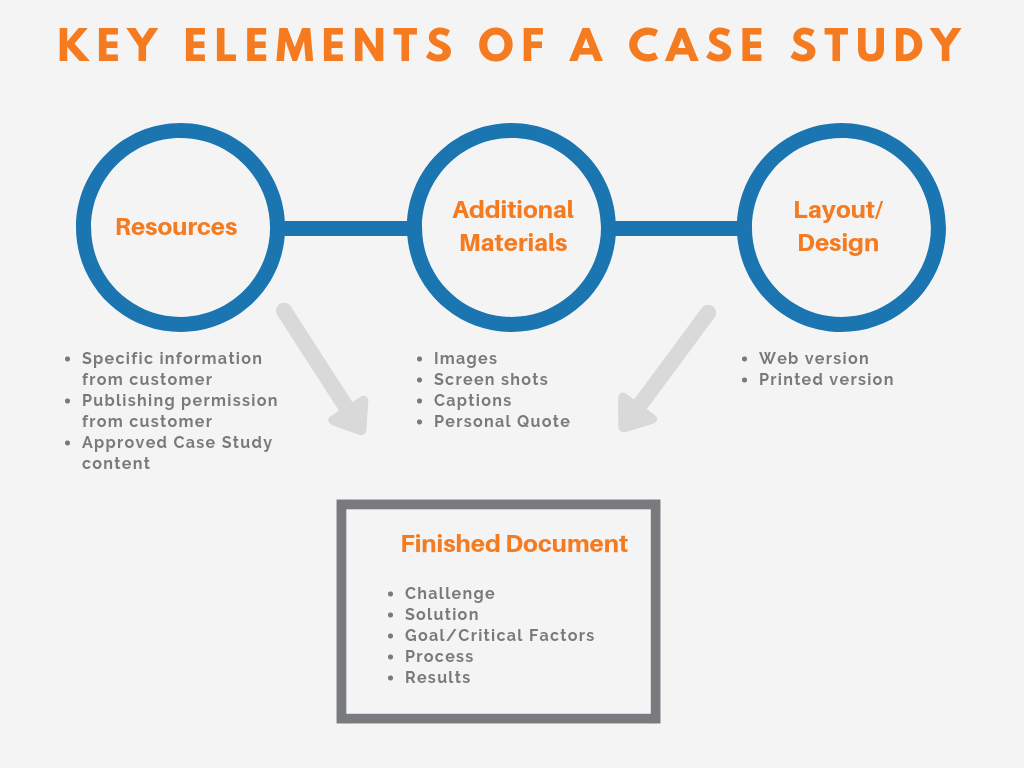 Here are five tips to help you efficiently secure and effectively maximize your customer case studies:
Prioritize the most important case studies
Tell a simple and visual story
Time the ask
Streamline the process
Leverage your work
1. Prioritize the most important case studies
Anyone who has worked on case studies knows they take time - time to develop the content, time to review, and time for approval, which often is the longest step. So it's important that you prioritize those that you can get the biggest bang for the buck with. Is the customer name well-known? Is the product or service they used a critical growth area for your business? Is their particular application or need one that you are trying to further penetrate in the larger market? By ensuring you prioritize the most compelling case studies first, you can be sure you get the greatest return for your investment of time.
2. Tell a simple and visual story
While you are deeply knowledgeable and interested in your products and/or services, the mainstream market may not be. You only have a few moments to grab your prospective customer's attention with your case study. Therefore, it needs to be immediately interesting and informative with:
a strong, benefits-oriented headline ("Customer X Chooses My Company/Product, Reduces Cost by 3x)
interesting images and/or artwork with captions that summarize the key points of your story
a simple and clear opening and close - the two most frequently read paragraphs of any case study
relevant content to the reader - if you are speaking to a technical audience, the specs of the system and other details the reader will be interested in need to be included
3. Time the ask
Securing approval for a case study can be tricky and time-intensive. At a minimum, it can be difficult to get the customer to take time away from their priorities to review your content. In larger companies, the review and approval process takes even longer due to PR and/or legal staff needing to be in the loop. Many times, companies will flat out refuse to provide references' such as these. To improve your chances of getting approval in situations like this, bring up the case study at the time of signing the contract or finalizing the invoice. Especially if customers are asking for a discount or special "extras", asking for permission to publicly distribute a case study about their use of your products or services can be a great way to get something in return. In addition, if this is included in the contract, the end-user is then responsible for ensuring the case study approval is secured inside their company to meet the obligations of the contract. Take that PR and legal! (I should know, being a PR person myself!)
4. Streamline the process
One way to greatly speed up the process of securing a case study - or even just a quote - is to draft it yourself. Then send it to your customer and suggest they review what you have written, and either modify it or provide one of their own. Nine times out of ten, assuming what you wrote is accurate, the customer will approve and you have your quote in one email.
5. Leverage your work
Now that you have an approved case study that has a strong, benefits-oriented headline, great artwork, and a simple, clear story that is targeted to your audience, you need to maximize all your hard work. Include your case study and/or quote on relevant pages of your website, include it in your next conference call script if you are a public company, incorporate it into relevant areas of your web-based demos and training materials, make a nice trade show panel of the product or service for your booth and include the customer quote on the panel. You can also turn it into a news release and distribute it over the wire and as a social media release. And if both you and your customer are global, translate the quote into the appropriate languages where that industry is relevant.
Learn more about building a content marketing program that includes case studies as a core component, in our Ebook: