6 min read
7 Resources for Writing Trustworthy Technical Content without an SME
As a technical writer, you are likely intimately familiar with the task of writing about a topic where you have no formal education or real-world experience, yet you need the piece to convey your company's authority on the topic. Ideally, the writing process would start by identifying a subject matter expert (SME) for the assigned topic and then conducting a sourcing session with him or her where you can have all your questions on the subject answered. But as experienced writers, you are also familiar with the variety of scenarios – tight content deadlines, customer needs, vacations, employee turnover – that may make it difficult for an SME to be available.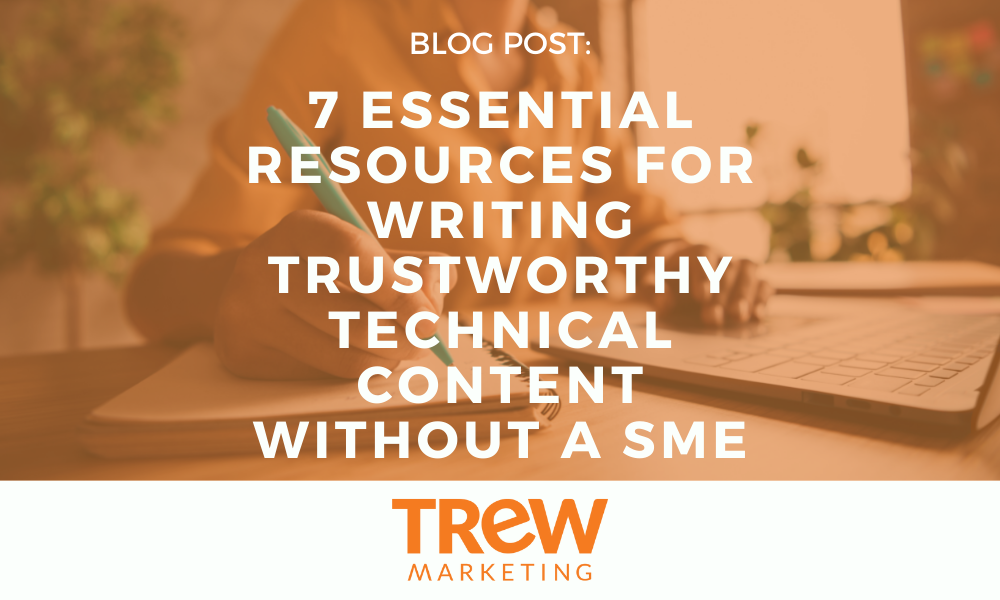 Just because you don't have access to an SME doesn't mean you can't write a technical piece your audience will trust. As writers, we can create useful, actionable technical content without being experts on the subject we are writing about by diving deep into a topic to develop a working understanding of the subject matter.
This post covers seven of the go-to resources our writers at TREW use on a day-to-day basis to develop expertise on the technologies, industries, and applications that matter most to our clients so that we can supplement, or replace, conversations with SMEs when availability is limited. This post also highlights how to incorporate these resources into your daily activities to establish a baseline of knowledge for key topics, which will help you feel more confident when writing about a topic without the assistance of an SME.

Resource 1: Industry Publications and Journals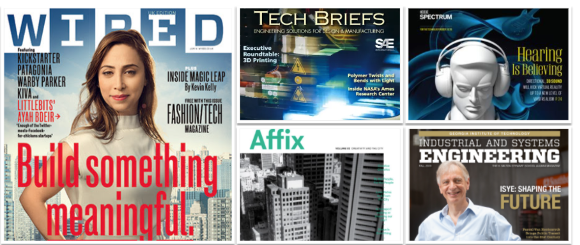 Virtually every niche market has some type of publication dedicated to it. This could be a print magazine, a Web-only magazine, a blog, or a journal. To avoid getting overwhelmed by the sheer number of publications available, we advise following a couple of mainstream publications, such as Wired, to stay on top of general technology trends, as well as a few additional industry-specific publications such as Industrial and Systems Engineering. It's also a good practice to review the editorial calendars for some of your key publications to see what topics their editors will cover soon. Knowing what topics publications are covering can help you focus the messages for some of your content as well.
When it comes to scholarly journals and other academic publications, these resources are generally not something we read on a daily or weekly basis. However, they are great resources to lean on for credible information when diving in-depth on a topic – especially when you do not have an SME to consult.

Resource 2: Competitor and Customer Websites
There are so many areas of a competitor or customer website that can provide valuable information on a topic. First, looking at industry-specific pages can be a good way to see how others in the industry are talking about key topics. Another great resource is a company's news page, which will likely include all announcements or press releases and a blog
While on the surface, another company's news releases may not seem like a great resource, the quotes used in a news release are an excellent way to determine how someone else is speaking about a topic. This is because these quotes are carefully developed, reviewed, and revised. A competitor or customer blog is also a great resource for learning about new technologies or trends impacting the industries or applications you serve.
Online communities on competitor or customer websites are an often-overlooked treasure trove of information about all kinds of topics. On these community pages you can read unfiltered conversations about the industry, the latest tools, and the biggest challenges community members are facing. Generally, community members are among the most passionate, most dedicated customers or users, making their commentary an invaluable resource. Depending on how in-depth the discussion goes, these community members may even be able to serve as an informal substitute SME for you.

Resource 3: Social Media and Industry Influencers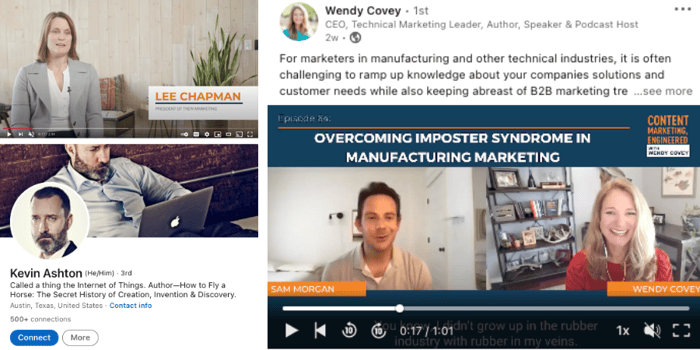 You don't need to be a Kardashian or youthful YouTube star to be an influencer. Every industry has key influencers. At TREW, we believe that giving smart people a method to broadcast their brilliance to followers in real time is an incredibly great use of social media. Therefore, as a tech writer, it's key to determine who those influencers are and follow their primary social media accounts (usually LinkedIn or Twitter). Following key industry influencers will not only help you keep tabs on the things that matter to them, and likely the industry, it can help us as writers pick up on the language they are using (and we should be too). Additionally, just like highly active online community members can serve as an informal SME, key industry influencers can, on occasion, fulfill that role as well.

Looking for people to follow? Start by searching LinkedIn or Twitter for hashtags relevant to your topics, like #embeddeddesign or #RFID, and see who is commenting on the topics. On LinkedIn, you can easily vet someone's basic credentials with access to their online resume.

Resource 4: News Alerts
Related to resource 1, news alerts are a great tool for keeping up with news related to specific industries or markets. Systems such as Google Alerts are incredibly easy to set up. However, if your search term is too broad, news alerts can get out of control very quickly. We've learned from experience that it is best to be as specific as possible when setting up your search terms. It's also a good practice to revisit your alert terms regularly to make sure you are using the latest industry language. For example, instead of just searching for "quality management standards," it's more beneficial to use the search term, "ISO 9001 2015 quality management standard."

We also recommend setting up a specific rule in your email so that all news alerts are automatically sent to a designated folder instead of your inbox. Then, set a dedicated time each day, or every couple of days, to review news alerts. Not every alert will be a great fit, but do keep the alerts for the articles you think may be a particularly helpful resources for the content you generally develop for your organization.

Resource 5: In-Person/On-Demand Events and Podcasts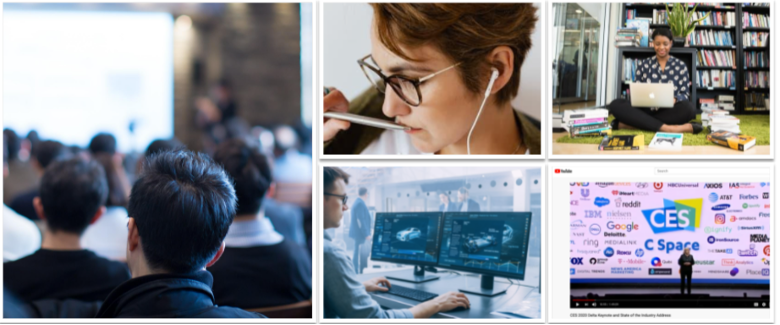 While we may not have many opportunities to attend events in person right now, one silver lining of the event restrictions we've experienced throughout the COVID-19 pandemic is that there is now a massive amount of on-demand event content available. Most tradeshows have also archived sessions from past years as well. During the past 18 months, the number of podcasts available has also surged. Podcasts have emerged as a really great event surrogate as well. Like on-demand event content, podcasts allow you to listen to industry experts' thoughts on key topics at your convenience (while running on the treadmill during the cold winter months in Colorado is a personal favorite for me).

Resource 6: Crowd-Sourced Content
No conversation about research is complete without mentioning Wikipedia. While we would never suggest citing Wikipedia as a primary source, it is an extremely useful site for background research and has a staggering accuracy rate. The aggregated sources linked to from any Wikipedia page is also an invaluable source of information.

Additionally, as a writer it's not just important to know how to get information on a particular topic. You also need to know what your audience wants to and needs to know. A good way to find out what unanswered questions your audience has is to search sites like Reddit. If you are kicking off a piece of content without an SME, start by performing a Google search for your topic and add "Reddit" to the end of your search phrase. This will return results from Reddit related to your topic. While you will likely disappear into the Reddit abyss for a few hours, this is a great use of time as you will emerge with a pretty good idea as to what the burning questions and concerns around your topic are.

Resource 7: Your Network
Finally, if you're working on a piece of content and you are in a jam and just need another human to talk to, don't hesitate to tap into your social and professional networks. Put out a call on LinkedIn to see if someone can answer a few questions for you – but be careful not to divulge too much information about the client or technology you are writing about.
Be Confident in Your Content, Especially When an SME is not Involved
Our research consistently shows that engineers around the world trust content written by experts more than any other types of content. Long-term access to an SME is critical to create a steady stream of deeply technical, compelling content. But when you're in a bind, don't panic. If you tap into the resources discussed in this post – have your news alerts set up, follow the buzzy influencers, and interact with relevant industry publications and user communities – you will be well prepared for this moment. Take the knowledge base you've built and the resources you already have, and you will be well on your way to crafting authoritative and trustworthy content on your subject.
---

Learn more about the tried-and-true processes the experts at TREW Marketing follow to craft content targeted for your specific buyer's needs.


Jamie has more than 15 years' experience writing technical marketing content designed to engage client's target audiences. She enjoys the challenge of taking a highly technical topic and communicating it in a manner that makes it relatable to non-domain experts. Jamie holds a bachelor's degree in public relations and journalism from Utica College of Syracuse University and master's degree in Advertising from the University of Texas at Austin. Originally from upstate NY, Jamie now lives in the mountains outside of Denver, CO.
TREW Marketing is a strategy-first content marketing agency serving B2B companies that target highly technical buyers. With deep experience in the design, embedded, measurement and automation, and software industries, TREW Marketing provides branding, marketing strategy, content development, and digital marketing services to help customers efficiently and effectively achieve business goals.