5 min read
3 Companies that Attract Business by Branding Corporate Culture
Have you ever stopped to wonder why Apple or Google have such a loyal following? Apple products have a sleek, always-modern style; Google products are clean and friendly. Both companies have excellent branding, but one thing that sets these brands apart from their competitors is their culture.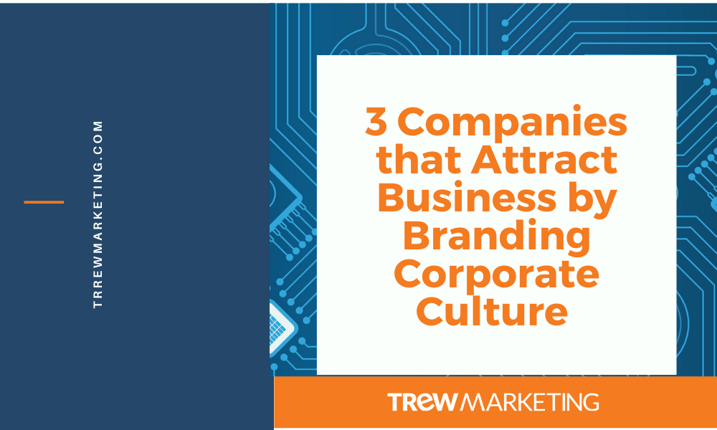 Google's culture is fun – their logo includes bright, primary and secondary colors; they feature a "Google Doodle" on their home page to celebrate various holidays; they take great care of their employees, offering world-class benefits packages and "nap pods" in some of their offices. Culture isn't the first thing that most people think of, but it is very much a part of your brand.

Example of a Google Doodle
If you have a great culture that helps you attract great employees and great customers, promote your culture to attract more customers. Promoting a great brand culture shows the "personal" side of your company and makes people want to be a part of it. Job seekers want to work for a company they know will pay them fairly, take care of them, and value them. Employees are the best ambassadors of your brand – if they love the company that they work for, they're going to be proud to promote your message.
Promoting culture is about more than just attracting great employees and great customers, though. It's also about retaining great employees and great customers. Inbound marketing methodology teaches us that there are four phases of marketing: attract, engage, convert, and delight.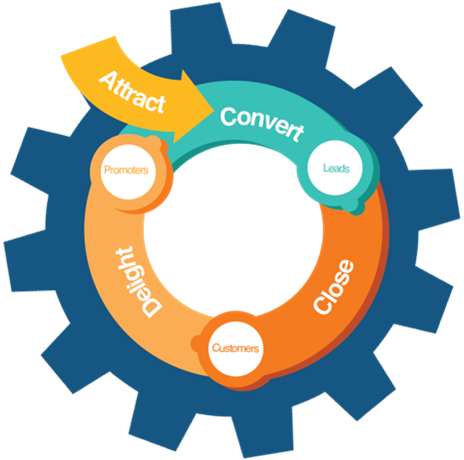 During the delight phase of marketing, your target audience is existing customers. In this stage, you want to create content that delights your customers and makes them glad that they made the decision to partner with you. Delighted customers become evangelists who will tell others about their great experiences with your brand and who will keep coming back to partner with you.
Examples of great company cultures
Hallam-ICS, an Employee-Owned Company
Hallam-ICS designs mechanical, electrical, and plumbing (MEP) systems for manufacturing facilities, engineers control and automation, and ensures safety and compliance through studies, commissioning, and validation. What makes Hallam unique is that they are an employee-owned company. Hallam is so proud of this that it's actually the tagline underneath their logo.

In addition to regular, inbound education content that highlights their products and services, Hallam routinely blogs about their culture with topics ranging from information on their Employee Stock Ownership Plan (ESOP) to tips for moving your body throughout the workday to learning the basics of Ultimate Frisbee. Hallam understands that investing in and promoting their workplace culture is an investment in the success of the company and their clients.
---
We promote and value an environment that is supportive, trusting and positive so that our employees really love their work and in turn, produce the best service possible for our clients.
---
Vertech "Control Freaks"
Vertech is an industrial control systems integration firm that affectionately refers to their team members as "control freaks". When searching to fill open positions, Vertech looks for people who are "amazingly good at what [they] do and fun to work with." They promote an environment of creativity and innovation, encouraging their team members to ask "Wouldn't it be cool if…?" And they like to make a splash at industry events with quirky antics like dressing their team up as a motorcycle gang. Vertech is actively involved in their community through corporate sponsorship and volunteer days. They share glimpses into their culture on their blog and in their social media posts.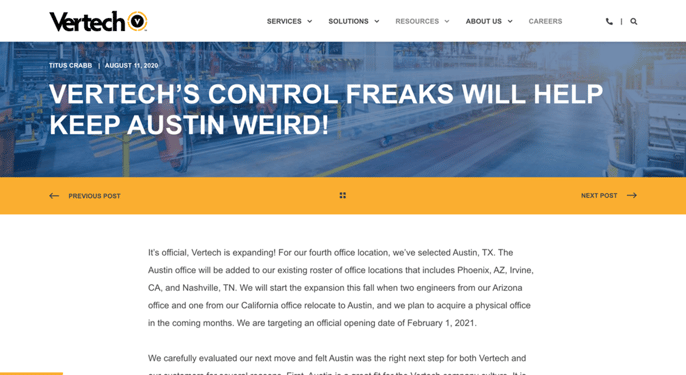 Vertech playfully celebrates the purchase of new office space in Austin, TX on their blog
Infinitum Electric Promotes the Work of Their Customers
Infinitum Electric is an electric motor company with an innovative design that has significantly improved energy efficiency, achieved a smaller size, and proved incredibly quiet operation. As their customers received the first deliveries of their product, Infinitum Electric featured their customers and how they plan to use the revolutionary product.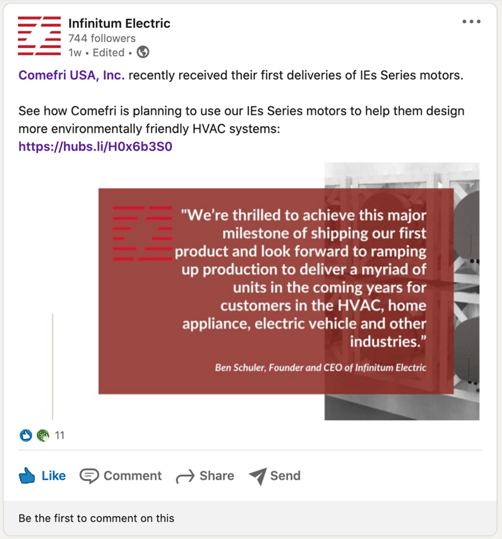 A post on Infinitum Electric's LinkedIn page, celebrating the first deliveries of their motors and discussing its uses with one of their customers.
How to Promote Your Culture
There are two primary ways to promote your culture: celebrate your success and celebrate your customers' and communities' successes. Celebrating the successes of your brand shows people that you are proud of your brand. You can do this formally through press releases on changes to company structure or leadership, or on the award of a large contract. You can also celebrate the success of your brand and your team informally via social media. Recently, our Senior Brand Strategist Morgan celebrated 10 years working with TREW. During a team meeting, we surprised her with homemade signs celebrating her anniversary and thanking her for all her hard work. We promoted this on our social media with a post recognizing her major milestone.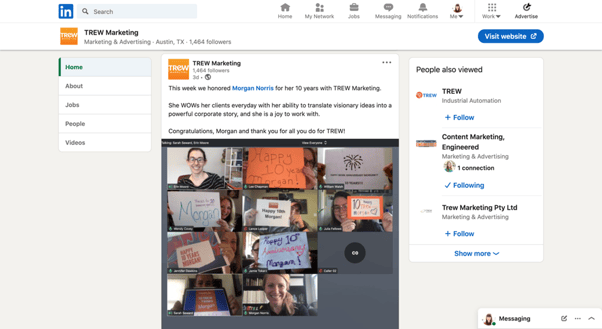 TREW's celebration of Morgan's 10-year anniversary with us.
Celebrating your customers' successes helps to promote a customer-focused culture and positions you as more than just a vendor, serving as an actual partner. You can promote your customers' success by:
Reposting content from their social media accounts on your own
Commenting on customer posts, congratulating them for their successes
Showcasing your community
Encouraging community engagement
Taking it back to the top, Google's number one core value is "focus on the user and all else will follow". In addition to their fun brand culture, Google has a large focus on community culture. Their "Google Doodle" is a great example of this. The "Google Doodles" celebrate various holidays with a design or illustration of the word "Google" modified by styles or colors or shapes that give a nod to the holiday. The "doodle" may be different in different locations around the world to celebrate regional holidays. Often, the "doodle" is created by a community member, rather than a Google team member. Google also hosts annual contests for kids to submit artwork for the "doodle".
Want to make culture a bigger part of your brand? Contact our team for help planning a culture campaign.

Julia joined the TREW Crew with a unique client perspective. As a former client, she worked with TREW to guide her employer through a brand evolution combining two 50-year-old brands. She has a passion for both brand marketing and content marketing, with extensive experience collaborating with engineers and subject matter experts in creating and translating technical material into content easily understood by technical audiences.
TREW Marketing is a strategy-first content marketing agency serving B2B companies that target highly technical buyers. With deep experience in the design, embedded, measurement and automation, and software industries, TREW Marketing provides branding, marketing strategy, content development, and digital marketing services to help customers efficiently and effectively achieve business goals.