Thank you to all who joined our recent webinar: Getting Started with Content Marketing, Year One. Over 150 marketing and engineering professionals registered to learn how to better reach technical audiences, underscoring the importance of creating content to engage and attract new prospective buyers of your products and services.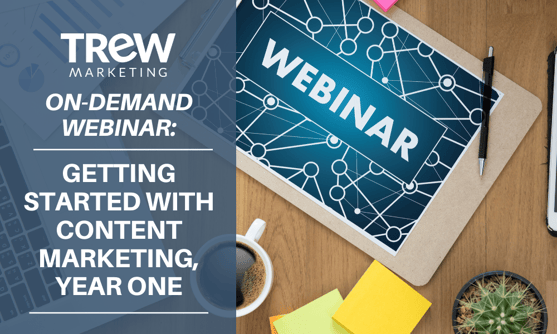 We were not able to answer every fantastic question posed by webinar attendees during the event, but have since tackled them all. We thought you might be interested in reading through the full Q&A, so that you can glean information to help inform your own content marketing efforts.
Enjoy!
Q. How has the COVID-19 disruption impacted the whole online marketing world?
A. In the last few months, we've seen marketing plans and budgets shift significantly due to the spread of Covid-19. Most notably affected are face-to-face trade shows, conferences, networking events and sales meetings.
A recent survey from IEEE GlobalSpec asking participants how they plan to reinvest their trade show budget in light of canceled/delayed shows revealed:
46% do not plan to reinvent that budget

28% plan to shift money to digital advertising

14% plan to shift money to content creation

13% plan to shift money to sales' travel budget
At TREW, we've seen an increase in inquiries for website redesigns and technical content development. When in-person meetings and events are not possible, your website and content are major attractors for helping you connect with new prospects and contacts.
Q. What advice do you have for companies whose clients require NDAs or won't allow you to use their name in case studies or other content?
A. Securing approval for a case study can be tricky and time-intensive. At a minimum, it can be difficult to get the customer to take time away from their priorities to review your content. In larger companies, the review and approval process takes even longer due to PR and/or legal staff needing to be in the loop.
To improve your chances of getting approval in situations like this, bring up the case study at the time of signing the contract or finalizing the invoice. Especially if customers are asking for a discount or special "extras", asking for permission to publish and promote a case study about their use of your products or services can be a great way to get something in return. In addition, if this is included in the contract, the end-user is then responsible for ensuring the case study approval is secured inside their company to meet the obligations of the contract.
At the very least, write your case study with categorical reference to the company (for instance "a $1.2 billion white goods manufacturer") to provide context and credibility while still staying compliant with the NDA.
Q. How much is TOO MUCH communication to someone in your database?
A. Pick a frequency that helps you stay top-of-mind with fresh relevant contact AND doesn't overwhelm the receiver. If you're emailing your contacts multiple times weekly, you are in danger of crossing into "too much" territory. Monitor your open and click-through rate as an indication of overdoing it. Ideally you'd be at least 20% opens and 3% click-throughs. If you are performing better, this indicates your contacts find value in the communications and are giving you signs that more emails would be welcomed. If the opposite, dial it back and consider more segmentation and personalization.
Q. Our database is not very segmented. Are we better off spending time and money segmenting it or should we focus on broader communications, like newsletters, so that touch points are less frequent?
A. Enewsletters achieve high marks as a valued source by engineers in our research, and perform very well with TREW clients. On top of this, they are an efficient way to nurture your database. Definitely start there, with the goal of over time offering segmented versions (with ~20% customized, 80% standard) when you are ready. As far as segmentation goes, you may not be as far off as you think.

With marketing automation software such as HubSpot, you can use automated workflows to segment based on what you know about a contact, such as industry and region (which are often pre-populated through the software) and job title/function, which is often asked on lead capture forms. With this information alone, you can start to form segments that get you far down the road. See comments below regarding subscriptions, which is another smart mechanism to put into place.
Q. Who is normally the writer for the blog posts (i.e. engineer, PM, Application Engineer)?
A. Assign a communications writer to the blog post who can work with a subject matter expert (an engineer if you're covering a technical topic, or a PM for an overarching topic, etc.).
The writer can research or use existing source material to get an understanding of the topic, and then share questions with the subject matter expert (SME) that they can answer in writing or in a simple conversation. The writer can then write the blog post, have the SME review it and offer edits and feedback. Once the writer finalizes the post, they can add links and images, and publish the post. This approach makes the best use of time and skillsets all around, requiring typically just 60-90 minutes from the SME.
Q. Does it matter if you host your blog posts on LinkedIn or on your website and share it on LinkedIn?
A. Publish your blog content on your website. Doing so ensures that Google and other search engines see the source of the content and give that credit to your website rather than to LinkedIn. Publishing content on your website at a consistent cadence (we recommend biweekly blog posts at a minimum) helps you build authority on your own domain, provides SEO benefits, and gives you full control over the look and feel of your content.
Once you've published a blog on your website, promote it on LinkedIn and drive traffic back to your website where visitors can read the full article. Ensure you keep visitors on your site by providing a next-step, or call-to-action CTA button at the bottom of your blog to help them convert through their buyers journey. Linking to a related piece of content like a case study or white paper is good best practices for blog CTAs. Check out the bottom of this blog post to see this in action.
Q. For companies offering products/services across a wide range of industries, do you recommend contacts indicate what they are interested in hearing about?
A. Subscriptions are an excellent way for the contacts in your database to choose what and when they want to hear from you, and for you to learn more about them. They also help you in compliance with data privacy laws. You can promote subscription options in different areas of your website, particularly the footer. Include an option on your blog page above the fold so that it's easily noticeable. In addition, consider sending an email to your contacts that encourages them to subscribe and share periodically via social media.

Also see the question above regarding information that can be gleaned through marketing automation software to help segment communications.
Click on the link below and access content marketing resources to manage and prioritize all of your content objectives.