April 5, 2016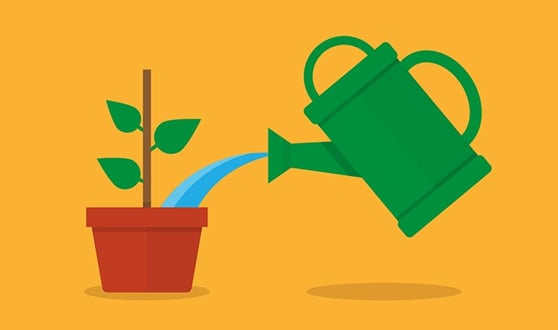 You've collected a database full of contact information, but at this point, they're still mostly unqualified.
They are more engaged with your product or service and trusted you enough to provide their information, but they aren't ready to buy or make a commitment.
With effective lead nurturing, you can usher these contacts down the funnel, but it's easier said than done. We've got you covered, though – implement the following lead nurturing practices to help you capture sales opportunities.
First, tailor your message based on the customer's specific action.
Last week, I downloaded an ebook about customer engagement from Intercom after seeing their Facebook ad copy. Based on the quality of their other content, I thought the ebook would be a good source to learn from, and I was willing to give them contact information to eventually become a lead.
A week after downloading the ebook, I received this email from them.
Intercom follow-up email
What makes this email great?
First, it's timely. Instead of pushing me with next-step content right away, I was given a week to digest the ebook. Second, the message is tailored to a specific action that I took and the type of content that I downloaded. As I'm learning about crafting messages to engage customers, I'll probably want to see a specific case study about it or any other relevant content that will strengthen my understanding regarding the topic. I'll be warmed up until I'm ready to discuss business with the company. However, this connection couldn't happen without the piece of content to offer, which leads us to our next point.
Always be helping.
This is when content marketing is especially important.
When learning something, it's always better to have a trusted source on hand to help instead of having to figure out everything on your own.
The same can be said for user manuals. We'd be very lost trying to figure out how to use software on our own – especially when working digitally – yet nobody reads manuals until they are absolutely stuck. No one reads everything in a manual either – they'll only look at the particular section containing the information they need, at the time when they need it. However, manuals always have to include all the instructions for every use cases.
Be a manual for your potential customers.
If you can offer your expertise without only thinking of the immediate return, you'll get a better payoff. It can be through blog posts, webinars, e-books, tutorial videos, or anything that can benefit someone else.
We set up a blog writing ritual at TREW every week, where each of our members is expected to contribute their expertise on a given day. If you've noticed, we release our blog posts every Tuesday and Thursday, and each of our blog posts cover a variety of inbound marketing topics. That way, we can provide useful information to all visitors, whether they are new to our site or are already customers.
While it can be challenging to keep up with a set schedule, it's important to push for content and follow through with publishing plans.
When your leads look up to you as a thought leader, how will they know that your product and perceived expertise align?
Prove it.
Help your leads realize that they can't live without your product/service. Show them how much easier their lives could be with your product or service.
One proven way to do this is offer a free trial. For example, I was recently on the hunt for easy-to-use, Windows-friendly video-editing software so I can pull together clips when necessary. However, I couldn't get what I wanted from Windows Movie Maker, so I had to do some research and came across
Since TREW focuses on providing services, we draft up detailed case studies detailing the results we've achieved so customers can decide whether we're exactly what they need. For instance, as we completed a major website update for Wineman Technology, we went ahead and showcased the result so we can attest the quality of our services to potential customers. We were able to design an interactive aerospace graphic, created a corporate promotional video, added a new mega-menu on the homepage to improve user experience, as well as amping up their technical library. With proven results, customers will be more convinced to seek us when needed.
Wineman Technology comments on our service

Actively seek for feedback. Learn from it. Then iterate.
I recently received a business email that included a short survey request (above) at the end.
I was more than happy to hover over "It was awesome" to let them know they're doing a great job. However, if somebody have had a bad experience, did not find the answer satisfying, or just didn't like how the message is delivered, they'll be able to let you know right away. This way, you're requesting feedback each time you send an email, giving contacts ample opportunities to provide it. This, in turn, gives you a wealth of information you can use to improve your emails.
Learn how to generate quality leads with our free ebook, 'Smart Marketing for Engineers: Lead Generation'.