2 min read
Recruiting and Retaining Content Marketing Talent
Finding and keeping top-notch content marketing professionals is not an easy task for technical companies. Learn about the top traits of an A-player, recruiting the perfect purple unicorn, and how to keep your marketing staff motivated and equipped to do their best work.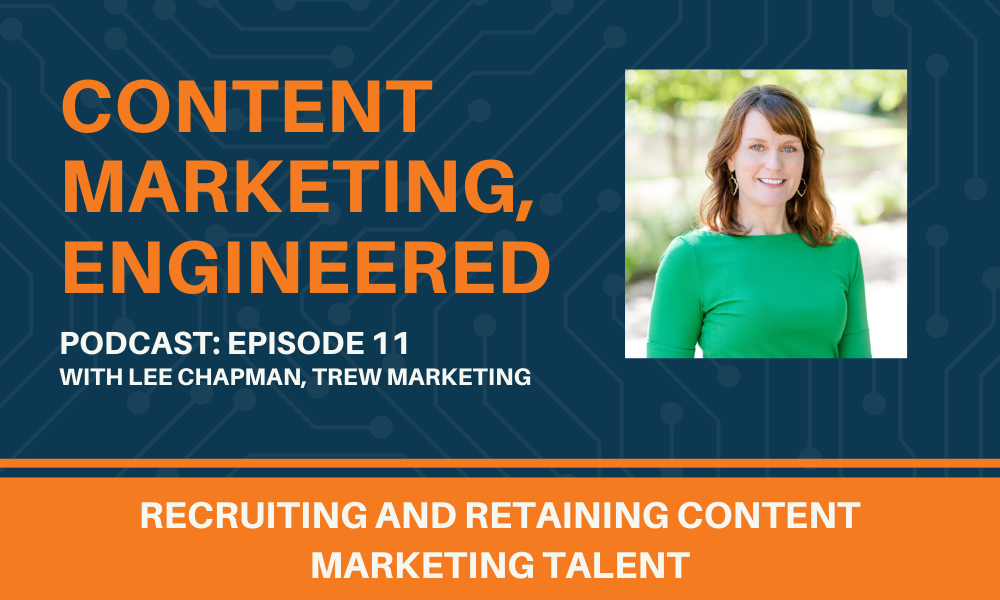 Lee Chapman, TREW Marketing President, has been managing content marketing teams, or "word nerds," at technical companies through the majority of her career. She has incredible instincts, honed with years of practice at recruiting, training, mentoring, and keeping marketers happy.
On this episode she describes the perfect A-player content marketer, which based on the make up of the team, may be found in one person or several speciality positions. Skilled content marketers craft engaging stories unique to the company, with a sharp attention to detail. They facilitate discussions with subject-matter experts, even stalking them when necessary to stay on deadline with reviews. They understand the importance of content packaging and visual presentation as the means to promote content and convert at a higher rate.
Finding this perfect "purple unicorn" is not simple or easy. Lee suggests using situational questions to feel out a candidate's thought process and ability to think on their feet.
Lee and I recorded this podcast from our respective home offices, but she relocated in order to have better sound quality -- to her bedroom closet! This is the second time in recent weeks I'm reminded of how an ironing board makes for an excellent adjustable desk.
Resources

Wendy Covey is a CEO, a technical marketing leader, author of Content Marketing, Engineered, one of The Wall Street Journal's 10 Most Innovative Entrepreneurs in America, and she holds a Texas fishing record. She resides in a small Hill Country town southwest of Austin, Texas, where she enjoys outdoor adventures with her family.
TREW Marketing is a strategy-first content marketing agency serving B2B companies that target highly technical buyers. With deep experience in the design, embedded, measurement and automation, and software industries, TREW Marketing provides branding, marketing strategy, content development, and digital marketing services to help customers efficiently and effectively achieve business goals.