6 min read
Strategy to Execution: Best Practices for B2B Social Media Marketing
From blog posts to case studies, B2B social media marketing is an easy and strategic method to promoting your content.
However, to successfully create a social buzz, you must align your social media strategy to your target audience. Catering social media posts to engineers is much different than promoting content targeted towards millennials.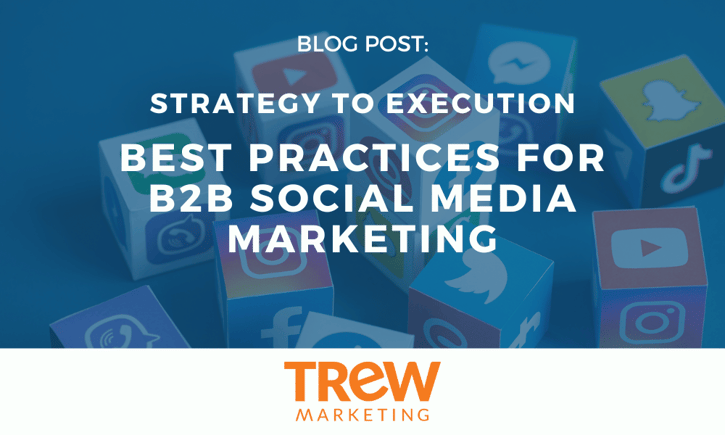 7 Best Practices to successfully execute B2B Social Media Marketing
Define Your Social Media Goals
All successful marketing strategies begin with a goal. B2B social media marketing is no different.
Common social media goals include:
Driving traffic to the company website or blog
Generating new contacts
Converting existing visitors to leads, and/or converting leads to marketing qualified leads
Building a community with engaged contacts, customers, employees and partners to drive advocacy and brand loyalty
Augmenting customer service, by providing an accessible customer service channel
Your specific goal(s) will impact the types of content you share, the amplification tactics you use and the success metrics, so goal setting is a vital first step when building a social strategy.
Know Your Target Audience
There will be two separate audiences that you will try to reach with your posts. Your primary audience will consist of specific buyer personas you are trying to target. Your secondary audience will be broader in scope and will reach all other personas.
Promote New Content (or Updated Past Content)
Think of your social media channels as a way to keep your audience updated on all your latest resources, articles, company news, and industry news. Every time you publish a blog or launch a white paper, you should post to your social channels promoting your content.
When we asked engineers what sources they find valuable, YouTube and LinkedIn were the highest for social media platforms. To learn more, read our State of Marketing to Engineers research report.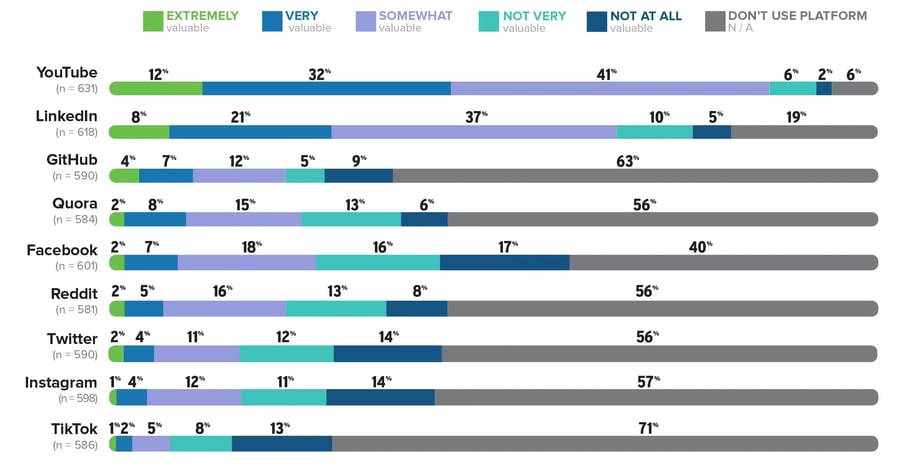 The content you promote should be relevant to campaigns, clients, and potential clients. If you are planning to use older content it should be refreshed and updated with new metrics and information as needed.
Promote gated content, like white papers and webinar recordings, often to get more downloads.
Suggested content includes:
Educational blog posts
Case studies
Product info
Demos


Be Consistent
You should establish a schedule for social posts. Test out different days of the week, look at the metrics, and find what days receive the most traffic. Post frequency can range from once a week to once a weekday. Find what works best for both you and your audience.
According to HubSpot, the best days to post on LinkedIn (in order) are: Mondays, Wednesdays, then Tuesdays.
Many people will tell you that if you want to make a presence on social media, you need to post to your social channels every day. That may be helpful, but it's not necessary. Think quality over quantity when it comes to social media posting. You don't want to annoy your audience by over posting low-quality things. Be mindful and strategic about what you post.
We suggest posting 2-5 times a week. If you are just getting started with social media, start with two posts a week. As your content library and social media audience grows, you can start posting more frequently.
Marketing tools like HubSpot and Hootsuite allow you to schedule out your social media posts for months in advance. This saves you time and energy.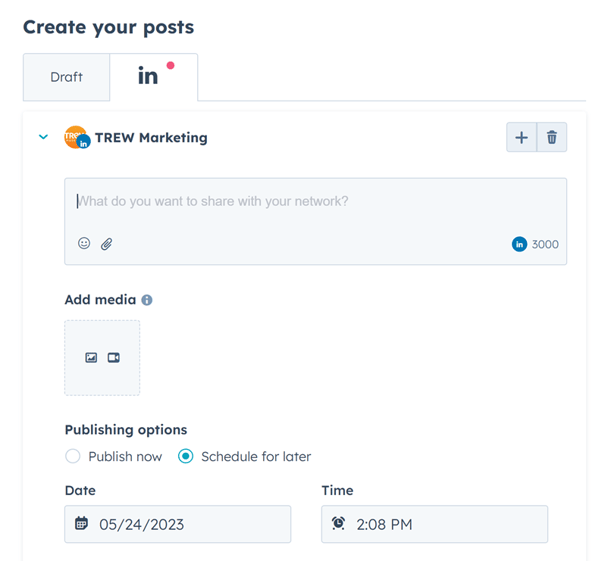 HubSpot allows users to schedule out social media posts quickly and easily.
Include Images and Visuals
Every post you share needs to have an image or graphic to grab your audience's attention. Studies and experience show that posts with images get more interactions than those with just text. Tweets with videos get over six times as many retweets as tweets with photos.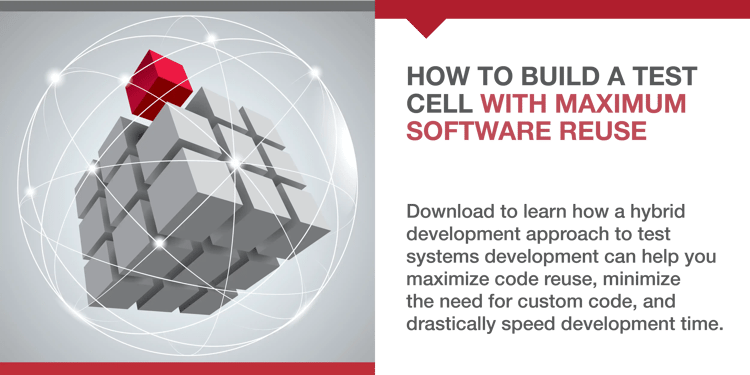 Create social media graphics like this to grab reader's attention on social media and detail your content offer.
Amplify Your Reach
Unless you already have a strong social media following, just sharing content to your existing followers is not enough. Consider ways to amplify your reach on social media, such as:
Encouraging employees to share content and company posts out to their professional networks. This is an especially easy ask when employees are involved in the content creation.
Using relevant hashtags to make posts more visible to relevant audiences who may be searching related topics.
Running ads to amplify posts to targeted audiences.
Engaging with users by promptly responding to comments and direct message within 12 to 24 hours. To grow your audience, you must actively engage with them!
Joining relevant groups and engaging in the conversation with shared posts and commentary.
Monitor Social Media Analytics
Lastly, it is important to constantly monitor your metrics. If posts on a specific platform aren't performing as well as posts on others, it may be best to concentrate your efforts elsewhere.
---
Interested in learning more about B2B content marketing towards engineers? Download our free Content Marketing guide.
TREW is a marketing agency dedicated to reaching engineering and technical audiences through a range of marketing initiatives. Contact us today to learn more about the services we offer.
SUBSCRIBE TO OUR BLOG FOR THE LATEST UPDATES

Julia joined the TREW Crew with a unique client perspective. As a former client, she worked with TREW to guide her employer through a brand evolution combining two 50-year-old brands. She has a passion for both brand marketing and content marketing, with extensive experience collaborating with engineers and subject matter experts in creating and translating technical material into content easily understood by technical audiences.
TREW Marketing is a strategy-first content marketing agency serving B2B companies that target highly technical buyers. With deep experience in the design, embedded, measurement and automation, and software industries, TREW Marketing provides branding, marketing strategy, content development, and digital marketing services to help customers efficiently and effectively achieve business goals.