11 min read
Q&A from 2022 State of Marketing to Engineers Webinar
Thanks to everyone who joined GlobalSpec and TREW Marketing for our 2022 State of Marketing to Engineers Research Findings Live Webinar. Nearly 450 marketing and engineering professionals registered to dive into our most recent findings on the content, online search, and buying preferences of engineers and technical buyers.
We were not able to answer all of the thoughtful questions posted by webinar attendees during our session, but we wanted to follow up with answers here on our blog so that every industrial marketer can benefit from the information.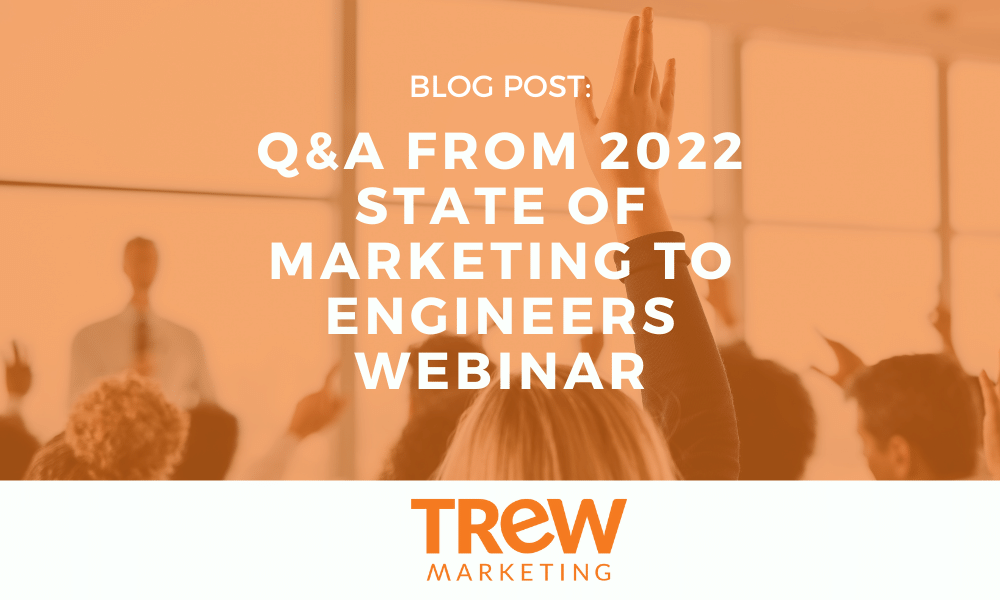 Channel Preferences
For companies that are new to the space, what content types and channels do you recommend focusing on first?
You should aim for:
At least 2 technical blogs per month
1 piece of educational technical content that is gated (e.g., white paper) per quarter
1 case study per quarter
Ideally at least 1-2 videos per year – more if you have product vs. a service
A high-quality, responsive website that's regularly updated
If you're looking for more information on how to pull these pieces together and promote them, check out our writing course. Content Writing, Engineered is designed to help writers, marketers, and engineers practice the process with the help of an experienced coach.
Can you share any data on percent (%) changes of YouTube / LinkedIn consumption for your over 46 crowd vs. the under 46 crowd?
Here's some information that might be useful:

Interpretation Note: 34% | 34% of individuals in this age group find LinkedIn "very" or "extremely" valuable
2021: n = 207 for 45 and under; n = 923 for 46 and older
2022: n = 177 for 45 and under; n = 523 for 46 and older

Interpretation Note: 39% | 39% of individuals in this age group seek information from YouTube
2021: n = 198 for 45 and under; n = 901 for 46 and older
2022: n = 229 for 45 and under; n = 657 for 46 and older



Different channels were noted, but which ones result in most closures as opposed to just disseminating information?
The research shows that buyers use multiple channels and content types to inform a purchase decision. We did not map specific buyer stages (e.g., awareness, consideration, etc.) to specific channels in this year's research. We considered adding this to our survey, but we felt this line of questioning would be arduous for respondents.
Any research on the use of "Live Chats" on company websites?
The 2020 State of Marketing to Engineers research report showed that chat ranks low on an engineer's list of communication preferences, and we saw that again in the 2021 and 2022 reports. We have never specified live or automated chat formats in our surveys.
Chat and chatbots are more common in consumer markets, like banking and retail. Adoption in other markets can influence behaviors that find their way to the B2B side. For now, stay cautious. If you do opt to go this route, focus on personalization and avoid overly aggressive or generic approaches that could frustrate technical buyers.
When is the best time to send emails?
There are a number of best practices out there, but your best bet is to take a look at your own metrics. In this case, the best measures of success are actions taken by the recipient – think opens, click-throughs, and unsubscribes. In addition to investigating day and time, examine your past high-performing emails to inform your next move. For more information on ways to optimize your current email marketing strategy, check out our Email Resources for B2B Technical Companies kit for more resources.
Content
What kinds of responses did you get from those who selected "Other" in response to the question: "What form(s) of content do you find useful when researching to make a significant purchase for work?"
Participants were given the option to offer details if they selected "Other" for this question. Responses included search engines, training modules, development kits, and support forums.
Did "Lunch and Learns" come into play?
Our research did not include any findings on "Lunch and Learn" events or other flavors of in-person seminars. As we return to in-person gatherings (fingers crossed), we will consider adding this into future research studies.
Any research on creating "amateur" YouTube videos vs. professionally created voice-over videos?
We didn't address this question specifically in the 2022 report, but here are a few important considerations when it comes to video:
Establish a suitable level of production for your goals; if you're looking for a corporate branding video to serve as anchor content on your website, more time and investment will be required.
Scripts and storyboards are worth the time and effort.
The length of your video should be appropriate for the type of content you're creating; even with technical content, don't overwhelm your viewers.
Focus on the common issues your audience faces and how your product / service solves them.
Factor post-production (e.g., transcriptions, captions, etc.) into your process.
There's a lot more to be said here, but video is more approachable than it's ever been before. If you're interested in experimenting with B2B video marketing, check out our Getting Started with Video kit for more resources.
Any idea why podcasts have grown so much? Are people feeling out-of-touch after a full year without events?
Our hypothesis is that the expanded variety of B2B podcasts available have driven the growth we've seen. The 2022 report features a few examples of specific podcasts our respondents are listening to, and it's pretty amazing to see podcast topics getting so specific and diverse. In the absence of face-to-face events, it's entirely possible that podcasts fill a part of that void. They're also easy to consume while exercising, driving, etc. – so content is available where and when people are looking for it.
When it comes to content for engineers, what is the golden rule for length? How much time should a webinar / podcast last? How long should a white paper be?
In our most recent research, 42 percent of respondents suggest that 30 minutes is the ideal length for a webinar. 24 percent say 60 minutes, and 19 percent say 15 minutes or shorter. 50 percent of respondents listen to less than an hour of work-related podcasts in a given week. 19 percent listen for 1 to 5 hours.
It's a balance between providing enough technical detail without overwhelming the reader / viewer. Here are some guidelines:
Blog Post: 400 to 750 words; if you're running way over, consider creating a series or a long-form piece
Case Study: 800 to 1,200 words
Video: 5 minutes to 20 minutes depending on the content
Webinar: 30 to 60 minutes
White Papers and Ebooks: 1,800 to 2,400 words
Corporate Slide Deck: 15 to 20 slides
Podcasts: Long enough to cover the subject, but no longer; some shows aim for ~22 minutes which was the pre-COVID average commute time


What makes an effective blog for engineers?
We didn't include questions on this topic this year, but we'd urge you to remember the power of the blog. Blogging is a great way to increase your rank in search and establish your company as an industry expert. Blogs can convey best practices, thought leadership / trends, product solutions / updates, and company news. In our experience, blogs do better when they (1) cover a specific technical topic and (2) have an educational tone rather than promotional one.


Regarding the 83% who are willing to fill out a form in exchange for content: How much information is typically expected now for prospects to fill out?
We didn't include further questioning on this topic in the 2022 report, but we did in the 2020 report. See details below: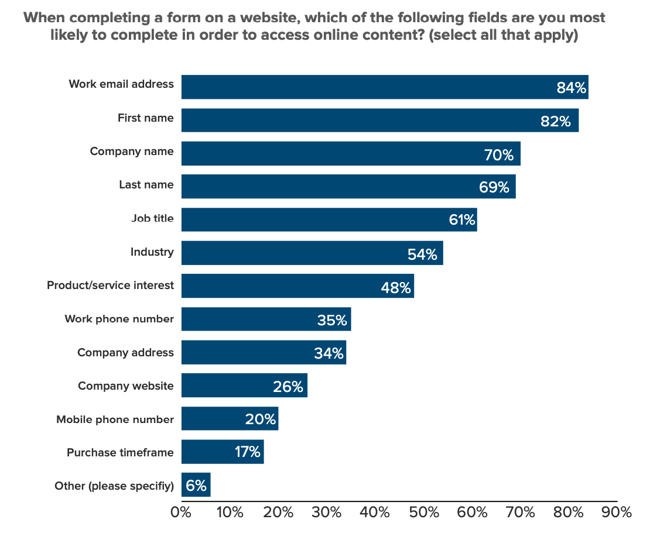 TREW Marketing and GlobalSpec's 2020 research report shows that most participants are open to providing their work email address, name, and company name in exchange for access to online content (n = 291).
What kinds of videos are most consumed by engineers – more tutorial or testimonial?
Product demos and tutorials were cited as useful for research more often than testimonials and case studies—but not by much. Whichever direction you decide to go, focus on the quality of the technical information you're providing because that's where the value lies for technical buyers.
Sales
Any thoughts on the importance of search in this process?
While we didn't specifically ask about search-related topics this year, through past research we've learned that this audience will search for full problem statements during their evaluation phase, rather than just a few keywords. They know that the first few results are ads and aren't likely to click any of those. They also know that what they're looking for could be 3 to 5 pages into search results, and unlike general consumers, technical buyers are more likely to search all the way to page 15 than to stop at page one of results.
Does "salesperson" include customer success / service? Or is it purely sales?
In this case, "salesperson" would consist of purely sales, including sales representatives and sales development representatives.
What do you think is the reason behind the increase in earlier engagement with sales?
It is a very interesting finding, as up until this year engagement with sales has consistently been above the 50 percent buyers journey mark. We have two theories: one is that the COVID-induced isolation led to more time and desire to interact. Another theory is that as Baby Boomers retire and less-experienced younger Millennials take their place, they need more support from technical sales advisors. It will be interesting to watch this data closely next year.
Interested in your perspective on how much this research focused on engineers buying products, not services (hence the CAD files ranking). How should a marketer focused on services best use this data?
Our respondents included a mix of engineers that buy products, services, and many routinely purchase both. Having partnered with engineering services companies, TREW can confidently say the findings from this research are directly applicable to planning your channel mix, content strategy, and sales approach.
Tell me about trade shows? Do people pick one main show to attend, or do they try to attend multiple shows?
Our research did not include any findings about trade shows this year. When in-person gatherings re-emerge, we will consider adding this into future research studies.
What makes an effective LinkedIn site?
LinkedIn is the largest B2B social media platform, so it's important to get this right. If you're looking for TREW's POV, this kit covers all things LinkedIn – from optimizing your own profile page to creating and executing advertising strategy.
How much autonomy do engineers have in a buying decision? How has this changed over the past 5 years?
We haven't dug into the approval processes that face technical buyers who are ready to make purchases. We will consider studying this in the future.
What is the best way to create awareness for a new company that has new technology or products? How would you prioritize those methods?
Start with a strong foundation for your awareness campaign – including a well-designed website, personas, anchor content, and messaging / positioning strategy. Next, you can identify channels that are best suited for awareness based on the pain points your products / services solve. Based on our research and experience, the top places to promote technical content are online industry websites, LinkedIn, and YouTube.
General Research Questions
Would it be possible to provide indications of change in results from the previous research reports (i.e., 2020, 2021, and 2022)?
Our survey includes a mix of topics asked consistently to monitor trends, along with fresh questions that dive deeper into certain buying channels and behaviors. Here are the questions we're keeping a close eye on YOY:
Note: At times we refine questions, answer options, and scales. This causes YOY comparisons to look slightly different; however, you can still glean valuable information by comparing these reports.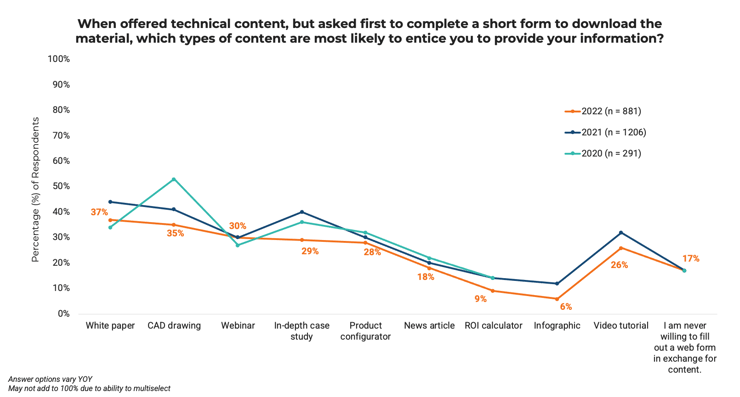 When the perceived value of content rises, so does the amount of personal information a site visitor is willing to share to access it. Technical buyers are consistently willing to share information to get their questions answered.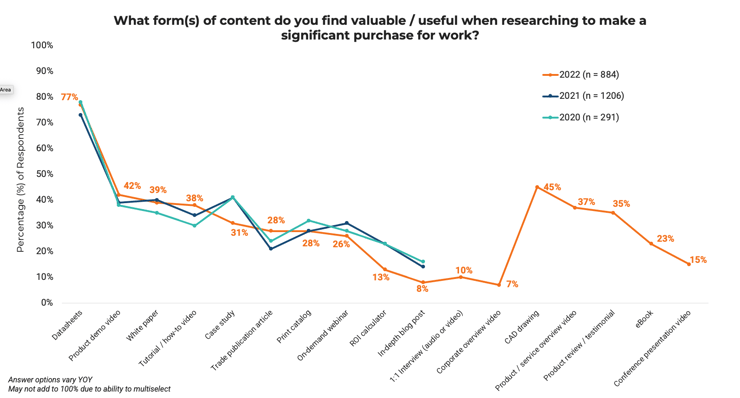 Note: In 2020 and 2021, we asked, "How valuable are the following types of content when researching information to make a product or services purchase decision?" In 2022, we asked "What form(s) of content do you find useful when researching to make a significant purchase for work?" 2020 and 2021 values represent the percentage of people who identified the content type as "Very valuable." While the questions are different, it's worth taking a look.
Consistently, technical buyers are in search of detailed, technical information, and they're drawn to forms of content that they perceive to offer the level of detail they're looking for.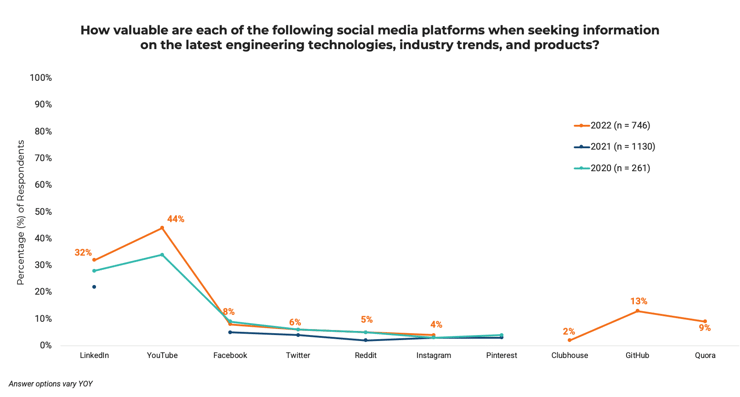 Note: In 2020 and 2021, we asked, "How valuable are each of the following social media channels when seeking information on the latest engineering technologies, industry trends, and products?" In 2022, we asked, "How valuable are each of the following social media platforms when seeking information on the latest engineering technologies, industry trends, and products?" 2022 values represent a combination of those who selected "Extremely valuable" and "Very valuable" because we moved from a 3-point scale to a 5-point scale in 2022.
Engineers and technical buyers don't see much value in social media outside of professional networking and keeping up with industry trends on platforms like LinkedIn and YouTube. Social media sentiment has remained consistent.
Time spent watching work-related videos increased slightly across age groups between the 2021 and 2022 reports.
You mention that datasheets are the most significant piece of useful content, but when you asked what types of content users will fill out a form for, datasheets are not mentioned. Can you elaborate on why it isn't there?
Datasheets are considered table stakes for the reader to review product specifications, thus they're best offered ungated.
What kind of news is worth spreading through offline PR?
Offline PR is going to be primarily print publications. Many publications have severely limited their print runs (in both circulation and frequency), so if you're pursuing print media, focus on content that's more trends-related rather than time-sensitive. These may be in-depth interviews with leadership about your industry or contributed content about technology trends in a certain market.
However, do consider using offline opportunities (in-person meetings with journalists at events, swag at your tradeshow booth, etc.) to drive online engagement by discussing online editorial / contributed article ideas, including your URL on swag, etc.
I didn't see any Google Ads in the report. What's your opinion regarding Google Ads?
That's correct; our research did not include any findings about Google Ads this year. Based on the research findings, the top places to promote technical content are LinkedIn, YouTube, and specific, relevant industry websites. In TREW's experience, (1) engineers are wary of Google ads, and (2) while there are certainly exceptions, the leads produced by Google ads are typically unqualified. Google Ads are best used when your goals revolve around awareness and boosting web traffic.
---
Want to access the on-demand webinar?
to access the 2022 State of Marketing to Engineers Research Findings Webinar.
Are you interested in digging more into the research findings covered at this webinar? Download the full research report
.

Wendy Covey is a CEO, a technical marketing leader, author of Content Marketing, Engineered, one of The Wall Street Journal's 10 Most Innovative Entrepreneurs in America, and she holds a Texas fishing record. She resides in a small Hill Country town southwest of Austin, Texas, where she enjoys outdoor adventures with her family.
TREW Marketing is a strategy-first content marketing agency serving B2B companies that target highly technical buyers. With deep experience in the design, embedded, measurement and automation, and software industries, TREW Marketing provides branding, marketing strategy, content development, and digital marketing services to help customers efficiently and effectively achieve business goals.