7 min read
HubSpot CRM vs. Salesforce CRM: 6 Comparison Criteria
An effective customer relationship managment system (CRM) separates hugely successful companies from the ones with stagnant lead and sales growth. This foundational technology allows you to gain insights into your customers and prospects, easily reach out to them, and measure conversions through their buyers journey. It also helps you to eliminate numerous manual sales tasks, freeing up your sales force to spend time in the most impactful ways. In short, CRMs are critical to improving your B2B organizations' marketing and sales performance.
With so many CRM solutions in the marketplace today -- Zoho, Microsoft Dynamics, Marketo, Eloqua, Salesforce, and HubSpot to name a few -- how do you choose the right CRM for your small-to-mid-sized technical B2B business?
Long considered the industy leader, Salesforce boasted having "more than 150,000 customers and more than 16,000 employees," in their 2015 annual report. However, that same year, a major challenger to Salesforce's CRM came out: The HubSpot CRM.
TREW has been a HubSpot Gold Partner since 2012, and when they released their CRM solution, we naturally became beta users to kick the tires ourselves, so we could help our customers navigate their CRM options. In 2015, the majority of our customers either didn't use a CRM at all, or were using Microsoft Dynamics. Contrast that to today where the majority of our customers are using the HubSpot CRM or Salesforce.
So how do these two CRM solutions stack up head-to-head? Let's take a quick look at some key comparison points:
1. Sales and Marketing Alignment
HubSpot:
The HubSpot CRM is built to align sales and marketing with integrations between the HubSpot inbound marketing platform. The two products work hand in hand like few other CRM and marketing tools can because they're both developed by the same company and natively integrated.
Key integrations and tools for HubSpot's CRM include:
Company Insights. Helps you learn more about prospects by automatically pulling in company information such as company description, annual revenue and how many employees work there—great for B2B sales and marketing teams.
Social Media Integration. The CRM automatically pulls a prospect's social media accounts so you can connect with prospects via Facebook, LinkedIn, Twitter, and Google+.
Marketing List Integration. Contacts can be grouped together to form lists, allowing marketing to use those lists for targeted campaigns designed to convert prospects into customers. Contact records automatically sync with the marketing platform so sales and marketing stay aligned and there's less time wasted on outdated info.
Beyond these integrations with the HubSpot inbound marketing platform, the HubSpot CRM also plays nice with GoToWebinar, Survey Monkey, and other services to give you a complete profile of contact activity for both your sales and marketing teams.
Salesforce:
Salesforce created a social network tool called Chatter to integrate with its CRM solution. Some of the integrations between Chatter and Salesforce offer benefits such as:
Easy List Segmentation. Salesforce's Chatter integration lets you group contacts together for use in targeted marketing efforts.
Social Media Integrations. Chatter allows connections with prospects via Facebook, LinkedIn, and Twitter.
Winner = HubSpot
2. Email Marketing Integration
HubSpot:
HubSpot integrates with:
Better yet, each email sent, received, opened, and clicked is automatically logged — both sales and marketing team members can be immediately notified of these events. Bounces and accounts with multiple contacts are also automatically tracked.
Salesforce:
Salesforce integrates with Outlook out of the box. Also, users have to log emails manually. So, there's more work for keeping track of individual contacts.
However, the Salesforce CRM does keep track of email bounces and accounts/lists that have multiple contacts.
Winner = HubSpot
HubSpot works with a wider variety of email clients than Salesforce, has better overall email event logging, and tracks email events for both sales and marketing teams — without the need for third-party applications
3. Depth of Analytics and Reports
HubSpot:
This CRM easily generates analytics reports with just a few clicks using data from both the CRM and the marketing platform. This leverages the power of the HubSpot inbound marketing platform.
However, the breadth and depth of some of these reports is lacking for certain businesses.
Salesforce:
Has a very wide range of reports and statistics to track. Basically, any kind of report you can think of can be generated in Salesforce. Reports can be automatically generated with just a few clicks.
However, to get a deeper dive in reports, you may need to import some Excel documents.
Winner = Salesforce
HubSpot might be easier to use, but the reports it generates can be limited compared to Salesforce.
4. User Experience/Ease of Use
User experience is an often-overlooked, but critical, aspect of any CRM solution. With the explosion of Software-as-a-Service (SaaS) tools on the market today, users expect and need a solution that is intuive to use and easy to learn.
HubSpot:
Very user-friendly platform integrated with the rest of HubSpot's features and services for easy optimization of website content, emails, and more. The HubSpot CRM runs on all the current browsers as well as on tablets, desktop computers, and mobile phones. There are Android and mobile apps for users as well.
Salesforce:
As an independent CRM, integrations are often lacking, meaning that sales reps may have to manually input data regarding their prospects rather than relying on automated event tracking. However, Salesforce has been making progress on this pain point the last few years.
The SaaS model runs on any browser, tablet, desktop, or mobile phone — but has, historically speaking, poor performance on mobile phones. There is are Android and mobile apps for users on the go.
However, Salesforce is known for having a steep learning curve which could put off some new users.
Winner = HubSpot
If your website is run on the Hubspot platform already, all of the integrations that the HubSpot CRM offers provide a smoother user experience versus using Salesforce. However, if you're on a different platform for managing your website and your team's already familiar with Salesforce, then it might be a worthwhile solution to keep using.
5. Customization
HubSpot:
HubSpot's CRM allows sales representatives to customize their settings on an individual level. You can specifically allow users to create custom contact, company, and individual deal records as well as customized display, lead scoring, and form field mapping. This means that they get the data they most need, not the data that a well-intentioned programmer thinks they need. It also means getting that data in a relevant, intuitive format.
Salesforce:
Salesforce's CRM tends to put an administrator in charge of customization. This is great for ensuring consistent reporting across teams, but might make things a little less convenient for individual team members.
Administrators can create custom database tables to keep track of data unique to your business — which is great for a lot of companies in niche markets. However, Salesforce has hard limits on the number of total custom objects that users can have.
Tie:

HubSpot for individual sales reps;
Salesforce for organizational-level consistency
6. Price/Cost
HubSpot:
The HubSpot CRM is FREE to all HubSpot users, whether you're on Marketing Basic ($200/mo.), Marketing Pro ($800/mo.), or Marketing Enterprise ($2,400/mo.) plan. Best of all, there's effectively unlimited seats for users —additional costs are based on the number of contacts you're managing, not the number of people you employ to manage them. There is an upgraded version of the CRM, which at $50/seat adds functionality such as a calendar app, online chat, unlimited email templates and notifications.

Salesforce:
Salesforce uses a different billing model for their CRM. With Salesforce, the monthly cost of the software is based on the total number of users you have, not on how many contacts you're managing.
The low end of the Salesforce CRM is $25/mo. per user (up to 5 users) for their SalesforceIQ CRM starter package. After the first five users, companies can opt for the "Lightning Professional" tier plan, which is billed at $75/mo. per user. So, a small, 10-man sales team would pay at least $750/mo. just for a CRM without any workflow automation.
To get the nicer features of Salesforce's CRM, you'd have to get the "Lightning Enterprise" service, which is billed at $150/mo. per user. This is the minimum needed to get web service API integration, workflow automation, and single sign-on for all the apps that comprise Salesforce. This would cost a 10-man team $1,500 per month.
Winner = HubSpot
Which is Best for Your Business?
For larger businesses with larger budgets and the need to integrate with a lot of different applications in the Salesforce marketplace, Salesforce is a great tool. However, for small-to-midsized businesses that don't have thousands of contacts (or are already on HubSpot's inbound marketing platform), the HubSpot CRM is the easier, more affordable solution.
If you are using the Salesforce CRM and use the HubSpot Pro inbound marketing platform for your marketing programs, the HubSpot CRM integrates with Salesforce. In this case you can sync your HubSpot database with Salesforce so you can get the best of both worlds.
Evaluate your business requirements, desired key features, budget, and team size and then choose the CRM solution that best meets your needs.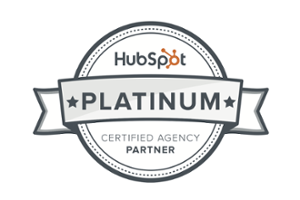 ---
Looking to learn more about HubSpot? Watch our HubSpot Demo webinar.