6 min read
Four Tips for Executing a Successful Content Marketing Strategy
Given that the majority of the buyer's journey happens online before a prospect ever talks to sales, it's important to carefully plan your content development to ensure you deliver the right information at the right time to each of you target audiences. It's equally important to remember that you can't just "set it and forget it" when it comes to your content. Buyer's needs evolve, which means you need a plan in place for evaluating content performance and making data-driven adjustments on a regular basis.
Based on our experience creating hundreds of content plans to help companies effectively reach technical audiences, we've put together our top four tips for executing a successful content marketing strategy.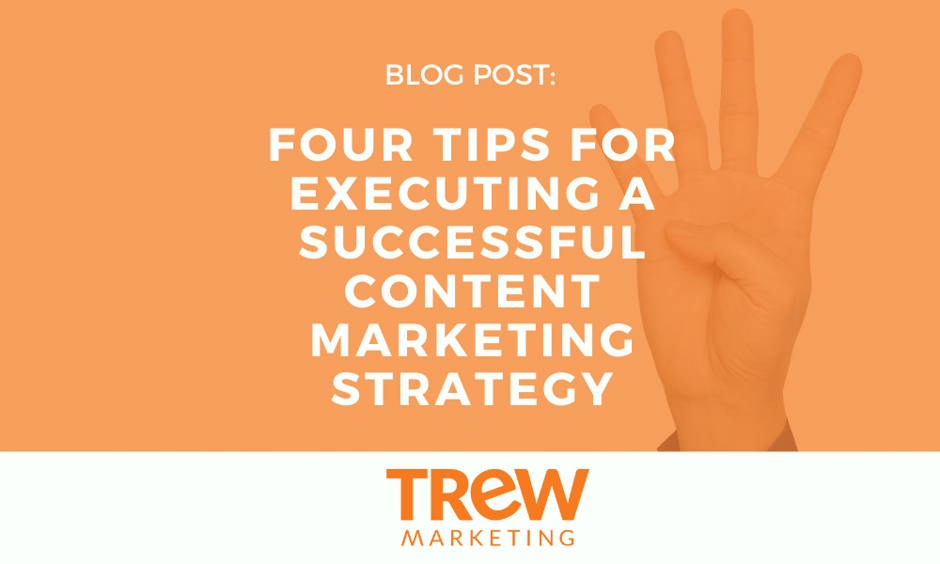 Tip 1: Really Know Your Audience
To effectively reach your target audiences, you need a detailed understating of their different personalities, what they care about, and how they are searching for information. This means it's not enough to simply segment your audiences solely based on standardized demographics. Doing this will likely provide you with an audience that seems sufficient on the surface, but may not be your target audience at all once you dig a little deeper. Take this classic example of Prince Charles and Ozzy Osbourne – identical demographics, yet common sense tells us that their similarities probably stop there.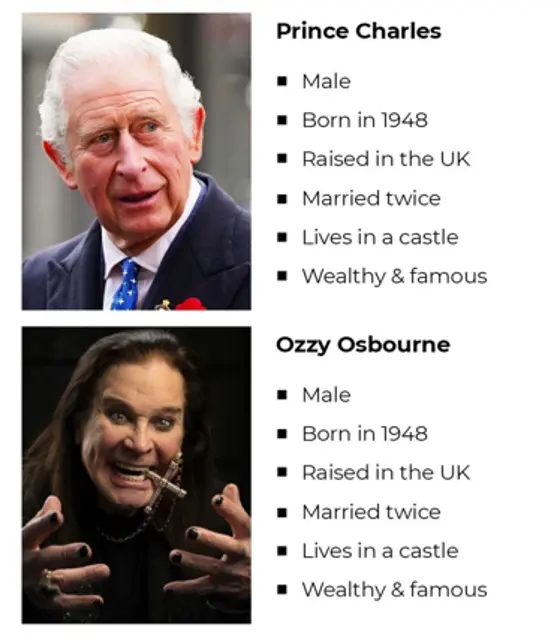 Instead, to develop a more in-depth profile of what your key audiences look like, we recommend creating buyer personas for your target audiences. A buyer persona is a fictional representation of your ideal customers based on real data pertaining to customer demographics and online behavior as well as your educated speculation about their personal histories, motivations, and concerns. Here is an example of part of a buyer persona we created for Design Engineer Evan: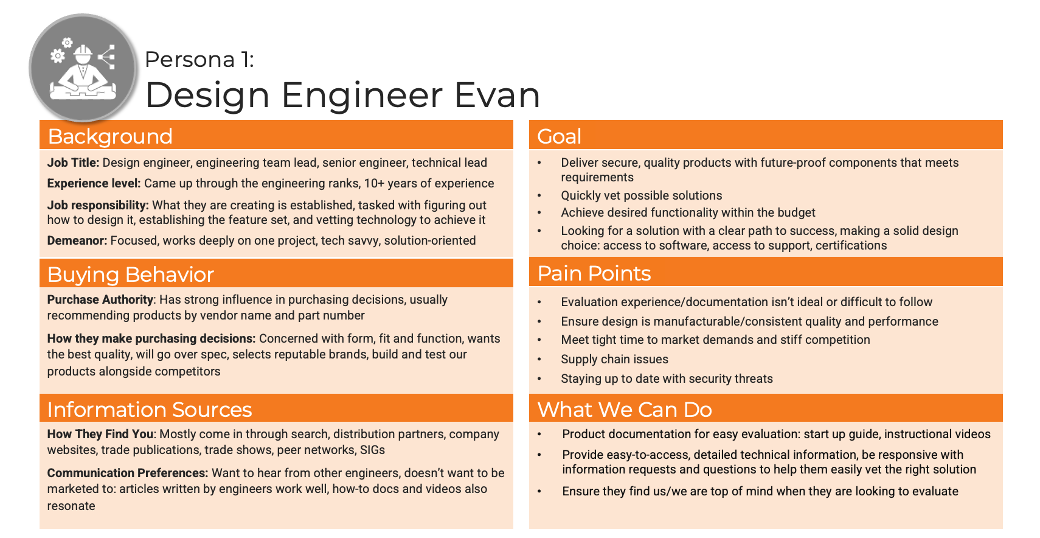 A buyer persona allows you to put a face to each of your target audiences and better customize your marketing efforts – from messaging to activity selection – to make a greater impact with the content you develop for each audience. Taking this type of audience segmentation approach, you likely would come up with much different, and more accurate, persona profiles for Prince Charles and Ozzy Osbourne.
Tip 2: Prioritize Quality Over Quantity
Clients ask us all the time, "how much content do technical audiences need?" The answer to this question is often less about how much content a potential buyer can consume, and more about how much quality content you can effectively create and manage. Creating poor quality, non-relevant content is worse than not having content at all, and creating more content than you can manage can result in stale, outdated content that misrepresents who you are and what you offer.
Do any of these five content creation issues sound familiar?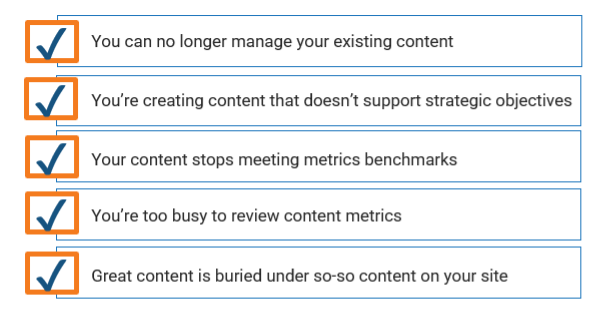 If so, these are a few signs that your organization is creating more content than you can effectively manage.
All too often we see organizations deprioritize content planning and evaluation in favor of constantly cranking out new content. This leads to what we like to refer to as "random acts of content," or content created without consideration of the relevant content needed and/or without a promotion strategy in mind.
One of the first steps to eliminate this is to stop setting goals around creating a certain volume of content. Instead, you want to aim to have the right mix of content available that resonates with your target audiences at key stages of their purchasing journey. To achieve this, we recommend that equal weight be placed on each of the three stages necessary to execute your content marketing strategy.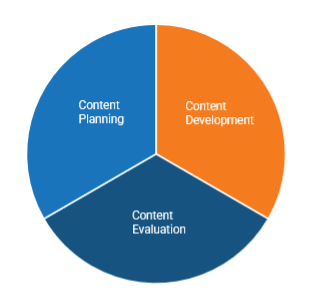 One critical, yet often overlooked, piece of this three-part content process that we want to call out is content planning. Having a formalized content planning process is key to eliminating "random acts of content." The goal of content planning is for each piece of content to fill a need for the prospective buyer while telling a story and educating the reader, not just promoting your products or services. To achieve this goal, during your content planning process, we recommend using some of the following questions:
What are you audience's biggest pain points?
What tough questions do your customers ask you?
What are the top relevant trends for your target industries?
What real-world examples can you share to illustrate your expertise?
What gaps in the market can you educate your prospects about?
What does your company do better than your competitors?
Tip 3: Don't Forget About Content Once It's Developed
Content doesn't have an indefinite shelf life. Trends change, technology progresses, and your business evolves over time, which means some pieces that were once top performers may eventually become irrelevant. To ensure every piece of content on your website best represents your business and expertise, we recommend incorporating a process for regularly evaluating your existing content. This process should include an owner for each piece of content, a cadence for review, and criteria from which to decide if a piece of content should remain as-is, be updated, or be removed from your site.
Not only does implementing a lifecycle plan for content keep content fresh on your site, it also increases the likelihood that existing content assets make their way into new and future marketing plans. Just because a content need is identified during your planning, it doesn't necessarily mean that you need a new piece of content. Instead, you may be able to reuse existing content by repurposing or revamping it. More specifically, repurposing content means you post it to additional media or target an additional segment. This could be done by taking a series of blog posts and bundling them into an ebook. Revamping content involves customizing or updating content to remain relevant, such as taking a top-performing blog post and adding a new CTA and updating graphics.
Tip 4: Make Data-Driven Decisions
We often hear that companies are too busy to track metrics on individual content pieces, or they don't have access to content metrics, or for a variety of other reasons, they just don't really know what content is performing well and what is not. But, metrics are a critical component to any successful content program.
To help you make data-driven decisions throughout your content planning and development processes, we recommend looking at metrics on a couple different levels with the follow frequencies:
Baseline metrics – Expectations by content type (annual)
Individual content metrics – Traffic/engagement and conversion to the next step for all content pieces (monthly)
Campaign metrics – Leads, new contacts, influenced sales for each campaign your organization has (quarterly)
Trend analysis – Reviewing the top blogs and landing pages as well as the highest and lowest performing content and their traffic sources (quarterly)
To help guide this multi-faceted metrics analysis, as part of your content marketing strategy, you should also create a content scorecard for each of your campaigns. The scorecard should identify the key performance indicators (KPIs) you have for your content program, which should align with your organization's overall marketing and business goals. Here are examples of KPIs we recommend: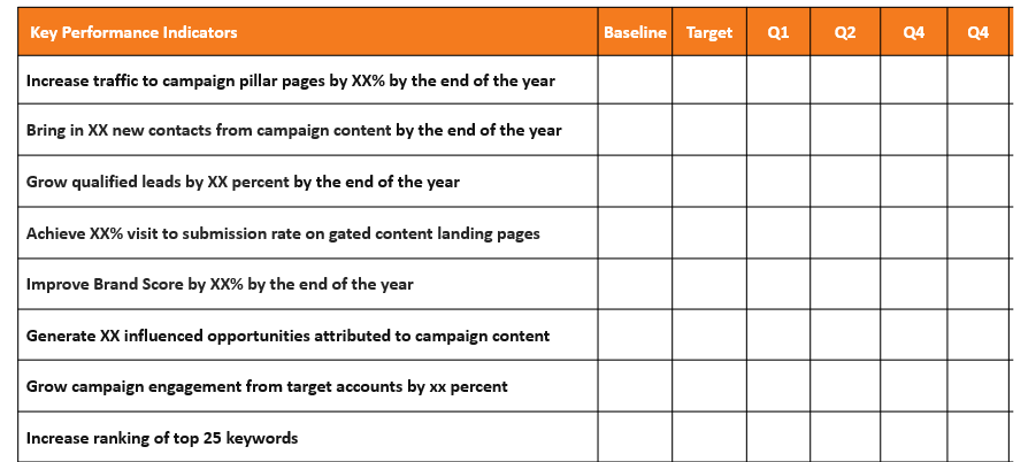 Creating a content scorecard and frequently evaluating your metrics will help you make data-driven decisions, ensuring each piece of content you created has a purpose.
To learn more about our successful content planning and development process, watch this webinar and get a behind the scenes look at how we create hundreds of pieces of content every year for our highly technical, B2B clients.

Jamie has more than 15 years' experience writing technical marketing content designed to engage client's target audiences. She enjoys the challenge of taking a highly technical topic and communicating it in a manner that makes it relatable to non-domain experts. Jamie holds a bachelor's degree in public relations and journalism from Utica College of Syracuse University and master's degree in Advertising from the University of Texas at Austin. Originally from upstate NY, Jamie now lives in the mountains outside of Denver, CO.
TREW Marketing is a strategy-first content marketing agency serving B2B companies that target highly technical buyers. With deep experience in the design, embedded, measurement and automation, and software industries, TREW Marketing provides branding, marketing strategy, content development, and digital marketing services to help customers efficiently and effectively achieve business goals.