At TREW, we've been fortunate to work with a wide variety of companies over the years, and it's greatly satisfying to see our clients achieve amazing results. And since we know numbers speak volumes, and that engineers and scientists love the quantifiable, we occasionally like to share some real-world metrics to show what a difference a well-formed marketing, content and lead generation strategy can make.
For example, it's hard to argue with an incredible 450% increase in average monthly leads. And that's exactly what Silex Technology America, Inc. in Santa Ana, CA has seen since beginning its partnership with TREW Marketing.
Watch the video of Silex President and CEO describing his experience working with TREW.
Background
Silex provides hardware, software, embedded wireless modules and turnkey connectivity products to device manufactures and partners with leading suppliers, including Qualcomm Atheros and Freescale Semiconductor. Silex originally contracted with TREW to develop the strategy around the launch of its SX-SDCAN-2830BT module, a co-marketing project aligned with the launch of the Freescale i.MX 6 series processor platform.
The campaign – which included a news release, white paper, new web content, a joint slidecast, and a two-page product flyer – yielded a 320% monthly lead increase, a 24% lead conversion rate, and an email open rate more than double that of industry average.
After such a successful venture, Silex decided to begin the next chapter of work with TREW, and over the last year, TREW has served as Silex's marketing partner, driving activities such as:
updated brand positioning
complete website redesign
marketing strategy and activity plan
ongoing marketing service for consulting and lead generation
And again, the partnership has yielded big numbers, including a 453% increase in average monthly web leads since Silex first began working with TREW, and a doubling of organic lead conversion since the release of the redesigned website.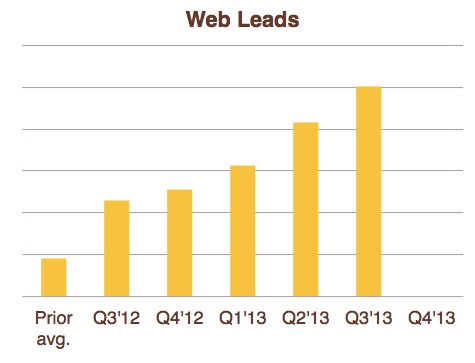 All these great results lead Silex CEO and President David Smith to draft an internal letter to his entire company, which he shared with us as well. We featured his full perspective in an earlier blog, but here is the main takeaway:
"TREW invested in us to understand the company at a level no other firm in the past had done. They helped us understand what our message needed to be to tell our story to our customer," Smith wrote. "The engagement with TREW has delivered outstanding value beyond what can be measured monetarily."
We couldn't be happier for the Silex team and the amazing results they are seeing thanks to an integrated marketing plan and excellent content planning and creation. The collaboration with our teams is the key to our shared success, and we look forward to the future working with them.
Find out how TREW can help you achieve your goals by scheduling a consultation today.
Browse more real-world results on our featured work page.