THE LINKEDIN MINISERIES
Learn how to amplify your ROI on the #1 B2B social platform. WATCH OR LISTEN
Explore each episode of our March LinkedIn Madness Miniseries.
Take a sneak peek at our miniseries focused on all things LinkedIn, from crafting that perfect post or ad to expanding your reach through deeper network engagement.
John Espirian, Technical Copywriter and author of Content DNA, thinks that boring is the new risky. He provides advice on standing out from the crowd and explains recent LinkedIn algorithm changes.
Susan Tatum, Founding Partner of The Conversion Company, explains how salespeople can cut through the noise on LinkedIn, strive for quality over quantity, and make real connections with prospects.
Nick Capozzi is CEO of Sales Pitching and an award-winning LinkedIn advisor. In this episode, he gives advice on flexible scripts, making human connections, and improving sales conversion rates.
Scott Ingram, creator of the LinkedIn Sales Stars list, explains what the best-in-breed sales and marketing people are doing to engage and grow their LinkedIn networks.
AJ Wilcox, founder of B2Linked and host of the LinkedIn Ads Show podcast, has managed massive LinkedIn Ads accounts. In this episode, he shares his best advice.
TREW Marketing Account Director Erin Moore walks through specific examples of how TREW clients are seeing success with their LinkedIn campaigns.
TREW's Inbound Marketing Specialist Julia Fellows shares LinkedIn's new marketing features, such as stories, articles and newsletters.

Build your content marketing program
To succeed on LinkedIn, you need a comprehensive content marketing strategy. To learn the fundamentals of content development, get the book Content Marketing, Engineered by Wendy Covey.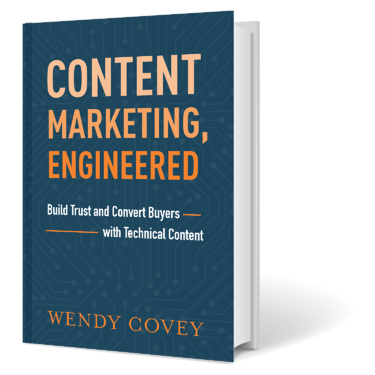 Subscribe for updates
Sign up to receive updates about the Content Marketing, Engineered Podcast. Host Wendy Covey breaks down industry trends, challenges, and best practices in marketing to technical buyers.