4 min read
How to Write a Technical Press Release
10 Key Components You Can't Forget When Writing a Press Release
News releases are still a vital piece of ongoing marketing. They help you control your message, support SEO, and generate third-party content. But, like any content, if not written well, a news release will detract from your brand rather than support it.
Here are 10 key components of a news release that you should remember when writing:
1. Create an Engaging Headline
News release headlines should convey the benefit to your reader. The headline should let the reader know why this announcement is important and how it could affect their work. The headline should also include your company name for SEO and third-party credibility later.
Good Headline: New SC2250 Extends Frequency Range of Measurement Equipment
Better Headline: SignalCraft Technologies SC2250 Extends Frequency Range of Measurement Equipment
Best Headline: SignalCraft Technologies SC2250 Extends Frequency Range of Measurement Equipment for Signal Conditioning and Harmonic Measurement Applications up to 18 GHz
2. Consider When and Where You Wire
When: News that you want customers, partners, and prospects to notice should be released in the mornings on Monday, Tuesday, or Wednesday. Launching a product at a trade show? Release your news the day before or the morning of the trade show's kickoff keynote so that journalists see your news when they recap the event.
Where: For consistency, release your news from the city and state of your corporate headquarters, unless your release ties to a specific event. If you're at a trade show or launching a product in conjunction with a larger partner, consider wiring from the city of the show or partner to leverage the larger audience. TREW Marketing announced news at HubSpot's Inbound conference from Boston, where the conference was taking place: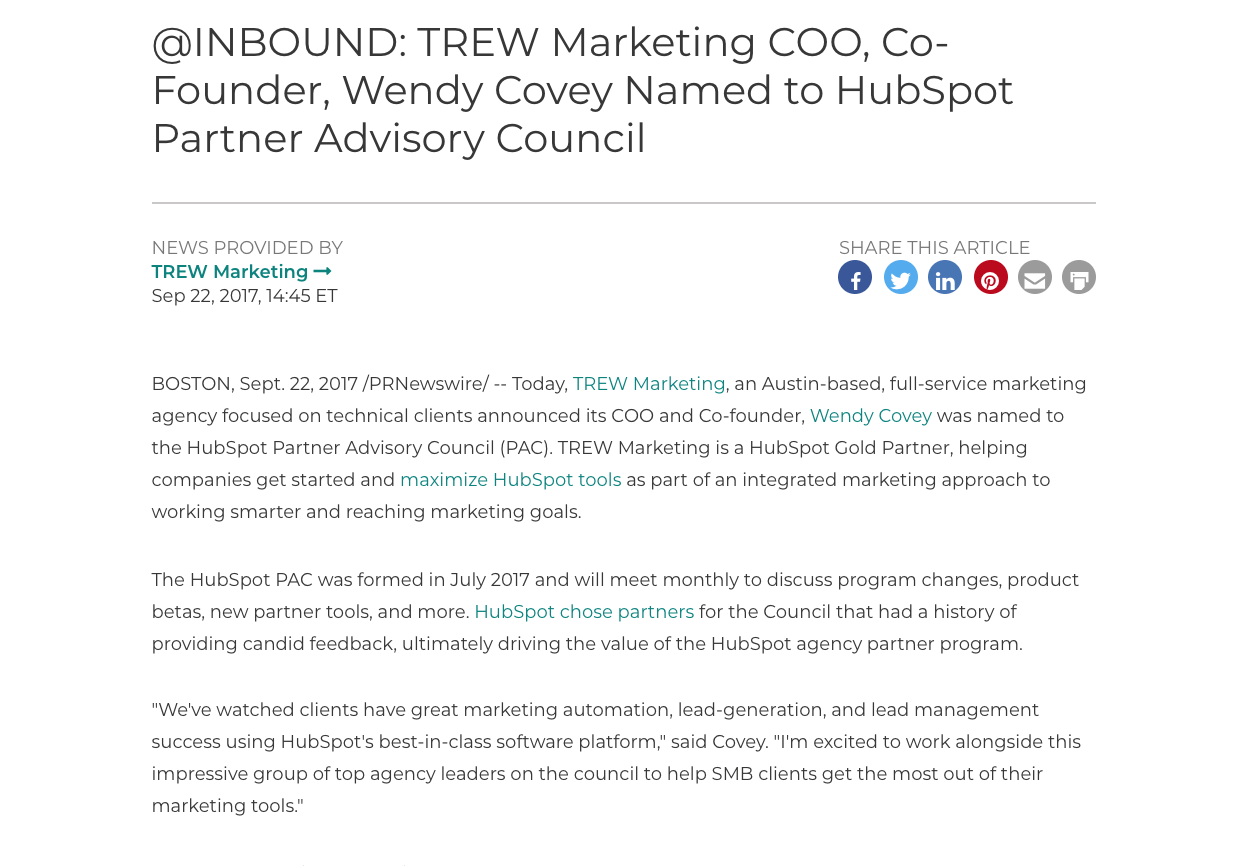 3. Craft the Lead Carefully
Don't get too creative with your first few sentences. Journalists, writers, and readers are all looking for the purpose of the announcement. Stick with covering the traditional 5 W's of journalism in your first few sentences:
Who is making the announcement?
What are they announcing?
When is it happening?
Where is this taking place or where is this announcement relevant (industry/application area)?
Why should the reader care?
4. Include Validation
A quote in a news release can go a long way to provide anecdotal information, and give credibility to your announcement. When creating a quote, or asking someone to provide a quote for your release, remember that journalists may use that direct quote in other content, as if they spoke to the person directly, so make your quotes represent your brand well. Strong quotes in technical news releases come from:
Beta users who can prove the use case for the product you are launching
R&D engineers who can share expertise about the technology
Executives or Business Development leaders who can share how the launch fits into an overall company goal or strategy
5. Make Specs Scannable
Consider using bulleted lists to condense the top 5-10 specs of a technical product into a release. This will make the release more readable and also give an engineer looking for specs a straightforward list to review.
6. Support Your Brand
Refer back to your corporate brand messaging to ensure you're using consistent messages in your release. If you plan to wire your news release, it will likely get picked up on third party sites and may be covered in other outlets. News releases provide a great opportunity for well-branded third-party coverage, because another author can use your message as the foundation for their content. So, make sure you have a strong, consistent corporate message in your release. This release from Wineman Technology announces news at a trade show, but also takes the opportunity to underscore the overarching corporate brand:

7. Use Links Throughout, Including a CTA
Link to your company home page, product pages, industry pages, and data sheets as they're mentioned throughout the release. Also include a specific CTA at the end of the release with a simple, spelled-out URL, in case sites that post your release strip links from content.
8. Include Contact Information
Either have contact information in the coded data of your news release (through a wiring partner) so it's available only to journalists, or include contact information or a link to the "contact us" page on your site near the end of your release so it's easy for a prospect to get more information.
9. Include a Boilerplate
Your company boilerplate should be at the bottom of your release, under the heading, "About [Company name]". The boilerplate should be less than 100 words and share your corporate pitch, explaining what you do.

10. Watch Your Length
Technical companies often want to include every detail in a news release – avoid doing so. News releases should be scannable and to the point, and there are plenty of opportunities to link to new product pages, company overview pages, data sheets, or more specific content. Ideally, keep your release (from headline through boilerplate) under 500 words. Check with your wiring company, too, as some wiring companies will charge more for releases more than 400 words.
---
Learn more about brand positioning and messaging by downloading our ebook, "Smart Messaging for Engineers."

Morgan believes that the process of brand positioning and messaging powers companies by aligning corporate leadership, building a story that fuels staff and engages customers, and creating a foundation for consistent content – and she's seen these results come true for TREW clients time and again over the last decade. She holds degrees in Public Relations and Spanish, with a minor in Business from The University of Texas at Austin. Morgan, her husband, and three kids recently moved from Austin to downtown DC, where they enjoy walking the city, visiting the local museums, and playing a guess-who-is-in-that-motorcade game.
TREW Marketing is a strategy-first content marketing agency serving B2B companies that target highly technical buyers. With deep experience in the design, embedded, measurement and automation, and software industries, TREW Marketing provides branding, marketing strategy, content development, and digital marketing services to help customers efficiently and effectively achieve business goals.