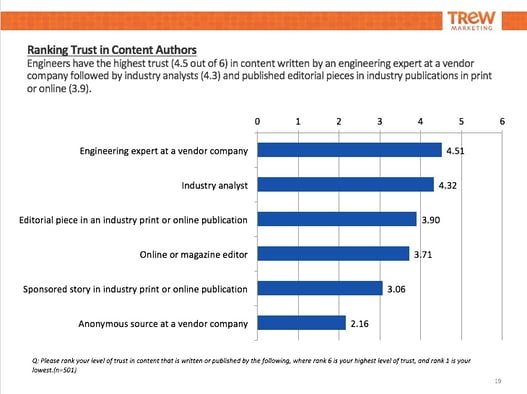 Key Findings & Analysis
The primary ways engineers interact with e-newsletters are scanning subject lines or opening to scan for content.
When viewing webcasts, the three most preferred features include real-world examples, images and diagrams, and having a pre-event agenda/explanation.
Online resources such as websites and search engines are the most valuable source of information; among offline sources, engineers equally value technical conferences and print publications.
Engineers place the highest trust in content written by an engineering expert at a vendor company.
Methodology
TREW Marketing and ENGINEERING.com partnered to conduct this survey and collected the insights of more than 575 respondents into the following report. This latest research data provides conclusive, actionable data for marketers to effectively implement online and content marketing programs that drive the greatest return on investment.
Complete the form on this page to access the report.
This report was published in the summer of 2015.