2 min read
Webinar: How to Write Content that Converts Technical Audiences
has found that 65% of engineers and technical professionals said they complete more than half of the buyer's journey online.
This means your ideal prospects are gathering the majority of information for their next purchase online – through content.
In addition, these technical audiences are skeptical, analytical, and deeply intelligent in their nuanced fields. Quick headlines and superlatives don't work for them, and their purchase decisions are often large, long-term ones. They need multiple pieces of compelling and accurate content that speaks directly to their pain points in order to build trust.
Technical companies need writers who can create honest, technical, compelling content to meet these prospects in their ever-important buyers journey.
We're opening up our content development playbook in a live webinar, How to Write Content that Converts Technical Audiences, on March 25, 2021 at 1 p.m. ET to teach you how to create this content. We will walk through the step-by-step process our technical writers have used for 10+ years and 100s of clients.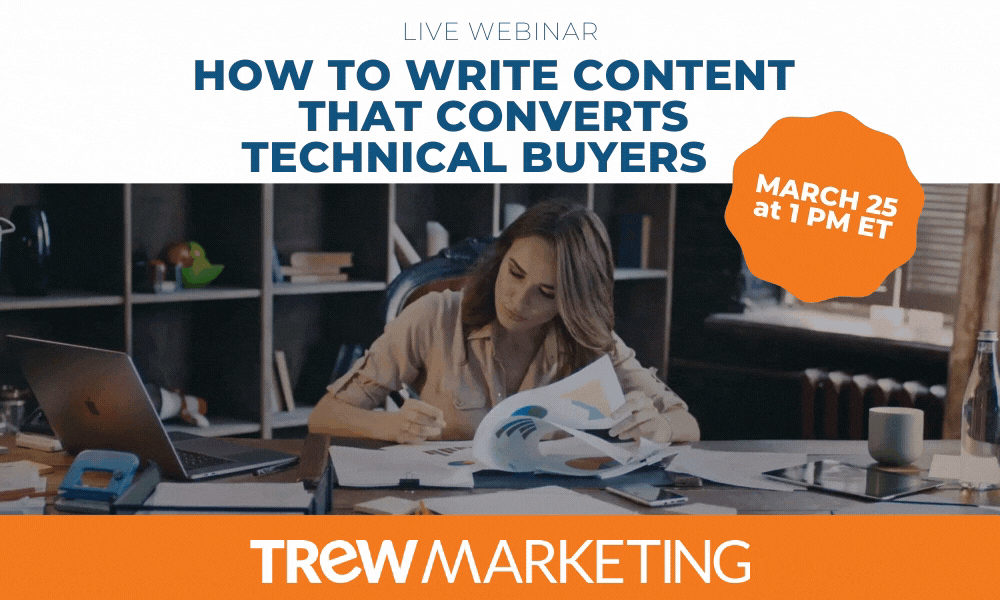 In the webinar, marketers will build their writing skills by learning how to:
Become a writer that's an asset to your company
Choose the right types of content for your company and prospect
Plan content so writing comes easier
Edit content for accuracy, readability, and to preserve your corporate brand
Package content for promotion
We'll cover on all types of written content that are part of a strong content marketing program targeting technical audiences, including blog posts, white papers and ebooks, case studies, news releases, infographics, interactive content, and corporate slide decks.
---
Interested in becoming a better technical writer? Our Content Writing, Engineered course helps writers, marketers, and engineers by working through a proven technical research, writing, review, and promotion process. As you learn, you'll create a final piece of content for your business and receive feedback along the way.

Morgan believes that the process of brand positioning and messaging powers companies by aligning corporate leadership, building a story that fuels staff and engages customers, and creating a foundation for consistent content – and she's seen these results come true for TREW clients time and again over the last decade. She holds degrees in Public Relations and Spanish, with a minor in Business from The University of Texas at Austin. Morgan, her husband, and three kids recently moved from Austin to downtown DC, where they enjoy walking the city, visiting the local museums, and playing a guess-who-is-in-that-motorcade game.
TREW Marketing is a strategy-first content marketing agency serving B2B companies that target highly technical buyers. With deep experience in the design, embedded, measurement and automation, and software industries, TREW Marketing provides branding, marketing strategy, content development, and digital marketing services to help customers efficiently and effectively achieve business goals.