3 min read
2021 State of Marketing to Engineers Top Findings
Engineers Rely on Digital Content for More than 50% of the Buyer's Journey, AND MORE
The 2021 State of Marketing to Engineers Research Report identifies which virtual marketing efforts, digital content types, and social platforms are effective for reaching engineers
Today with GlobalSpec, we released the 2021 State of Marketing to Engineers Research Report.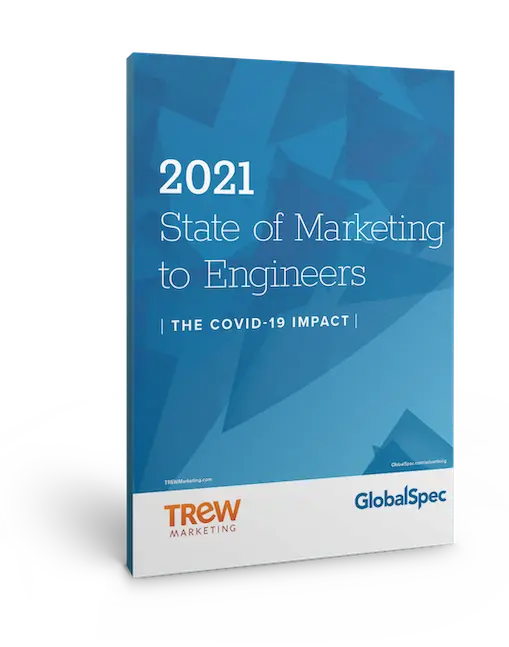 The report reveals data about information-gathering practices, content preferences, and engagement expectations of technical audiences. It is available for download now, and will be the subject of a January 27, 2021 webinar at 1pm EST.
Marketers working for technical companies must make informed decisions – from allocating budgets, to time, to personnel resources. This report helps marketers know where to focus so they can build trust with prospects, fill sales pipelines with the right leads, and lower customer acquisition costs.
Key findings in the 2021 State of Marketing to Engineers Research Report include:
62%

of respondents complete more than half of the buyer's journey online

80%

of engineers found value from virtual events, but twice as many prefer webinars over virtual events

96%

of engineers watch videos weekly for work, and over half listen to podcasts for work regularly

Engineers are willing to fill out forms for highly technical content like white paper and CAD drawings
The report includes questions about the COVID-19 pandemic, evaluating the emerging marketing tactic of virtual events and other adaptations. The research report will help marketers better understand the needs of technical audiences to serve them better.
This report marks the fourth year TREW Marketing and GlobalSpec have partnered together for research, with responses from nearly 1400 engineers and technical professionals located across global regions, this is the largest sample size to date. Survey respondents came from a widely diverse set of industries, from engineering services, energy and aerospace/defense to automotive, semiconductor and materials.
Webinar – 2021 State of Marketing to Engineers
On January 27th, Wendy Covey along with GlobalSpec Marketing Manager, Jennifer Corcoran will host a webinar and give insight into creating marketing plans and compelling content based on data from the study.
Attend this webinar at 1pm EST on January 27 and discover answers to some of marketers' most critical questions:
Where do engineers go to seek information to make purchase decisions?

What social media channels engineers prefer?

What fields are engineers are most likely to complete on a web form?

What are engineers' opinions about retargeted ads?
Readers can download the complete research report, which details critical findings and conclusions, along with complete data by global region and age group, or register for the webinar to gain insight on how to use the data from this study to create better B2B technical marketing programs.

Morgan believes that the process of brand positioning and messaging powers companies by aligning corporate leadership, building a story that fuels staff and engages customers, and creating a foundation for consistent content – and she's seen these results come true for TREW clients time and again over the last decade. She holds degrees in Public Relations and Spanish, with a minor in Business from The University of Texas at Austin. Morgan, her husband, and three kids recently moved from Austin to downtown DC, where they enjoy walking the city, visiting the local museums, and playing a guess-who-is-in-that-motorcade game.
TREW Marketing is a strategy-first content marketing agency serving B2B companies that target highly technical buyers. With deep experience in the design, embedded, measurement and automation, and software industries, TREW Marketing provides branding, marketing strategy, content development, and digital marketing services to help customers efficiently and effectively achieve business goals.