Interviews with Hallam customers provided insight like this quote, into what mattered most: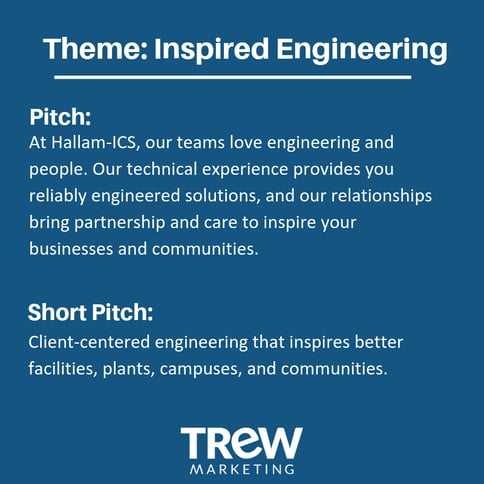 "There is no question about the engineering skill at Hallam-ICS. It's excellent. But what stands out their level of service: they understand the engineering problem, roll up their sleeves and get dirty in the field and give me results that are impactful as facility owner. Their responses are practical and understanding, and they're people we really enjoy having around. They make our company better." -- Hallam customer
Hallam customers consistently shared that had they known working with Hallam would be such a value-added experience for their company, they would have started working with Hallam sooner. TREW sought to capture exactly what it was about the Hallam-ICS culture that drove better experiences and better solutions for customers so that Hallam could lead with those differentiators and attract and gain the right customers more easily.
Throughout this process, a key theme emerged around "Inspired Engineering".
Inspired Engineering became the overall theme of the culture branding project, and TREW developed messaging to show how the Hallam culture of Inspired Engineering impacts customer solutions:
Inspired Engineering Message: At Hallam-ICS, we've built a foundation to support your business. With a history of technical integrity and a commitment to our communities, we hire teams that love engineering and people.
Our technical integrity provides you reliably engineered solutions, and our commitment to communities brings relationship and care to your businesses. The staff behind these benefits embody our culture and inspire successful solutions at the core of your facilities, plants, campuses, and communities – so we create opportunities for them to thrive. Our employees share ownership of our company, deep team camaraderie, and opportunities to engage, serve, and solve problems in the community. Ultimately, our engineers are inspired to bring you the technical experience to succeed through relationships that make your days easier and work more fulfilling.
TREW then used this core message to incorporate the Hallam-ICS "Inspired Engineering" campaign throughout the company's site. TREW created a new slider hero graphic on the Hallam homepage that showcases culture and engineering expertise. TREW also completely re-designed Hallam's About Us page as a pillar page that showcases the company culture and its impact on customers and technical applications through videos, images, and specific details.

The Inspired Engineering message is at the core of Hallam, so TREW created targeted messages for each of the Hallam core service areas, including the following:
ArcFlash Message: At Hallam-ICS, our teams love engineering and people. We're passionate about conducting in-depth Arc Flash assessments of electrical engineering systems so your people work safely and return home to their families after each and every shift.
Commissioning and Validation Message: The final stages of development for systems validation and facility commissioning can be taxing, and having a partner who provides thorough onsite support is critical to ensuring your final systems are engineered correctly so you're inspired to move forward.
Additionally, TREW created a 2-minute internal webinar to train the Hallam team on the new brand messaging along with the story of what makes their company unique. This key piece of content ensures that employees can consistently tell the Hallam-ICS "Inspired Engineering" story consistently to their stakeholders.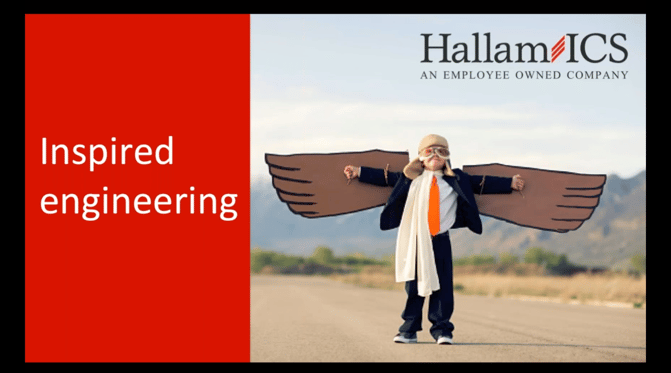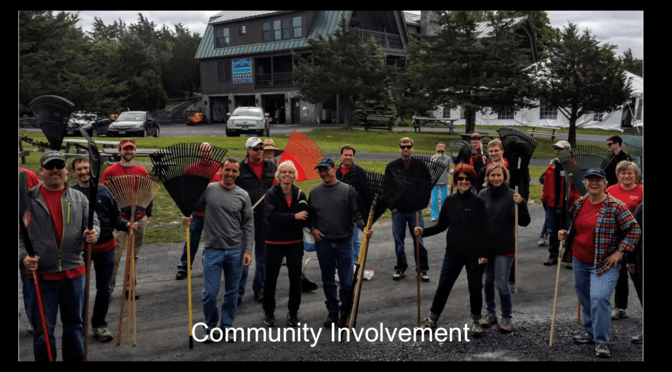 Still frames from the Hallam-ICS internal training.