As I was preparing for a call from a reporter at The Wall Street Journal, I paced back and forth in my son's bedroom where my makeshift home-office was at the time. Our niece had moved in to our home in Austin from California, and we needed the extra bedroom. So, there I was, surrounded by LEGO-built spaceships and Hot Rod racecars, trying to come up with just the right sound bite - all my days in PR served me well on this fall morning in 2011.
With a notepad in hand, I kept writing words down like a puzzle piecing them together, trying to capture the essence of our agency position, and how we not only survived but thrived through the downturn of the Great Recession. And there it was…I got my sound bite that truly captured our agency's niche focus and our successful strategy: Say No to Grow.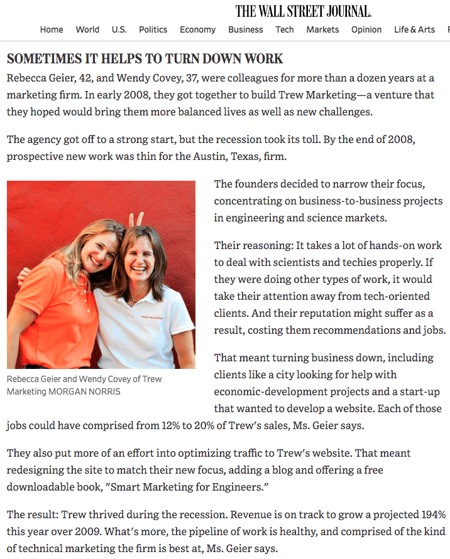 Say Yes to Your Niche
When the reporter called, as is typical with a daily business reporter, we passed on the niceties and she dove right into her questioning. "So, you guys actually turn down work? Why? Can you give me an example?" I went on to explain the story of our first 2 years of TREW, how we came out of the gates as new business owners with all kinds of opportunities. From friends and past co-workers. From our local network of business and community leaders. And they were with a variety of organizations, from the local United Way to our city's children's hospital to a scientific non-profit representing the state's members of the U.S. National Academies. We were flying high in our first 9 months with more work than we could handle. Then came the downturn, and by early 2009, we had no new revenue in our pipeline. It was at that time we realized we could not, nor did we want, to be an agency-for-all, reactive to the winds of word-of-mouth, or the graciousness of referrals from friends. We had to stand out and apart from other agencies, to stand for something, and in the process, get control of our destiny.
"We had to stand out and apart from other agencies, to stand for something, to get in control of our destiny."
We made the strategic decision to focus on becoming the smartest, most collaborative marketing agency serving engineers in the world. That decision to SAY YES to B2B technical companies, and SAY NO to nonprofits, hospitals, and others outside this niche, also gave us great focus in where to invest to grow our brand. It was at this time, that we created our tagline, Smart Marketing for Engineers, wrote our first ebook – Smart Marketing for Engineers: Build Your Foundation, and began our annual research of the engineer's buyer journey.
Three Examples: Say No and Growing – National Instruments, Southwest Airlines and Wineman Technologies
Sometime in the first year of my 14 at National Instruments, I remember posting a printout on my office wall of a slide that was being circulated titled "The Top 10 Traits of an Entrepreneur." One of the traits that stood out to me and was talked about in the hallways was the first one: "Dominate Your Niche." The list came from an article NI CEO and Cofounder Dr. James Truchard had read and used as guiding principles in building the company. As I tell the story in my book, NI got its start in the 1970's selling IEEE 488 (a.k.a., General-Purpose Interface Bus, or GPIB) cards that connected scientific instrumentation such as oscilloscopes to Digital Equipment Corporation mainframes, a revolutionary innovation at that point. By the time I joined the company in 1994, nearly 20 years after its founding, NI dominated the GPIB market. They made bold investments for their young company to perfect the GPIB interface and marketing and selling with a vengeance. During this time, Dr. T and the NI leadership team SAID NO to other business opportunities and R&D investments so they could dominate this niche TO GROW. By dominating one small niche and then another and another, NI has grown into a billion-dollar company that has continually delivered growth with market-leading gross margins.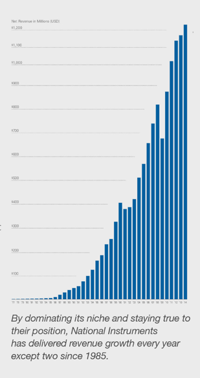 Similarly, Southwest Airlines has stayed true to their focus of only flying Boeing 737-model jets. By doing this, the airline benefits from the efficiency of total standardization on one aircraft platform. By flying only one type of plane, Southwest SAYS NO to some significant business opportunities (e.g., longer flights). By saying no to other types of planes, Southwest SAYS YES to its 737 strategy and all the bottom-line benefits that come with it. Because of this focused approach, the company has achieved growth and profitability year after year in the extremely competitive, thin-margin airline passenger market.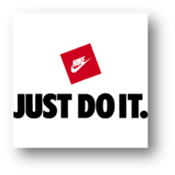 You don't have to be a billion-dollar company to have the courage to SAY NO, and have a focused brand position and message. In fact, NI and SWA created their focus when they were small and scaling up. Wineman Technologies is a great example of a brave small company that demonstrates this courage. On Wineman's website, you immediately and clearly understand their position and message: At Wineman Technology, we specialize in refined test systems for verification and validation with a focus on dynamometer and hydraulic test systems, real-time control and data acquisition, hardware-in-the-loop simulation, and custom test machines.
And the imagery on their website reinforces what you read:



By being clear about their focus on electromechanical test, saying NO to distractions and saying YES to the opportunities that fit their services focus and engineering expertise, they strengthen their differentiated position in their market and their financial position as a business.
Say No to Grow: Don't Just Take My Word For It
Over the last few months, I have noticed more and more leaders of respected marketing organizations using the same, or similar language, in their advice columns. For instance, Robert Rose, co-founder of Content Marketing Institute, wrote an article titled "Scale Up by Narrowing Down" in a December 2017 edition of their This Week in Content Marketing e-newsletter column. He talked about the digital marketing team at their client Lincoln Electric and their need to gain "a clearer sense of when to say no". Rose goes on to explain what he means by finding your specific truth, and ends with "…Narrowing down. Deciding not only what your mission is, but also what it's not. That kind of focus gives you the ability to say no to all the pressures to go wide and diffuse your message."
Then just last month, Brian Halligan, CEO and Cofounder of HubSpot, penned an article in Harvard Business Review titled "The Art of Strategy is Knowing When to Say No ". In it, he explained the benefits of having focus as HubSpot has grown, and how critical is has been in their annual business strategy to bring clarity and empowerment to both his leadership team and all HubSpotters.
As you can see in the image of results below, when I search on "say no to grow" in Google, articles from equally reputable content publishers come up, including one from Inc. Magazine's titled "How Saying 'No' Can Help You Grow", another from the EOS blog, "Just Say No to Grow Your Business" and this one from American Express, "3 Reasons You Should Say No to More Business".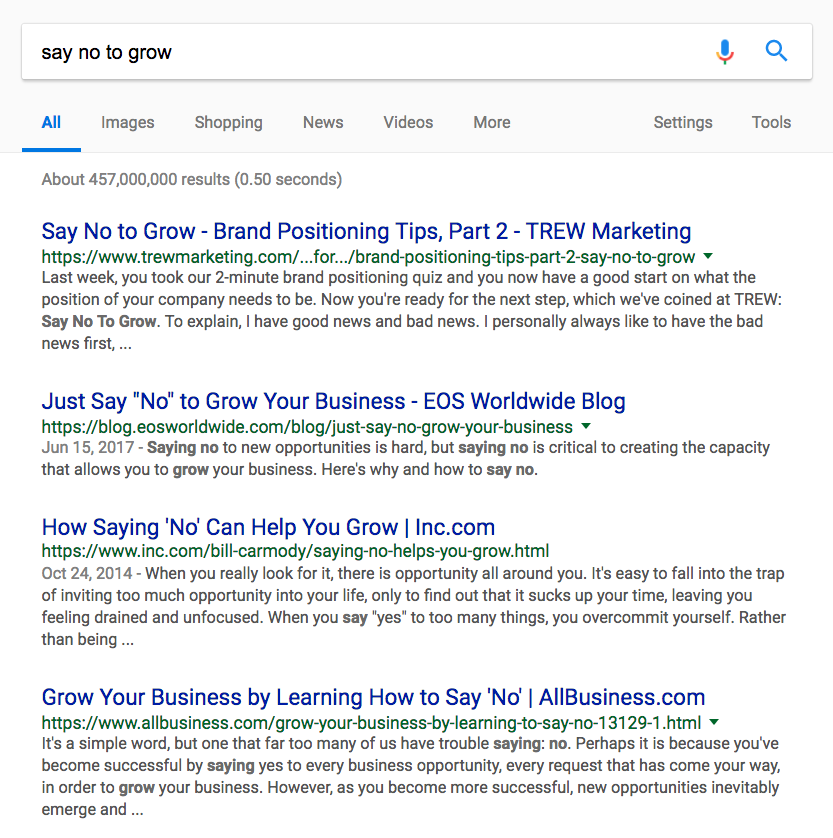 Ready to Say No and Grow?
How does your company measure up to this trend? Are you saying yes and reacting to the business opportunities that come, or are you defining your brand position in a focused, courageous way, and saying no to grow? Need help building your technical company's differentiated brand positioning and messaging? One place to start is reading my book. Chapter 1 is dedicated to this topic, with a step-by-step process and more examples of other engineering companies brand messaging examples. You can read reviews and buy it on Amazon here.
Download our ebook, Smart Messaging for Engineers, for to learn how to differentiate your company and attract B2B buyers.