New Research Shows Technical Content, Web Presence Vastly Influence Purchases in the Industrial Tech Sector
FREE WEBINAR explains how to develop content and communicate with prospects to close more business
Companies with products and services designed for engineers should focus on making a complete portfolio of content available to prospects before they engage sales. Learn more.
A new study released by technical resource and content provider, IEEE GlobalSpec, in partnership with engineering-focused marketing agency, TREW Marketing, found that prospects want to interact with content before engaging with sales, and that "Ninety percent of engineers surveyed are more likely to do business with companies that regularly produce new and current content." Of that content, engineers most specifically prefer case studies, books, e-books, and white papers.
The study results from a survey of nearly 900 technical professionals, launched in July 2017.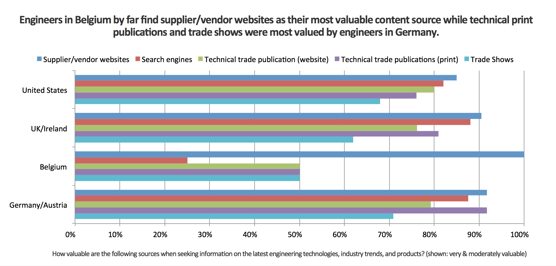 Experts Deliver and Discuss Study Details in Oct. 25 Webinar
On October 25 at 11am CDT, TREW Marketing and IEEE GlobalSpec will host a webinar to present new data and findings specifically from the survey of engineers and scientists.
Save Time, Resources by Focusing Your Marketing and Sales Efforts on What Matters Most
Webinar attendees will learn about the content, online search, and buying preferences of engineering, technical and industrial professionals. Findings include data that will help companies understand:
What lead form fields engineers complete
How and when engineers expect to be contacted after submitting a lead form
How engineers engage with e-newsletters
What content appeals to millennial engineers over other age groups
What percentage of the engineer's buying process happens online
"Marketing is changing for technical audiences. For companies to win in technical markets, they have to know their audience and adapt both marketing and sales efforts accordingly," said Rebecca Geier, CEO and Cofounder of TREW Marketing and author of Smart Marketing for Engineers: An Inbound Marketing Guide to Reaching Technical Audiences. "This includes understanding the types and sources of content most important to their audience, online and search preferences, and when sales should engage."
A full report with final survey data will be available to webinar registrants following the event.
Learn more about IEEE GlobalSpec, a community built by engineers, for engineers, at http://www.globalspec.com.
Learn more about TREW Marketing, a full-service marketing firm uniquely serving technical B2B companies at http://www.trewmarketing.com.