We are seeking a part-time Sales Qualifier to join our full-service marketing agency serving B2B engineering and technology companies.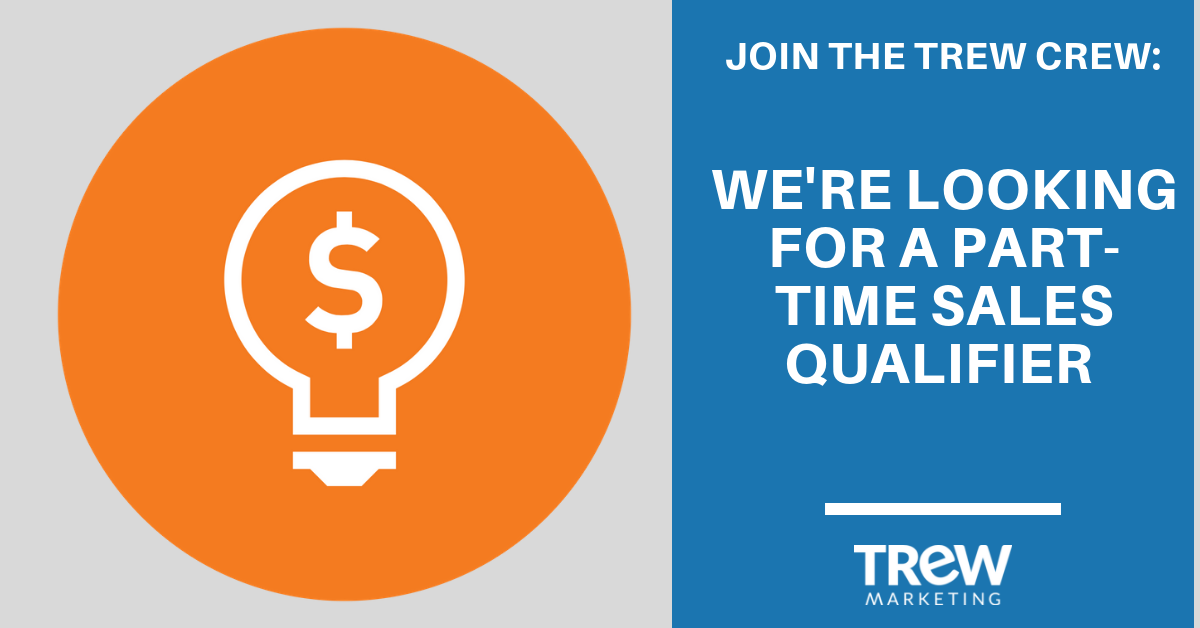 In this role, you will cultivate and manage a pipeline of leads and opportunities in support of TREW Marketing's revenue goals. Through your strong relationship skills, you will develop rapport with prospects, utilizing a consultative approach to understand their marketing needs and assess a fit with TREW's expertise. You serve as TREW's brand ambassador – representing our culture and core values with each interaction.
Job Responsibilities:
Profile potential prospects in TREW's database, utilizing established lead scoring
Research and develop new sales leads outside of TREW's database (online, events, networking)
Conduct outreach to secure meetings via multiple channels (email, phone, social)
Qualify prospects
Learn about each prospect's business and marketing needs
Assess a mutual fit between prospect and TREW
Engage TREW leadership with qualified opportunities
Co-manage opportunities with company leadership
Create proposals utilizing TREW's cloud-based proposal software
Ensure proper documentation of contacts and sales activity in our CRM
Skills desired:
Excellent, structured communication skills (video, phone, email)
Professional, approachable demeanor
Ability to quickly develop rapport, particularly with skeptical engineer executives
Strong organizational, analytical and logical problem solving skills
Ability to prioritize and handle multiple tasks in a dynamic environment
Responsive, organized, and flexible
Self-motivated, with a high degree of initiative and resourcefulness
Ability to thrive in a virtual work environment
Requirements include:
Knowledge of integrated marketing, including inbound/digital and outbound channels
3+ years consultative sales experience for a professional services company, ideally with a marketing agency
Successful prospecting experience, both in-person and online
Proven ability to connect with and influence key decision makers
Bachelor's degree in business, marketing, communications, or related field
Experience utilizing a CRM platform, ideally HubSpot
Preferred candidates will have these additional qualifications:

Inbound/digital marketing experience
Past work in B2B technology, particularly engineering or IT markets
HubSpot sales and marketing certifications
Completed some formal sales training
Compensation and Perks
Base + bonus compensation structure
Paid holidays and flex days
Healthcare
Virtual office environment
This is a part-time employment opportunity (20 hours/week) requiring home office capabilities. We'd prefer to hire someone living in the Austin, TX area, but will consider a standout person located elsewhere in Texas.
Most meetings are conducted via GoToMeeting or in-person locally in Austin. Limited U.S. travel may be necessary.
Interested, qualified candidates should send a summary of their experience and interest along with their LinkedIn profile link to info@trewmarketing.com.
Learn more about TREW Marketing, a marketing agency dedicated to serving the needs of B2B engineering and technical companies, by visiting our company page.