February 16, 2016
In the last decase, we've seen plenty of social media marketing tools, new and emerging platforms, and millions of content pieces being created every day. According to ACI's infographic, Twitter users tweet 277,000 times, Facebook users share 2,460,000 pieces of content, and Instagram users post 216,000 new photos every single minute.
To help you understand various platforms, we've taken the time to observe and compile a list of B2B social media marketing trends to keep you updated.
1. Slideshare
60 millions monthly visitors. 3 billions slides viewed per month. 1,140 slides viewed per second. Generates 500% more traffic from professionals than other channels. This is a goldmine for marketers.
Slideshare offers a social platform for multimedia storytelling and quickly becomes a B2B marketers' new best friend. 400,000 slides are uploaded per month. You can embed SlideShare onto other social media channels - especially Linkedin, where most of B2B professionals seek for industry insights. But this time, in a refreshing and interactive form. You know who else loves Slideshare? Google. Google goes crazy for links from Slideshare. It's important to learn how to optimize your search results.
2. Personalized messaging
When you're selling B2B, you're selling relationships. You want to delight your customers.
B2B transactions often carry great value and are meant to satisfy a long-term goal. Therefore, the decision process of B2B can take several months or years. This kind of relationship requires much more nurturing and attention. According to a study, B2B customers are most likely to share their customer service stories. Use this chance to craft them a thank-you message, solve their problem, or ask for improvements. Turn them into loyal promoters.
See how Hootsuite engage their audience by personalized messaging: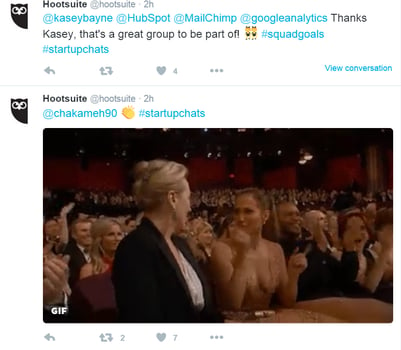 Or even big enterprises like Microsoft:

3. Live Streaming
What was once a reporter's privilege has now spread to daily lives thanks to Periscope and Meerkat. B2B marketers are jumping on board, too. Periscope or Meerkat will let marketers give their customers real-time behind-the-scenes access, such as interviewing with company members, opening up Q&A sessions, streaming industry conferences and product demonstrations.
IBM Watson Analytics live-streamed their product demo on Periscope, while updating social media channels to keep their audience informed. Audiences can endorse by liking and commenting right in the app, so the company will get real time feedback from users. They'll know exactly what parts of the product users love for further development.
4. Employees as advocators
Altimeter broke down key findings in their digital marketing strategy research and found that "interest in employee advocacy has grown 191% since 2013, with 45% of respondents naming it a top external objective."
If you can incentivize your invaluable internal resources (employees) to advocate for your business, you should be able to build a strong reputation. Why? Every post would extend to hundreds of new connections from your employee's network that your marketing team alone can't reach.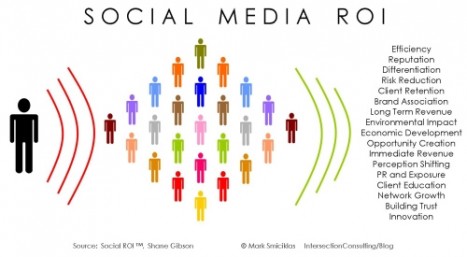 Have you used any of these trends? Give them a try as you continue to build out your marketing strategy in 2016.
If you'd like to improve your B2B social media marketing strategy, learn how TREW can help.