May 17, 2016
Content is the fuel that drives modern marketing. No matter what outbound or inbound channels you are using – trade shows, web, email marketing, PR, social media – you can't expect a return for your efforts today without high-quality content being at the heart of that effort.
In Rebecca Geier's book, Smart Marketing for Engineers: An Inbound Marketing Guide to Reaching Technical Audiences, she outlines 3 steps to getting the most out of your content optimize, amplify, and repurpose
Repeat these steps with all your content and over time you'll rank higher in Google for the keywords you most care about, your web traffic will increases, your leads will grow, and your marketing program will generate a consistent and predictable level of awareness and demand for your business.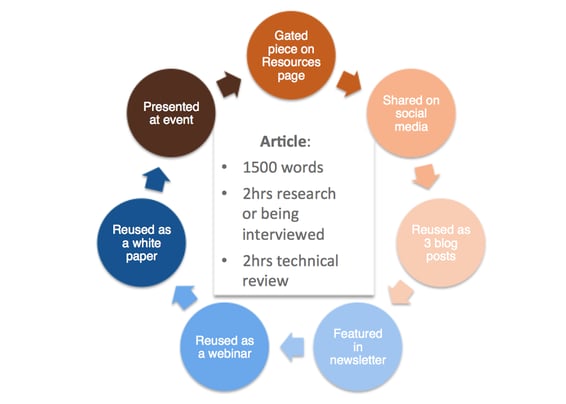 Step 1: Optimize Your Content
The number of searches and pages indexed on Google today illustrates the immense and growing competition on search engines. In just six years, between 2008 and 2014, the umber of daily Google searches more than tripled, from 1.75 to nearly 6 billion. That's nearly 4 million searches per minute!
While you don't want all these billions of people to find your company, you do want your targeted audience to find you through the specific content that is most relevant to their needs and your business. To do this, you need to optimize your content for those audiences.
In her book, Geier outlines the following ways to optimize content on your website:
Meta description
Use keywords as close to the beginning of your meta description as possible
Heading text
Include keywords in header tags that match your content
Always include an H1 tag
Bold heading text for a better user experience
Links
Use internal links to link pages on your website with the same keyword
Use external links to link pages on your website to pages on other credible websites with the same keyword
Include keywords in your link anchor text
Page titles and page URLs
Keep keywords to the far left
Stay under 60 characters (including spaces) for both title and URL length
Use specific, long-tail terms
Text formatting
Use bullets
Bold where appropriate
Italicize where appropriate
Images
Match your image to your content
Include keywords in the image alt text
Use keywords in the anchor text for linkable images
Navigation
Consider keywords in navigation headings
By incorporating the elements above, staying abreast of the constantly changing best practices, and keeping SEO for People in mind, you will be on the right track to seeing the SEO results you want.
Step 2: Amplify Your Content
The next step to successful content marketing Geier outlines in her book is amplifying your content. Just as more energy in a wave increases its amplitude in physics, amplifying your content through more channels and cross-promotion drives increased awareness and traffic. Two optimal channels to amplify your content are blogging and social media.
According to marketing automation company HubSpot, B2B companies that blog generate 67 more leads per month than those that do not. By blogging about your new content and including links to your free and gated content throughout your posts, you provide a steady stream of new content that attracts search engines, prospects looking to learn more about you, and customers looking for updates.
Social media helps amplify your content because it serves as an engine for links back to your site. SEO experts like Moz (moz.com) have been studying and sharing best practices for years on the power that links pointing back to your site have on your SEO performance.
A final, very important channel for amplifying your content is email marketing, including segmented email marketing and e-newsletters.
Step 3: Repurpose and Repeat
High-quality content takes time to create, and when you treat that content like a product and put a marketing plan around it, it becomes what Geier calls a content annuity: the gift that keeps on giving for years to come. By adopting the approach of treating your content like a product, for which you repurpose the original content into many different formats and amplify it across multiple channels, you maximize your investment and greatly increase your SEO performance. One piece of well-written, well-placed content can have multiple uses and surprising longevity.
For example, if you put the investment into creating one high-quality white paper, you could then repurpose that white paper into a three-part blog series, 15-20 social media posts, a presentation to be used as a Webinar or session at an event, turn the content into a video… the possibilities are almost limitless.
Just as a product launch plan doesn't stop with the news release but rather spans a year or more, your content marketing plan needs must include repurposing to give each piece new life and maximum return in the form of traffic and leads.
By treating your content like a product through optimization, amplification, and repurposing, you will greatly increase your chances of beating your competitors on Google and turn your single pieces of content into content annuities that deliver maximum return on your investment.
Learn more about how technical audiences find and use content by downloading the Smart Marketing for Engineers Content and Online Marketing report. This report provides conclusive, actionable data to help you implement content marketing programs that drive the greatest return on investment.