Twenty-five thousand IT security professionals gathered this week in San Francisco to discuss how to protect, monitor, and analyze networks… and solve the world's largest security issues. I have not seen trade show crowds this large and excited in quite some time, and the enthusiasm was contagious. That is, until I started to follow the show Twitter feed, and some of the wheels fell off the bus. But we'll get to that.
So without further ado, I present my top five observations on the "hackers" who found creative ways to grab my attention, and a few others that need to go back to the drawing board.
1. Generosity
The landscape of IT Security is changing at a rapid pace. There is much to learn, and many ideas to be shared. Companies who presented on panels and sessions and had a presence on the show floor seemed to have the most crowded booths, regardless of booth size. They staffed the booth with technical folks and tweeted thought-provoking opinions and re-tweet shares that peaked interested and drove traffic.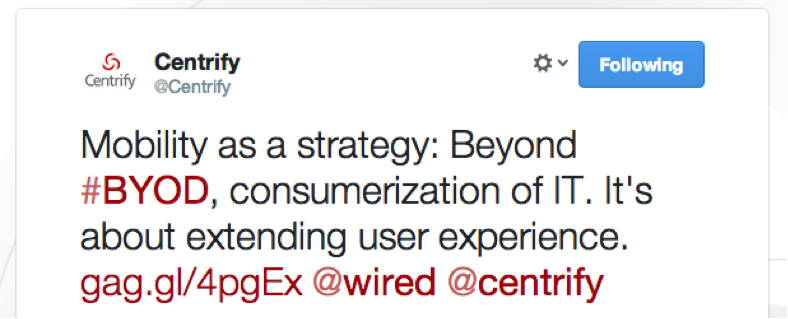 Conversely, some companies took a "check the box" approach, spamming the event hashtag #RSAC with "come by and win this" and "check out my cool new product" posts. These companies were likely to have the booths with staffers sitting down, playing on their smart phones, and not interacting with show attendees.
2. Humor…. I love me some trade show humor
Let's face it: trade shows are grueling, with long hours, barking-dog feet, and overstimulation. Whimsical observations, directly tied in to the topic at hand are GOLD for viral pass-alongs and memorable moments. Here were a few that caught my eye:
Centrify brought humor to security with this clever, planned tweet.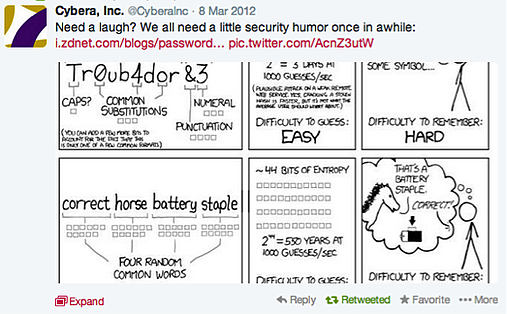 Having fun with the NSA, including #nsaselfie became a bit of a fun thing at RSAC.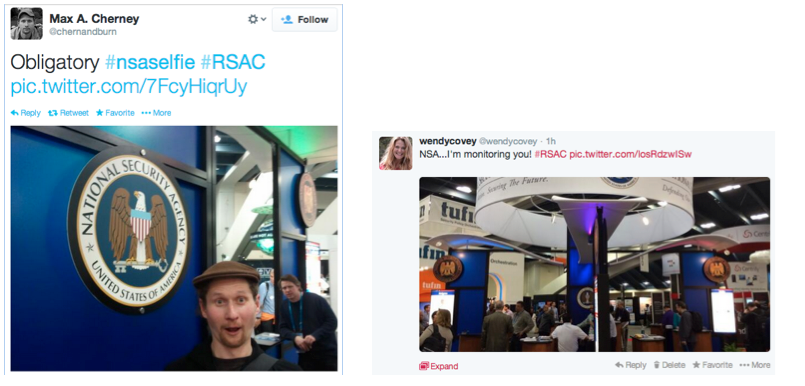 Tripwire took up the #RSAC show organizers' goal of recruiting exhibiting companies to the STEM Education Coalition. They staged a little escalator celebration using a high res camera as an interesting way to share the news and stand out.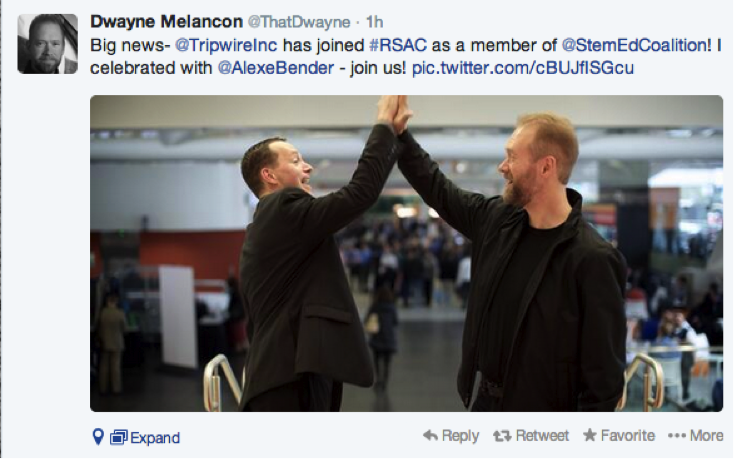 Verisign created an entertaining series of Hacker videos. Click the below image to check one out.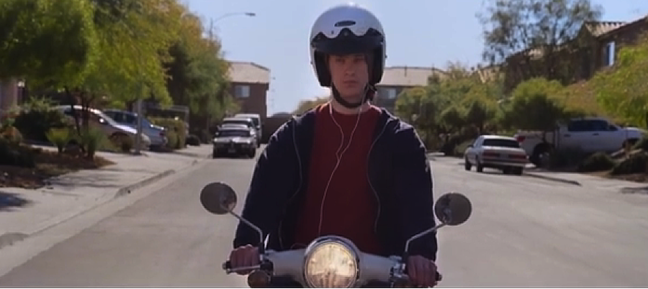 Denim Group created a funny trending twitter topic, not only for their company but for attendees also sharing their Twitter handles.
3. Themes can be good
Themes can be tricky to pull off, as you have to figure out how to tie in with your company and product brand. It takes much thought. There were some bad attempts – booth babes dressed up as Viking warriors spring to mind. But, Foresquare threw down on a very large booth space with a boxing ring – hacker v. Foresquare. The fight ringleader used each "round" of boxing to educate on how Foresquare's technology fends off network attacks. The boxing drew an incredible crowd, who stuck around to hear the messages, get their badge scanned, and (for some) engage with an army of Foresquare folks. As booth themes go, this one beat out many of the behemoth theaters in the North Hall.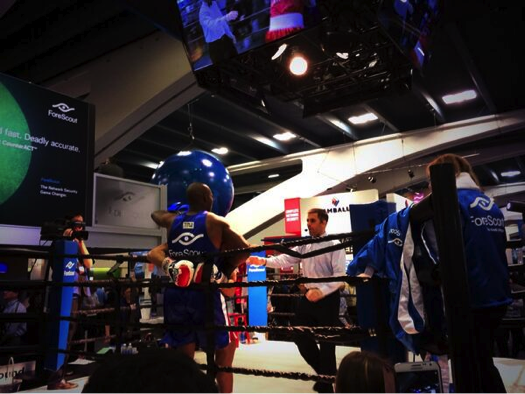 4. Really? You spent money on THAT?
Some quick examples:
A Ferrari making lap after lap around the block with the booth number (could not recall the company or booth number… I was too busy thinking, wow, they paid money for THAT?
Scantily-clad booth babes. It ain't the '80s anymore.
Packed after-hours sponsored parties, where booze was flowing, no company branding was in sight, and the easy pass-along invitations meant that any enterprising attendee could partake.
But I do like good trade show swag. Among the most popular appeared to be bags, clever t-shirts, squishy sumo wrestlers, mints, and these fun buttons from Bluecat.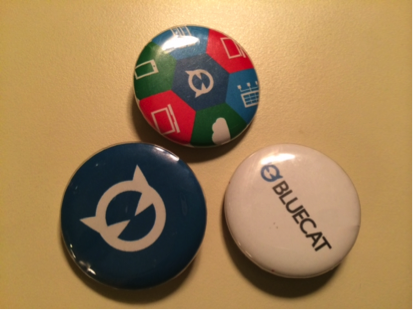 5. It's all about the product.
At the end of the day, the exhibitors I met who were most satisfied with their presence at RSA were the ones who had a differentiated message and truly innovative solutions for IT security. AND, staffed their booth with informed employees who can articulate their value prop and dive into technical details when needed. In the end, authenticity wins.