March 17, 2015
Social media is one of the top marketing challenges facing marketers. In a recent market research report from Rival IQ, 28% of the respondents chose social media as one of their top challenges for 2015, trailing content marketing and staffing issues.
The goal of successful social media marketing is to focus on personalization. This term has been coined H2H (human-to-human) marketing. According to Bundle Post, to have your social media be effective it must have, long-term focus, care and gratitude with authenticity. These things, combined with human connection are what deliver results. To reach this, you need to have defined personas and be able to create messaging that engages and converts those personas. Utilize "social listening" to find out what your personas are talking about on social media and engage them into conversations.
Social listening is very important in social media marketing. When done with a regular cadence, social listening can maintain happy customers and can also catch issues or customer complaints before you have to start damage control. If you do come across a customer complaint when social listening, it's imperative to respond within the 24hr. timeframe.
A research report by Social Media Marketing University (SMMU) found that customers expect a response to a complaint posted on a brand's social media account within one hour. The SMMU survey also found that only 17.6% of brands strive to meet this expectation, most brands 52.2% respond within 24 hours and an alarming 21.4% rarely or never respond to customer complaints in social media. This research shows the widening gap between brands and their customers. If you have yet to regularly monitor your social media and listen to your customers/personas, you should make the change now and start monitoring regularly and engaging your followers.
One way to make this change easier is to set up your social media on a marketing automation platform like HubSpot. With a marketing automation tool like HubSpot, you can monitor your social media analytics to track if your social media marketing is making the traction that you wanted.
Increase your social media engagement by creating fresh, new content on a regular basis. At TREW, in just 6 months, we saw our blog page followers double after regularly posting blog content on social media channels. It takes time to see a trending metric in marketing analytics, but by adding social media marketing into your strategy, you can speed up the time to see results due to the many different social media outlets featuring your clickable content.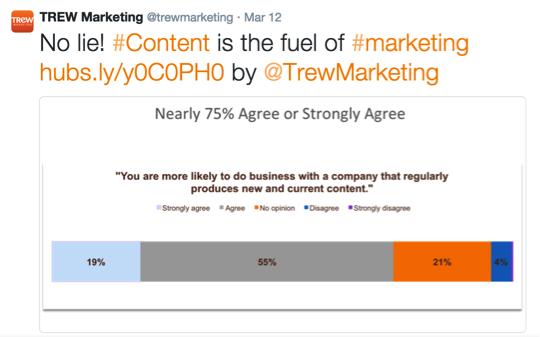 Have questions about your social media marketing? Reach out to TREW with your social media marketing goals and we'll be in contact soon!