At a recent Business Journal networking event, attendees introduced themselves and their colleagues to others, discussed current events, and made efforts both to gain and share information with others. Your Twitter community is like this networking event, in digital form, with the same opportunities. How can you interact with, benefit from, and add value to your Twitter community?
Just like an in-person event, you add value when you are an active and authentic participant, sharing industry news and great resources with your followers - perhaps even links to your company's or others' white papers and current events. Users in technical and scientific industries regularly take advantage of social networking tools including Twitter to share information, find jobs, and network. (Thilmany, 2013; Mewborn, 2013)
Are you following many, but have few followers? A good strategy to build your followers is to follow others who have about the same number of "following" and "followers". At first, it seems logical to follow any and all leaders and news sources specific to your industry. The problem with this strategy is oftentimes popular users follow few others, if anyone. Examples: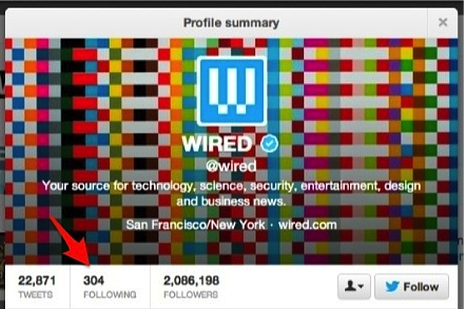 Suppose Wired and US-CERT publish news that you want to access regularly. Notice that Wired has over two million followers, but only follows 304 users; US-CERT follows no one.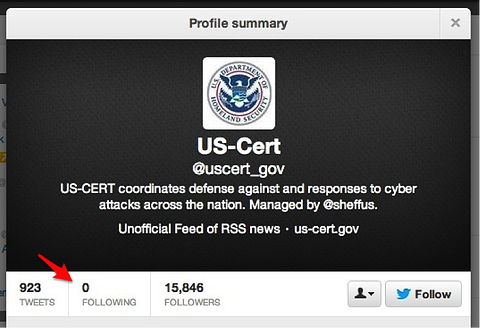 Rather than following @wired and @uscert_gov to see their updates, "List" them. Why? Listing users benefits you because you can see their updates from your list, and it also provides publicity for the listed, no matter how small that may be. Visitors to your profile benefit by having access to your Lists and may even decide to "Subscribe" to them.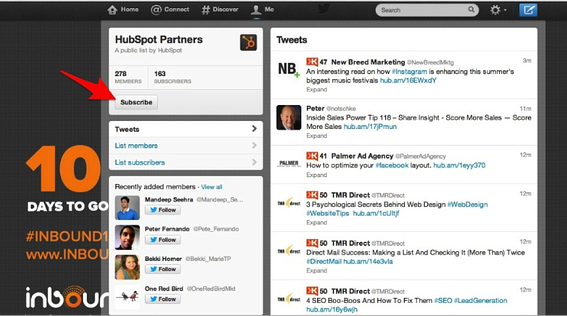 Twitter limits the number of users you can follow (a number that is different for each user and affected by ratio of followers to following) so it is wise to save your following allotment for those who follow you.
To find users who are likely to follow you back, search your industry hashtags using the Twitter search field. A Hashtag search will return a list of relevant users. Alternately, you will want to use hashtags in your own tweets so others will find you. Twitter auto-completes hashtags, making it easy to find trending tags.
It's a good idea to occasionally "clean up" your following list: "un-follow" spammers and other users who don't follow back. A great tool for this is Manage Flitter (@ManageFlitter).

The free version can be used to filter out users you're following- who don't follow back. This saves time and it is very easy to use. It's worth the effort to explore Manage Flitter to see how this tool may be helpful for you.
Automatic Direct Messages to new followers used to seem like a polite, professional thing to do. Having been on the receiving end of DMs, many users now find them to have limited value – they are time-consuming and often spam.
Do pay close attention to the "Connect" tab: this is where users mention you publicly and start conversations, and these are PR opportunities. Here's an example:

If someone mentions you or retweets you - how nice, your username and/or tweet will then appear on that user's news feed for others to see. Perhaps you have posted a link to technical content on your blog – when users click on the link and like what is there, they may retweet your post to all of their users. Other users may be curious, click to see your profile and decide to follow you, and so on. These activities build your credibility and highlight the benefit of having many followers, specifically those in your industry, including media representatives.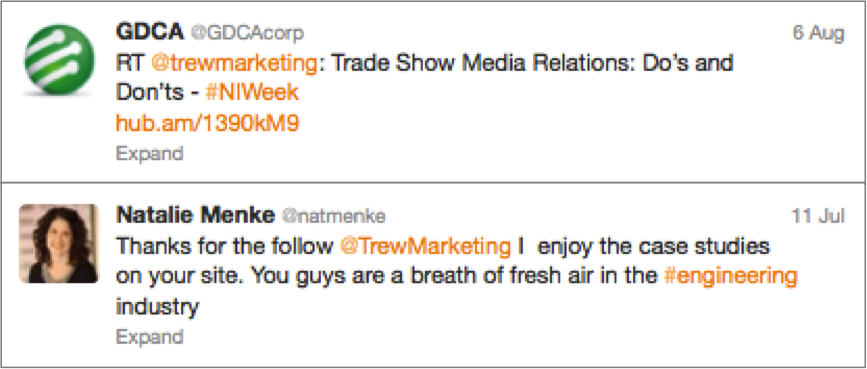 Key Takeaways:
#1: Add value to your Twitter community by being an active, authentic participant
#2: Build your Twitter "Followers" by following others with about the same number of "following" and "followers"
#3: "List" influencers and industry leaders for easy access to their updates
#4: Periodically "clean up" your follow list using an efficient tool such as Manage Flitter
#5: Use industry-related hashtags to find users and content, and to help others find you
#6: Closely monitor your "Connect" tab to acknowledge and respond to mentions, retweets and other comments or inquiries.
(*The arrow and blurr tools used in the above images were created with Skitch, from Austin. Follow them on Twitter @skitch, or visit them at skitch.com)

Thilmany, J. (2013). Professional networking. Mechanical Engineering, Jan2013(135), 40-45.
Mewborn, A. (2013). Social media, a tool to use in healthcare. Industrial Engineer: IE, 45(5), 24.
Related blog posts: