Looking for additional insight? Check out our checklist: A 15-Point Checklist to Evaluate Your B2B Technical Website
I attended the Inbound 2012 conference by HubSpot, and one of my favorite sessions was on blogging. The session was called Getting 100K followers to your Blog. As an author to this blog, they had my full attention - who doesn't want 100,000 people reading their blog?
We've already established that increased, quality traffic fuels growth in leads, and that blogs are great traffic-generators. So how do you increase traffic to your site through your blog?
In reality, just like anything with marketing, there is no silver bullet. It takes consistent investment of time, creativity, and ideas to develop a successful blog and reach an increasing percentage of your target audience. Here are four ways that you can get more blog traffic from quality readers:
1. Understand The Potential of Your Blog
Is your blog just another communications channel in your marketing efforts? Or do you have a defined marketing strategy just for it? For those who answer "yes", and "no", to these two questions, consider a mind-shift to think about your blog as much bigger. In the Inbound session, they used the analogy of galaxies. For example, when you first start a business, the business is the center of your galaxy, and all of your marketing efforts (e.g., email marketing, PR, website, and SEO) are the planets that revolve around and support your business.
In this same way, think of your blog as the center of its own galaxy, using all of the same "planets" as supporting planets.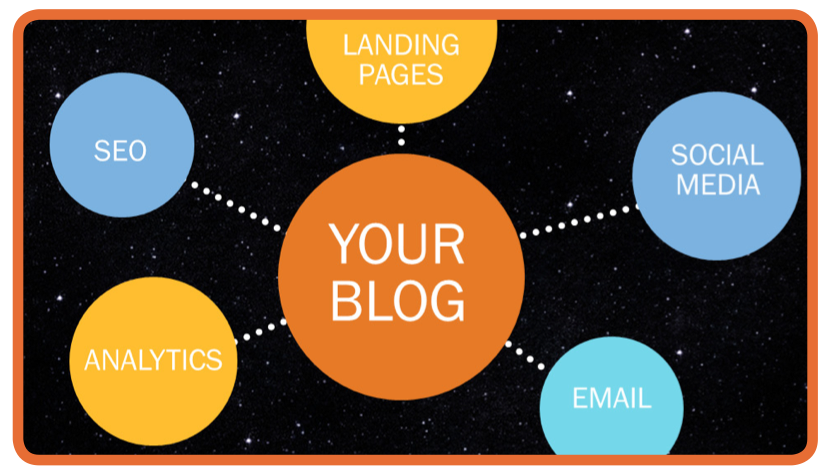 The same marketing activities that support your business can be used to promote your blog. Image: HubSpot.
By making this shift, you see how your blog can be bigger than you imagined. If you start to think of your blog as such an asset, you'll be able to grow and scale it. Case in point – the TREW Marketing Spotlight blog now brings in 49% of our monthly traffic.
2. Get Discovered
In the session, the HubSpot bloggers talked about creating "big hits". That is, creating fresh content fueled by new ideas and data that make your content compelling for potential readers to ultimately find your blog. Here are some ideas to create big hits.
Publish original data and findings. Create your own surveys and case studies and showcase this original data on your blog. If you created it, the content is sure to be new and fresh for your readers.
Give your take on relevant topics. If there's news topic that's already popular in your industry, write a blog post about it so that when readers are searching for the topic, they come across your site. For example, if a prominent engineering school was granted $10M for its robotics program and your company makes robotic medical devices, talk about how you think that university could spend its grant to further medical advancements. Or, if you're a software integrator and one of the platforms you integrate has a new release, write a post talking about how customers can use the features in that new version to better their businesses. This tactic is called newsjacking, capitalizing on the popularity of a topic to boost your sales and marketing success. Be sure to use the news topic in your headline for the best search results.
Be one of the first to talk about a new trend. Is there a new idea in the marketplace? A new product? A process once used in another space that could be applied to your industry? Share your thoughts and best practices on the topic first with a blog post.
Be interesting and use catchy headlines. It seems like a no-brainer, but it's important to write about topics that would interest your potential customers. Think outside the box. For example, your customers may be manufacturing test and measurement equipment, but they're also hiring experts to use that equipment, so consider, for example, writing a blog post about hiring the best engineer for the types of applications your customers are creating. And, a quick, eye-catching headline will draw a reader in to read the "must-see" material, such as "Top 5 Concerns of Security Directors: Infographic" or "Why Should I Use Source Code Control?".
Continually promote your post. Is your blog auto-synced to your social media channels? While this is a great time saving tool, if you're not careful, it can also be a trap. Twelve percent of HubSpot's blog traffic comes from social media, but this doesn't happen with just one auto-published post, they continually share their blog posts on both big and small social networks. Your audiences may not see your blog post the first time you promote it in your e-newsletter or social media, so make a note to promote it again via social media a few weeks later. Or, if you wrote in the past about a topic that becomes a buzz topic in the future, promote that post in social media and point people back to your thoughts on the topic.
Use images and graphics in your posts. You can't deny it – we humans love pictures. Pictures power social media. Visual content is revolutionizing social media and how web content is consumed. As an example, on average, links on Facebook with photos generate 4 times more shares than links without photos. Therefore, to grow the reach and sharing of your posts, use compelling images that showcase the points you're making.
3. Convert Readers to Subscribers and Keep Them Coming Back
If you can convert your readers to subscribers, you're creating a base of potential customers who will likely keep coming back to your site, and share your blog with others.
To earn subscribers, make a subscription option available on your blog page above the fold so that it's easily noticeable. In addition, consider sending an email to your contacts, encouraging them to subscribe to the blog.
To keep your readers and subscribers engaged, we recommend you blog at least once a month, and more frequently if possible. The more frequently you blog, the more often you're giving those subscribers a reminder to come back to your site, and share your information with others.
4. Empower Subscribers be Your Advocates
Speaking of sharing, how can you make it as easy as possible for your blog subscribers to interact with and pass on your quality content? The easiest way is to use social sharing buttons to for readers to share your content via LinkedIn, Twitter, email, and other outlets.
In addition, seek guest blogging opportunities, and offer your expertise to other bloggers. If you post on their blogs, there's a good chance those readers will come back to see the rest of your ideas on your site. And, have guest bloggers write content for you. It's likely their loyal readers will come to your site to see what their familiar author penned, and then become engaged (and hopefully even subscribe!) to your content.
There's no silver bullet to growing blog traffic, but by making your blog the center of its own galaxy, careful planning and idea-brainstorming, you'll be able to attract the readers most relevant to your business, and convert them to subscribers and advocates.
Looking for additional insight? Check out our checklist: A 15-Point Checklist to Evaluate Your B2B Technical Website
Related Blog Posts:
Content and SEO Fuel Inbound Marketing Results