September brings the beginning of the school year and football season, but it's also the perfect time to start thinking about marketing planning and budget allocation for 2015. So what are the B2B marketing trends you should consider as you start your planning process? TREW Marketing's account team recently put our head's together to create the following list of must-consider trends to prioritize in your 2015 plan.
Content Strategy Based on Personas
We all know content is king and should always be the top priority in any marketing plan. However, ensuring your content strategy is based on reaching your target buyer personas at the time of day/week, frequency, length and form factor they prefer is often overlooked in content strategy development. If you want to get the full value out of the time you spend generating content, taking time to map your content to your buyer personas is well worth the investment.
What are buyer personas? Buyer personas are semi-fictional representations of your ideal customer based on market research and real data about your existing customers. Don't have buyer personas? Consider adding those to your priorities list too!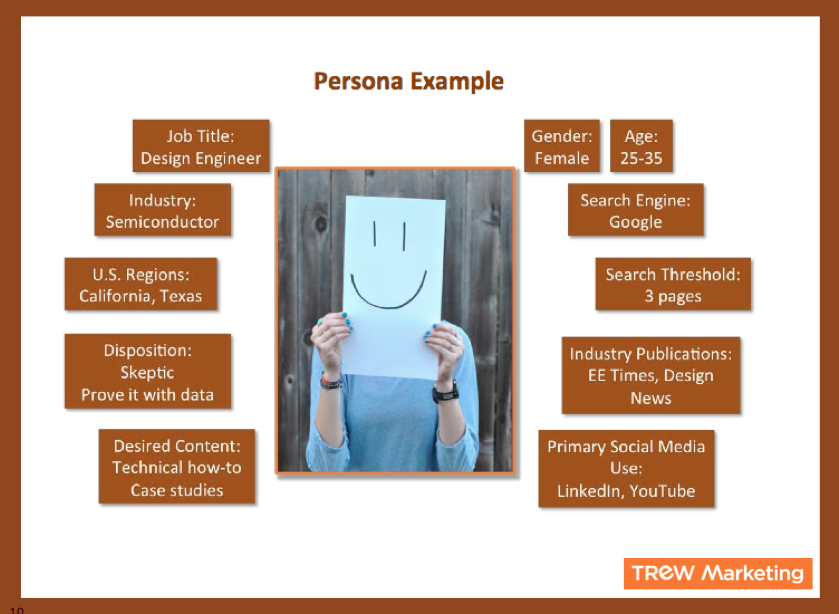 Also consider if you have adequate content for each part of the buying cycle including:
Learn content such as case studies, videos, blog posts and data sheets
Try content such as a demo or evaluation
Buy content such as white papers, product demo videos and webinars
And if you're not yet doing a blog and don't have at least two videos or webinars on your website, I would place these high on your content prioritization list for 2015.
Why invest in these two content types:
Companies that blog see up to 55% more web traffic and 70% more leads (HubSpot)
46% of people say they'd be more likely to seek out information about a product or service after seeing it in an online video (Content Marketing Institute)
Website Design for Mobile Devices
We've all heard the buzz that mobile use is increasing, but with traffic numbers from mobile still in the 8-15% range for B2B (Harrison Jones, Search Engine Land; December 2013) does it make sense to invest in mobile? Once you have 10% of your users viewing your site in a mobile device, we believe you should definitely make the investment in responsive design to ensure you deliver a high-quality user experience for all devices, while capturing mobile search visits. How does responsive design impact search? Google favors websites optimized for mobile when presenting search results from mobile devices, placing you above your competitors that don't have an optimized site.
What is responsive web design? Responsive web design is a way to develop websites where the server always sends the same HTML to all devices, and CSS (cascading style sheet) is used to change the way a page renders on different display sizes.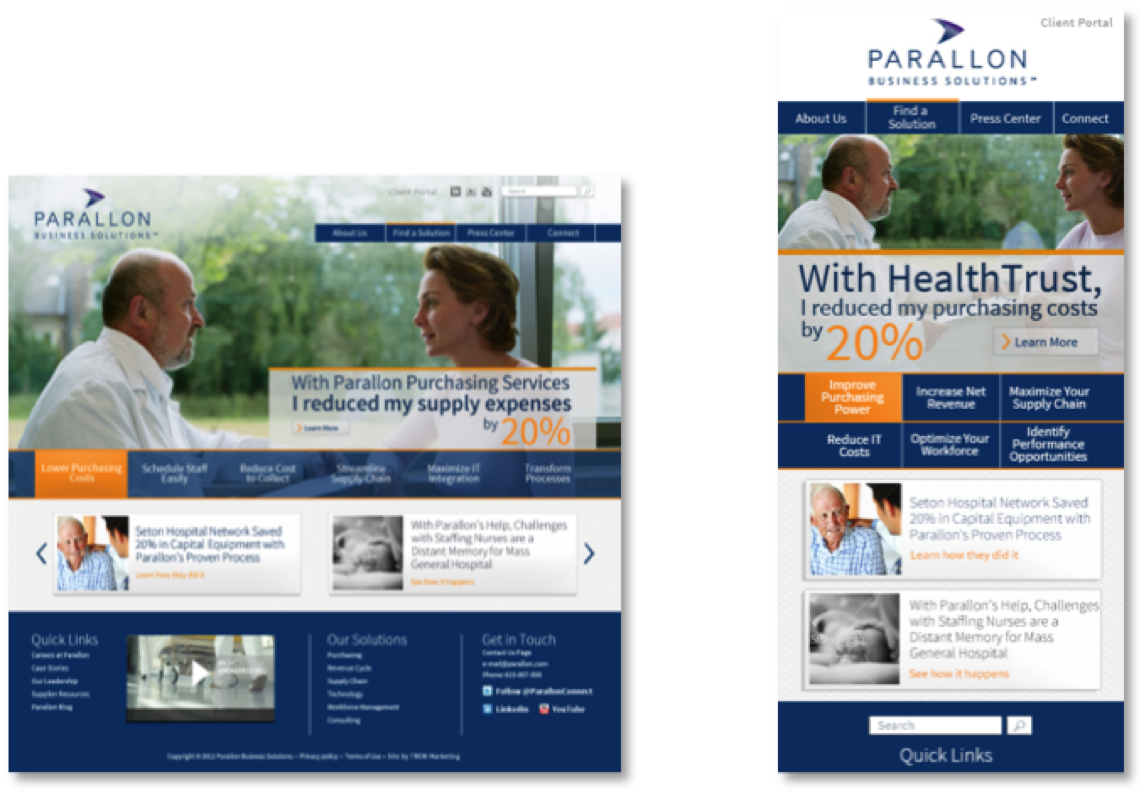 TREW created a Responsive Design web experience for Parallon Business Solutions. To the left you can see the desktop version, and on the right is how the screen responds to more narrow margins such as those of a smartphone.
Wondering what the top 3 actions B2B mobile users take when they get to your site:
To learn what your company does at a topline level
To get directions to your office
To call you immediately
Pull out your mobile device and try to perform these three tasks on your website. If you can't easily do these three things, you should consider adding this your 2015 marketing planning priorities. Read more about website redesign in the eBook, "Smart Marketing for Engineers: Website Redesign."
Marketing Automation
Are you generating a steady flow of new and qualified leads? Do you have an efficient content strategy mapped to your buyer personas? Do you want to scale your lead-nurturing efforts? If you answered yes to most or all of these, then marketing automation should be high on your list of priorities for 2015.
What is marketing automation? Marketing Automation allows companies to automate digital marketing practices such as direct email, social media, and lead nurturing to save time and resources. Marketing automation is not spamming your database and it certainly won't help you grow leads if you don't have a solid content plan and lead management process already in place – but if you're ready to gain intelligence about your customers and website visitors and target the right content and offer at the right time to continue the conversion process from prospect, to lead, to customer, there is no better tool to invest in to maximize your time and generate an ROI that will impress your management team.