October 8, 2015
If you are a marketer, you have probably been faced with many questions about social media and if it's a good fit for your client's marketing. I get skeptical questions around social media weekly, if not daily. The fact is simple – practically EVERYONE is on some type of social media platform and they're interacting not only with their friends and family but businesses as well. A recent study unveiled that, 88% of rapidly growing small and mid-size businesses use social media, highlighting its increasing importance. Now the question to you is, why would you not take advantage of this free medium for connecting with your target audience?
In our recent study with ENGINGEERING.com, we asked some questions around social media because we were curious if the technical audience, primarily engineers, actually utilize social media for work and if they do, how often and does their age have effect on their usage of social.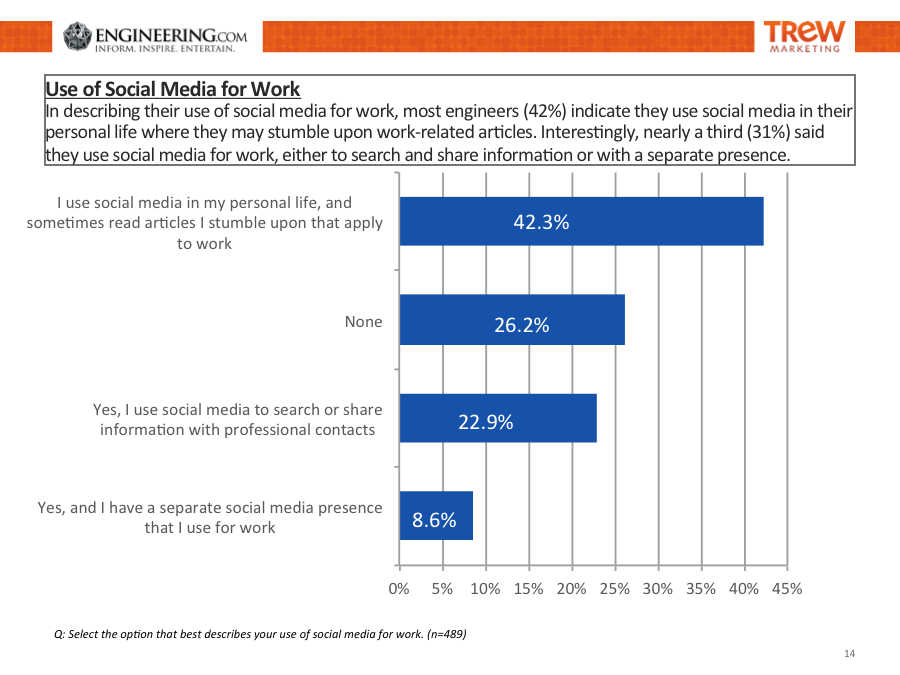 More than half of respondents surveyed that they either use social media to search and share information with their professional contacts and/or they stumble upon work-related articles. This solidifies that, if used correctly, social media can be an effective first step to getting your product or service in front of your target audience.
When it comes to the age comparison of social media users, you probably guessed correctly that the younger audience utilizes social more in their personal life and to read articles that apply to work, but that doesn't mean that the other age groups don't. Overall, the majority of respondents surveyed that they use social media in one way or another.
This probably has you questioning, which social media channel is the most appropriate to reach your audience? In a recent study from SCORE, B2B marketers ranked the following platforms most valuable: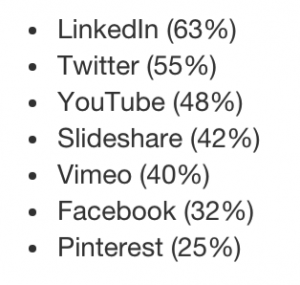 Many people jump straight to Facebook when they start using social media for marketing but the best platforms to utilize vary from B2B vs. B2C. This is very important to keep in mind when it comes to posting on social effectively. Go where your audience is!