There is a great saying many marketers use, "If you don't know where you're going, any road will take you there." Without a plan, how do you know what you need to do, in priority order, to get there? In these busy times, it is difficult for many to take a pause from everyday work to stop, breathe, focus, and plan. Instead, they rush down any road that looks promising at the moment. Unfortunately, these unplanned roads lead to mediocre results and higher costs – in time, money, stress, and frustration.
What if you took some time to truly define your business goals and an investment strategy to get there? Outlined below are the key steps TREW Marketing takes in the marketing planning process.

1. It all starts with business goals
We kick off the marketing planning process by first asking about your 1-3 year business goals. We then dive in to understand your products/services, key differentiators, target audience groups, and competitive landscape. This closely informs campaigns and defines how we'll measure results. We also conduct a preliminary analysis of your website and keywords, which greatly informs later steps in the marketing planning process.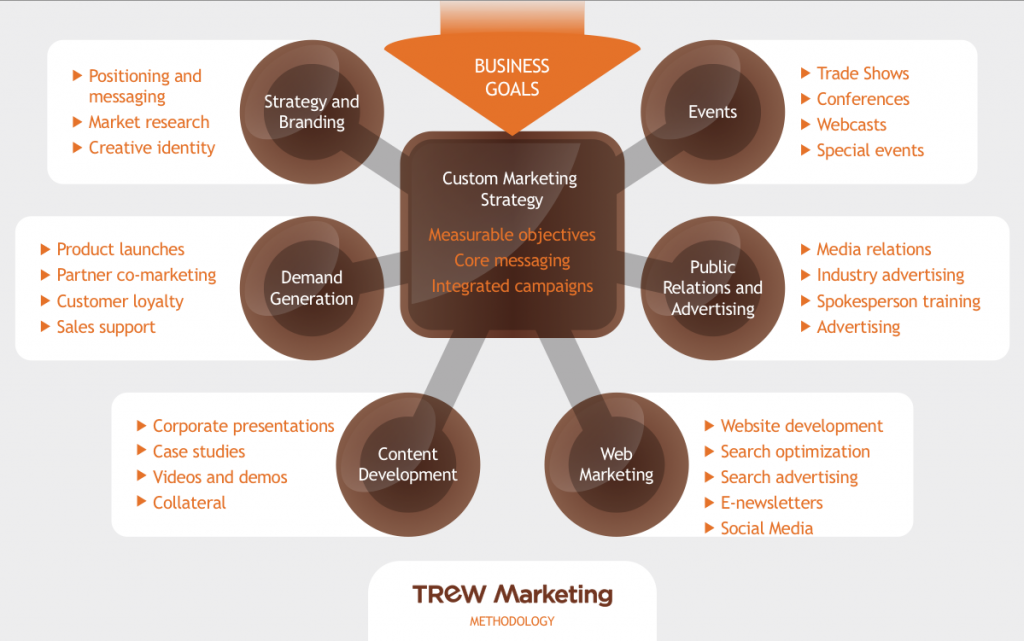 2. Develop a marketing strategy
During this stage, we define marketing goals, such as growing inbound web visits, capturing leads, or growth in thought leadership. You may also have major foundational goals such as creating a new website or adopting marketing automation software, such as HubSpot.
At this point, we create marketing campaign plans. A marketing campaign is an integrated set of activities coordinated closely to achieve a common goal. Campaigns are often centered on an industry, audience type, partnership, or major product/service initiative. We also discuss differentiators at the campaign level, which may lead to the development of core messages through TREW's Branding Brain service.
3. Prioritize inbound and outbound marketing activities
Content is central to marketing campaigns. We identify key content needs, such as web landing pages, white papers, case studies, demos, webcasts, and video to support the campaign objectives. We then identify and prioritize marketing activities, such as search marketing, PR, database marketing, and events (to name a few), which can attract qualified visitors to the website, capture leads, and deliver on marketing and business goals.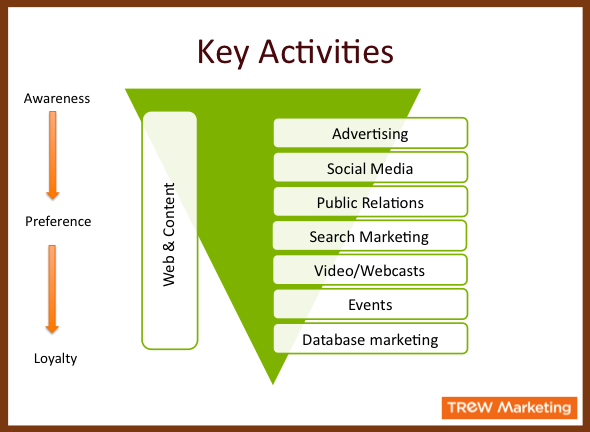 Activities chosen should tie directly back to marketing goals along the funnel, from generating awareness at the top to supporting targeting sales efforts and strengthening loyalty at the bottom.
4. Turn Strategy into Action – the 12-Month Activity Plan
At this stage, campaign plans are mapped out in a budget-based, 12-Month Activity Plan. This plan outlines specific activities by quarter, and is intended to be a living document. Often activity plans are modified on a quarterly basis based on new opportunities, changing business needs, and the outcome of activities. This is also the time to identify internal staff and external resources needed to execute the activity plan and measure results, and the responsibilities of each.
Let's get started -- together.
This collaborative, 4-step process leads to the smartest, fastest, and most cost-effective ways to achieve marketing and business goals, and reduces costly inefficiencies down the road. Ready to get started?