September 15, 2015
How does it feel to be in a convention center with over 14,000 eager-to-learn, innovative marketers who are passionate about inbound marketing?
AMAZING!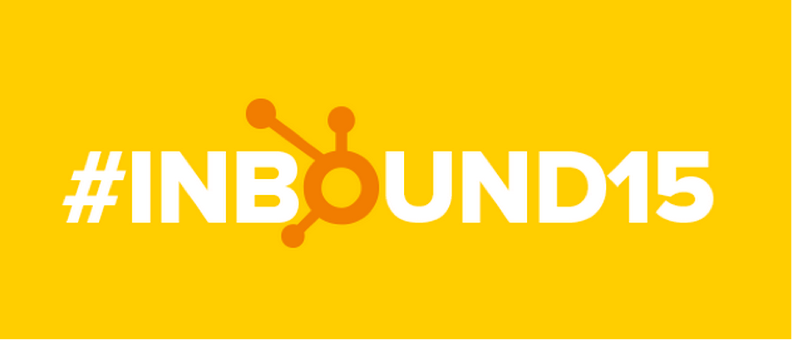 For the fourth consecutive year, the TREW Crew attended HubSpot's INBOUND Conference in Boston and we're sharing our favorite takeaways with you.
In this three part series, TREW discusses the most memorable pieces of their top sessions that they attended.
Is the Traditional Approach to Website Redesign Broken?
By: Lee Chapman, TREW Account Director
The average life span of a traditionally-designed website is three years; however, user behaviors and an ever-increasing desire for user experience enhancements happens much more frequently. So is the traditional website redesign process broken? This was the premise of INBOUND's Growth-Driven Design session.
Your website is the hub for all of your marketing activities and your most efficient salesperson. However, the traditional approach to redesigning your website involves risks including:
In the digital world, three months is equal to three years – by the time your site goes live, there will be new user experience demands
Design elements and user experience are only based on a hypothesis of what you think your prospects want
Users may have experienced additional pain points you didn't account for in the initial design including business acquisitions, new product launches, strategic partnerships, etc.
Small-to-mid-size businesses grow quickly, and constantly evolve! You're launching new products, services, and content, and you want maximize your return on these investments and yield the best results
Your audience's behavior will certainly evolve over time and their responsiveness to certain elements of your business will likely change too
So what is the alternative? Growth-driven design is a new process that helps mitigate the risks noted above. With growth-driven design you design your site in phases using an agile approach and get a "launch pad" site up in one month. From there you can immediately measure impact of the new design and evaluate user behavior and data over the first month. Then you iterate on your design and content monthly based on real-time user behavior of your target personas to flesh out your site, making small, incremental changes like landing page optimization, word choice changes, CTA buttons, premium content placement, etc. Along the way you also build a prioritized wish list of additional items you would like to implement into your design that take into account new changes to your business or additional requirements.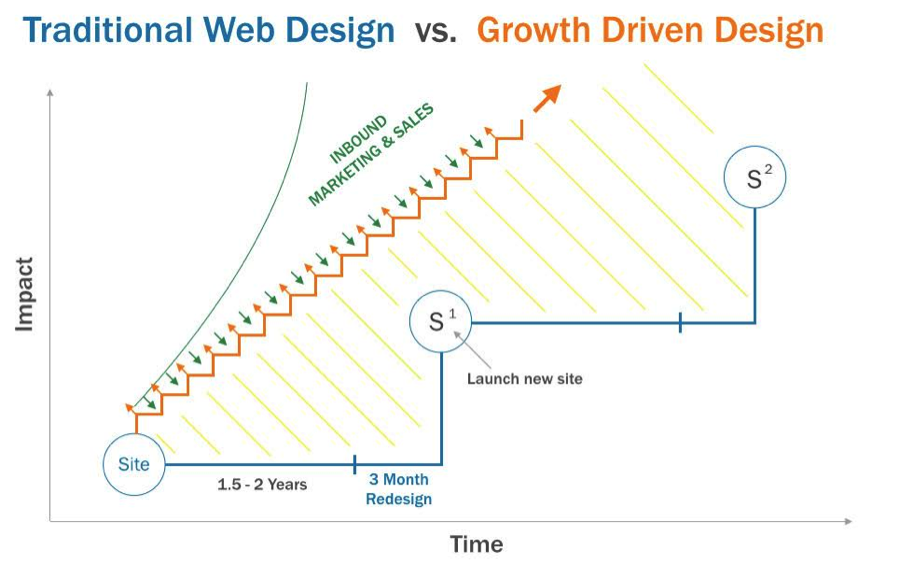 Four key benefits of Growth-Driven Design include:
No more guessing about which design will drive desired results and increase conversions and leads
Sales and marketing collaboration — the data gathered from ongoing website analysis is produced by your marketing team, which also includes data from your sales team — leading to increased collaboration and an optimal user experience
Monthly retainer for ongoing design iterations and support vs. large one-time payment and additional on-going support costs
You can apply this approach to any web platform — Word Press, Drupal, HubSpot COS or custom proprietary sites
TREW plans to use the Growth-Driven Design process on our own website this fall and based on our success, will role it out as a new web service offering in 2015.
Strategy Rules: Five Timeless Lessons from Bill Gates, Andy Grove and Steve Jobs
By: Rebecca Geier, TREW CEO and Co-Founder
One of the best sessions for me at INBOUND 2015 was one by Michael Cusumano, a professor at the MIT Sloan School of Management and author of Strategy Rules. In his session, Cusumano provided a brief overview of what he covers in-depth in his book: the five rules underlying a common strategy of three very different leaders – Bill Gates, Steve Jobs and Andy Grove.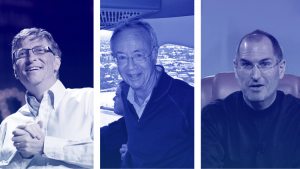 The five rules are:
Look forward and reason back. While most of us look back and reason forward, all three of these leaders worked off the same information of their time - most notably Moore's Law - and extrapolated, interpreted and formed their vision looking forward based on information reasoned from the past.
Make big bets without betting the company. Gates, Grove and Jobs all made bold and ambitious bets to change the game with their company, but they weren't reckless (although Jobs was the most reckless of the three, especially in his first stint with Apple). They timed their bets, hedged them, and had alternatives in case the bets failed.
Build platforms and ecosystems, not just products. Cusumano explained that no firm is an island - especially in technology markets - and used iTunes as an example. He pointed out that when Jobs took the bold move to open iTunes up to Windows, he turned iTunes from an Apple product to technology platform with a broad ecosystem.
Exploit both leverage and power. Gates, Grove, and Jobs all mastered the tactics of both "judo" and "sumo". They used the weight and strength of their opponents when they were small, and smashed the competition when they grew larger and more powerful.
Shape the company around your personal anchor. Cusumano found, in his research, that all three leaders focused on their personal strengths as the core of the company, but built a team around them to compensate for their weaknesses. For Gates it was coding – his natural tendency was not to focus on design or customer experience. For Grove, it was operational efficiency and he had to rely on engineering leaders to innovate in product development. For Jobs, he was not an engineer; he was passionate about design but had to surround himself with engineers who could build what he envisioned.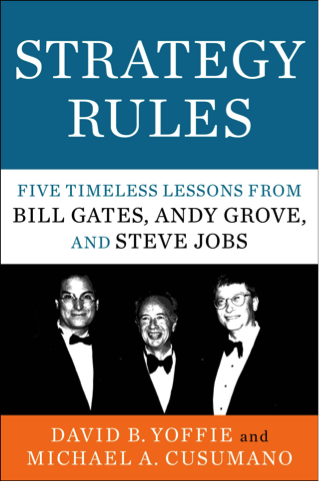 I plan to buy this book and read it. Anyone interested in these three leaders and the lessons in strategy to be learned from them should check it out. You can buy it here.
Stay tuned to the TREW blog next Tuesday when we recap part 2 of our INBOUND 2015 experience!
Learn more how we can help turn your visitors into customers with Hubspot and content marketing services.