Last week, TREW attended the Design West Conference in San Jose. Here, exhibitors demonstrated products and services with the common purpose of helping design engineers be innovative, efficient, and produce reliable, secure solutions. While walking the trade show floor, I spotted several effective marketing tactics for attracting booth traffic, conveying key messages, and sticking in my memory well after flying home to Austin.
1. Impactful, attractive, low-cost booth graphics.
Crank Software used a set of three lightweight, retractable graphics placed closely together to act as one image for a 10x10 booth. My eye was drawn to the lime green swoosh, which contrasted nicely against the gray and black elements. With a quick scan, I could tell that Crank offers HMI software – evident by colorful software screens and graphics that take the design engineer through the design phases of prototype, develop, and deploy. While there are some slight improvements I'd make to the design, such as de-cluttering some of the repetitious phrases, I think this booth graphic is a nice model for a small booth presence.
2. Direct mail – still alive and kicking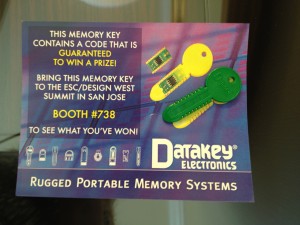 As a pre-registered attendee, I received several pre-show promotional emails, none of which I found very compelling. On the other hand, I received one (and only one) physical postcard, sent by Datakey Electronics. Attached to the postcard was a key with an embedded chip that contained data of which prize awaited me at the booth. It spoke to me on two levels – I was guaranteed a prize, but more importantly it was an interesting way for Datakey to quickly demo their rugged, portable memory products. The Datakey staff measured their direct mail effectiveness over multiple years, sharing interesting results: 10-13% of mailed postcards are redeemed at the booth, and the mailer boosted their traffic by close to 50%.
3. Hands-on lab
Rohde & Schwarz, one of the larger Design West exhibitors, dedicated over half of their booth real estate for an in-depth, 30-minute hands-on lab. Each of the ~10 session attendees used demo equipment and prescribed exercises to explore Rohde & Schwarz's instrumentation. A knowledgeable engineer guided their audience through the exercises, and answered questions. Attendees also enjoyed refreshments, a nice enticement for attendees during the long conference day.
4. Happy, dancing mascot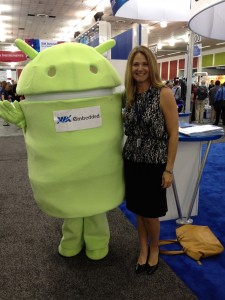 Ok, now I admit that not every engineer enjoys a happy, dancing mascot, but I will say that this little dude drew lots of attention to his booth, VIA Embedded. VIA extended the mascot's presence with small stuffed versions of him that trade show attendees can take home to their kids. (Full disclosure: some bias might be involved, due to my year stint as a high school Tiger mascot).
As a contrast to the happy lime green mascot, another company hired scantily-clad women for their booth (sorry, I somehow neglected to snap a photo). One was even wearing wings, which as much as I could tell had nothing to do with the company's key messages for the show. They did draw attention, but from afar – I think the booths directly across from the models saw a boost in traffic, as the show attendees were not keen to walk through the "interaction path" of these women. After a barrage of negative tweets (and emails, I imagine), the company wisely pulled the women from their booth after the first day of the show.
5. Interesting demo incorporating a product partnership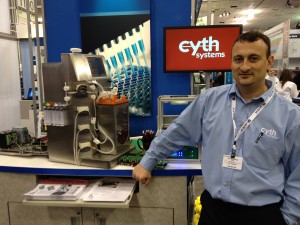 Cyth Systems had a demo stand within the National Instruments booth, where they showed off a bioreactor using NI's embedded SBRIO technology. The demo was eye-catching and easy to quickly understand. It also did a very good job showcasing both companies' products clearly and effectively, which is often not an easy feat in a partnership demo. And finally, because of this demo, I now know how Botox is made (yuck!).
6. …and a few final observations
Social media: Several exhibitors, including Texas Instruments, did a fantastic job of tweeting specific, compelling content about their presentations and demos. A few others did not quite fare as well, with banal posts, such as "come by our booth and win an iPad."
QR codes: A surprising lack of QR codes were utilized by exhibitors. I can't help thinking that this is a huge missed opportunity. Or is the adoption rate really that slow for people to use QR readers? However, I did see MANY QR codes used in the airport – TSA had them on practically ever sign as I went through security.
Eye-popping shirts: Kudos to the LVDT folks, who I nicknamed "the purple people" for their memorable (but professional) booth attire.
Big monitors for "mini-theaters" in smallish booths: this is a great solution when you don't have the space for a large theater presentation. And theater presentations were a big hit at this show in all booth sizes.
Are you looking to marketing strategies for your next trade show? TREW Marketing has deep expertise in events. Contact us today to find out how we can help you improve your trade show program and increase your return on investment with every event.