Fuel Your Marketing With Inbound Content.
In our years of experience, the one thing we've learned from doing surveys, over and over again, is that Engineers want quality content. As a B2B technical company, you need a way to generate and convert leads in today's digital age.
This is where content marketing comes in to play. Content is a critical component to any inbound marketing program.
A 2019 study of more than 700 engineers by IEEE GlobalSpec and TREW Marketing found that 90% of respondents are more likely to do business with a company that regularly produces new or updated content.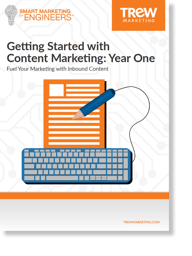 Learn how to get your content marketing strategy off on the right foot for 2020 with this Year One Ebook. It will teach you:
How to Define Your Target Audience
Developing Your Content Plan
Creating Content Topic Clusters
Promoting Your Content
Measuring Results