As the newest addition of the TREW Crew, I thought I would share some information about myself and my background so you can better understand who I am and where I come from.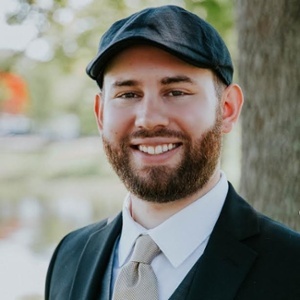 Matt Marinsek, Digital Marketing Specialist
Where do you live?
Currently in Austin, TX. Before moving here I lived in the Tampa Bay, FL area for about three years, and before that in New Mexico where I was born, raised and went to college.
What college did you go to?
I graduated from New Mexico State University in Las Cruces, NM. (Go Aggies!) I received my Bachelor's in Business Administration for Marketing with a minor in Advertising. While in college, I was a proud member of the Alpha Tau Omega Fraternity, and proud to currently serve as the Chairman of the chapter's Board of Trustees.
What do you do in your free time?
Exploring what different areas provide in terms of food and drink has always been fascinating and fun to me. I'm still working my way through Austin's diverse portfolio of restaurants and breweries but it's been great so far. I'm also very much into following the latest in tech trends, and buy into the latest and greatest in consumer electronics like phones, computers, etc. Speaking of, I've been a big video-gamer since my dad first introduced me and my brother to computer games on an early Mac when we were little. I also enjoy diving into the best movies and tv shows spanning the ages, and can talk up a storm on what I like and theories for what's coming next.
What brought you to the marketing world?
I think I've been fascinated with marketing since I could understand advertisements as a kid, trying to dissect why a company is pushing a product a certain way (or why I totally hated it). I didn't realize I could tap into that and make it into a career until my 2nd year in college, after not being totally sure what I wanted to major in. Since then I plunged into it professionally, and found a passion in how the world is moving towards the need for strong digital marketing. I wanted to be a big part of that for sure and I certainly dove right in working for various digital marketing agencies and as a digital marketing manager for various companies.
What is your proudest accomplishment thus far?
Earning four GDUSA Awards for Website Design in my 2 years at thirteen05 creative in Tampa, FL. as the Project Manager of those projects. They were company awards but it was quite a challenge to be the only Project Manager at that time, and having to juggle so many other diverse digital projects and responsibilities for the company really solidified the importance of my role in earning them. The real credit goes towards my former team of web designers and developers for creating outstanding work, and I'm very proud to have been a part of making those projects go as smooth as possible for them, the company and those clients.
What strengths do you bring to TREW Marketing?
Being a Marketing Professional for three years has given me a very diverse set of experience, but more specifically I've worked with plenty of clients and companies where their businesses centered around more technical and industrial lines of work and I was never overwhelmed or intimidated by it. I also grew up with a dad being a Chemical Engineer, my brother being a Mechanical Engineer, and have plenty of friends who went into engineering of all types. I heard from their perspectives and was always eager to listen and learn what I could. All in all my background and experience combined with TREW Marketing's approach is a great fit no matter where I'm tasked.