As a technical marketer, I have been familiar with TREW Marketing for almost two years now. I have used "Smart Marketing for Engineers" as well as TREW's blog to help strategize my marketing plan. Now I am excited to be a part of the TREW Crew and use my background and experiences to help TREW clients grow. As the newest member of the TREW Crew, I thought I would share some information about myself and my background so you can better understand who I am and where I come from.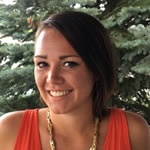 Sarah Seward, Inbound Marketing Specialist
Where do you live?
I am a Hoosier, born and raised. I grew up in Zionsville, Indiana—a suburbia town north of Indianapolis.
What college did you go to?
I graduated from Franklin College, a liberal arts college located about an hour south of Indianapolis. I have degrees in English and Journalism and a minor in Creative Writing. While in college, I was a member of Pi Beta Phi and worked as a political reporter for TheStatehouseFile.com.
What do you do in your free time?
I like to travel and do new things. In the summer time, you can almost always find me at the pool or at my grandparent's lake house. I love going to concerts and festivals with friends. I am a big fan of the Indianapolis Colts and the Chicago Cubs so I try to get to a game or two each year. I am lucky to live close to the majority of my family so we have lots of family dinners. In the winter time, I like to avoid the cold weather as best I can by staying inside with a good book or watching a ridiculous amount of Netflix.
What brought you to the marketing world?
Back in college, I had absolutely no desire to be a part of the business world. I worked for a daily newspaper after college and found the realities of the life of reporter to not be as exciting as Bob Woodward and Carl Bernstein's careers. But journalism gave me a ton of skills that lined up perfectly with marketing. I can write, do graphic design, take pictures, edit videos, and manage a website. For the last three years, I have worked at Frakes Engineering as their solo marketer. I love that marketing allows me to use my creativity and journalism skills to help companies get leads and more sales.
What is your proudest accomplishment thus far?
This past year, I designed, wrote, and implemented a new website for my former company, Frakes Engineering. While I had experience making Wordpress websites in the past, this project was unique because its scale and the design work. I often call this website "my baby" because I am so proud of the overall flow and the modern design that reflects Frakes Engineering's brand and expertise. I also was so excited to see that in the first month the website launched, Frakes Engineering saw a 3X increase in leads generated.
What strengths do you bring to TREW Marketing?
For the last three years, I have been marketing industrial automation solutions for Frakes Engineering. Coming to TREW Marketing, I bring deep industrial knowledge as well as experience successfully marketing to technical audiences. I am a great writer and have an eye for design. These skills and experiences have really prepared me to help TREW clients with website redesigns and content development. My experiences working as the entire marketing department at a technical company will help me to better connect and understand TREW clients because I have walked in their shoes.